During 2013, Calder Valley MP Craig Whittaker received donations worth £57,468.77, according to Search The Money website.
The screenshot from the Search The Money website gives the breakdown of the donations: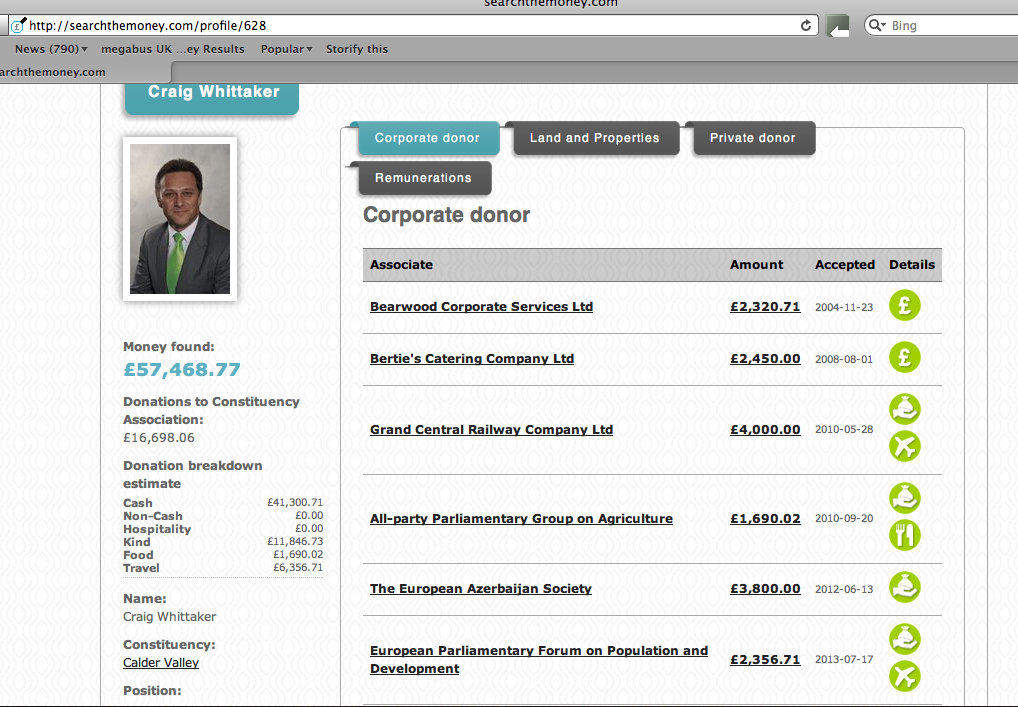 Mr Whittaker's Register of MP's interests is available here on the They Work For You website.
The 2013 Register of Mr Whittaker's interests shows that he used the donation from the European Parliamentary Forum on Population and Development to visit Myanmar in July with the All Party Parliamentary Group on Population, Development and Reproductive Health in collaboration with Marie Stopes International  "to build awareness of sexual and reproductive health and rights/maternal health/family planning issues, with a specific focus on programmes in fragile states".
Visit to Azerbaijan – a government culture of deliberate, abusive limits to dissent
The donation from The European Azerbaijan Society (TEAS) paid for Mr Whittaker's visit in May to Baku as part of a "cross-party delegation to Azerbaijan to examine cultural issues."
It would be interesting to know whether the cultural issues the cross-party delegation examined included what Human Rights Watch describes as the Azeri government's "deliberate, abusive strategy to limit dissent".
The European Azerbaijan Society exists in order to rope in the UK, EU and USA on its side in the Nagorno-Karabakh conflict. Relaunched in 2008, TEAS identifies its objectives as:
To promote Azerbaijan as a modern, forward facing country with tremendous economic opportunities and a strong cultural heritage
To promote international relations with Azerbaijan to a wide political, media and cultural audience
To bring together Azerbaijanis living in Europe, and to involve them in promoting Azerbaijan
To raise awareness and end the apathy of the West towards the Nagorno-Karabakh conflict
A press release from the campaigning group Platform reports that
"There are now 142 political prisoners in the country two of whom were expected to be election candidates until their incarceration forced them to withdraw, according to the Human Rights Club of Baku, who have conducted extensive research. The Azerbaijan authorities have used false charges to arrest many of these prisoners, including possession of narcotics and weapons, as well as hooliganism."
Platform reports that The European Azerbaijan Society is closely allied to the Aliyev government in Azerbaijan, and that it persistently lobbies the UK government.
Foreign Secretary William Hague was one of the first European politicians to visit Azerbaijan after Ilham Aliyev's internationally condemned re-election as President. Hague was there to attend the ceremony for the signing of a pipeline agreement that will see two trillion cubic meters of gas pumped from Azerbaijan to Europe.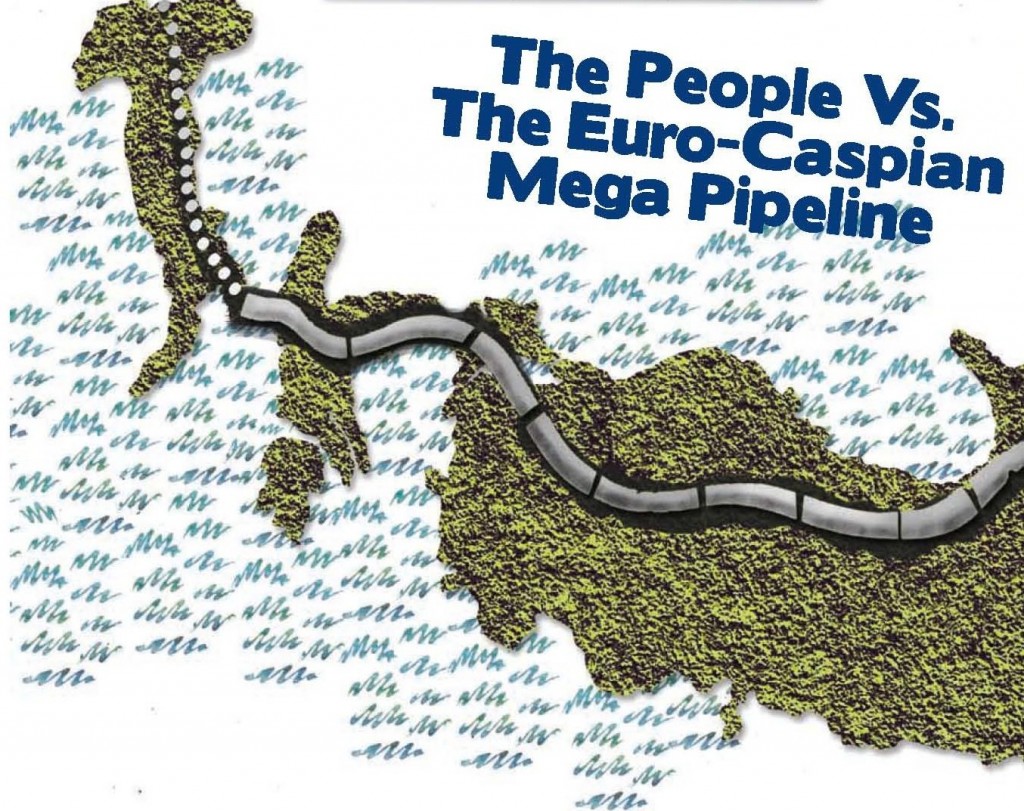 Hague attended a signing ceremony in Baku for the Trans-Adriatic Pipeline (TAP) as the BP-led Shah Deniz consortium finalises the investment agreement. This is a key part of the Euro-Caspian Mega Pipeline, which would move 16bn cubic meters per year of offshore gas from the coast of Azerbaijan to Southern Italy. The huge pipeline network would cross six countries and go under the Adriatic Sea. Azerbaijan's oil production peaked at 800,000 barrels per day in 2009 and has now declined to 660,000. This means gas will play a key role in maintaining Aliyev's rule.
Here is Platform's leaflet about the Euro-Caspian mega pipeline: Europes Gas Grab WEB-1 by JennyS19
The Trans-Adriatic Pipeline signing ceremony will make Europe the primary consumer of Azerbaijani gas for at least the next 35 years and the pipeline infrastructure may continue to be used even after Azerbaijan's gas deposits are depleted. It was recently announced that the Transcaspian Pipeline, which would move gas under the Caspian Sea from Turkmenistan to Europe, is on the list of European Energy Projects of Common Interest. These projects are earmarked to receive €5.85 billion between them.
Hague's trip has been criticised, coming so soon after the internationally condemned Azerbaijani Presidential elections. The vote descended into farce when a government phone app appeared to release the election results the day before polls opened. In addition several videos showing ballot-box stuffing and carousel voting emerged. The observation mission of the OSCE Office for Democratic Institutions and Human Rights (ODIHR) found there were widespread violations during the election and concluded it fell far short of international standards.
What did our MP make of his examination of Azerbaijan's cultural issues?