The law courts twice ruled that the Secretary of State for Health Jeremy Hunt was acting unlawfully in trying to force closures at South Lewisham Hospital, in order to redirect its funding to a nearby NHS Trust that had been bankrupted by Private Finance Initiative re-payments and taken into the control of Trust Special Administrators. So now the ConDem government is changing the law to give precisely this power to Trust Special Administrators who have been brought in to deal with failing NHS Trusts. And  Calder Valley MP Craig Whittaker has voted for this new legislation.

Mr Whittaker's reply to my Open Letter, asking him to vote against Clause 118 of the Care Bill during the Bill's second reading in the House of Commons, claimed that Clause 118 would benefit the "wider health economy" by authorising Trust Special Administrators to recommend closures of hospitals and departments in other NHS Trusts than those they had been brought in to administer. You can read his letter here: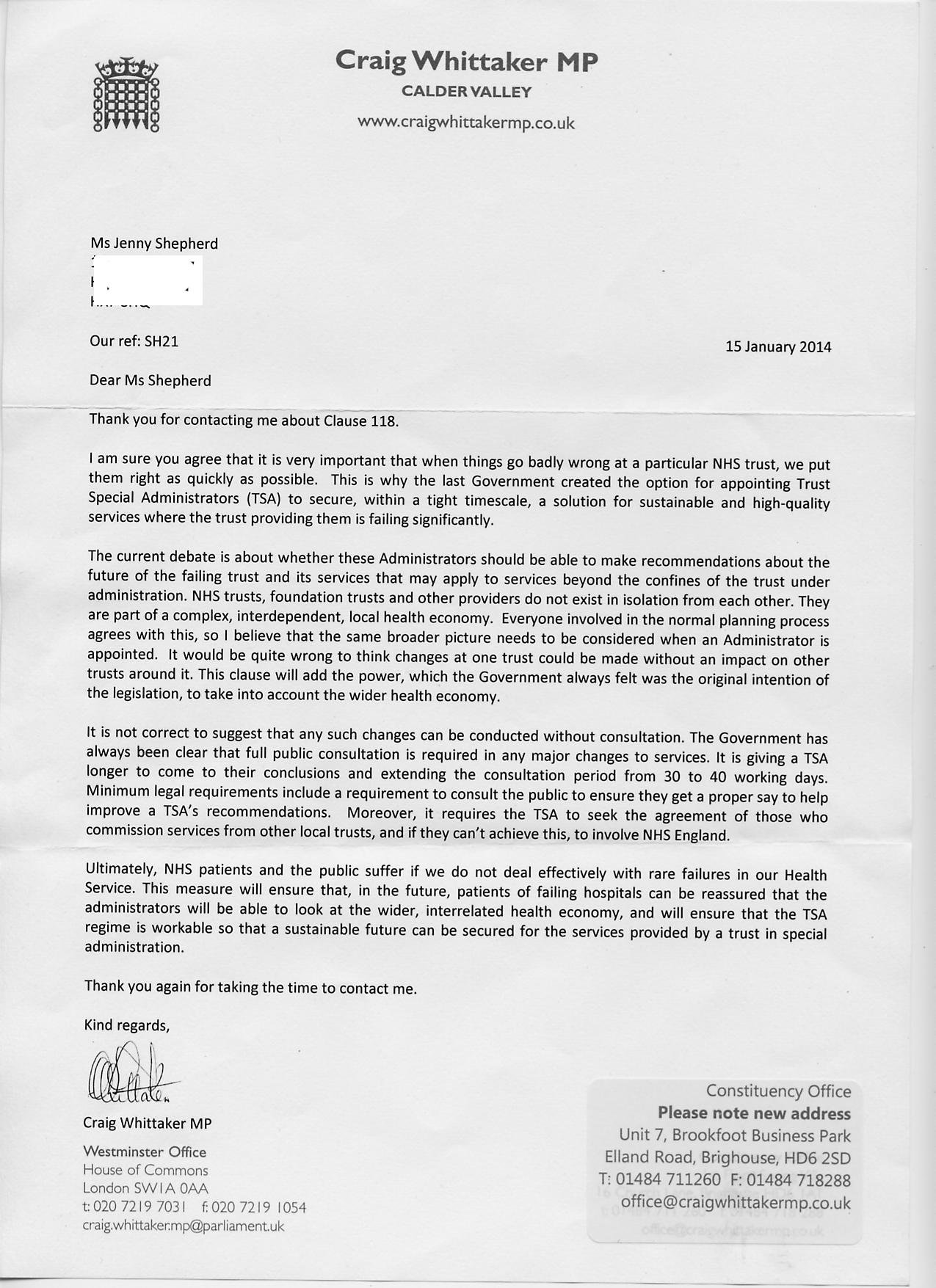 Mr Whittaker fails to mention patients' needs and wishes – which is what the "health economy" exists to meet, in a democratically accountable, publicly-owned and funded NHS.
The Secretary of State for Health, in trying to force closures at the popular and successful South Lewisham Hospital so that its funding could be redirected to bail out the PFI payments of a nearby NHS Trust, apparently thought it was more important to protect the corporations and private equity funds that were sucking public money out of the NHS via the Private Finance Initiative, than to protect the people of Lewisham's health services.
The banksters' bailout all over again, but in the NHS this time. Public money hijacked for corporate welfare payments.
Who, exactly, lives on Benefits Street?
You can read Professor Allyson Pollock's criticisms of the proposal here. The new legislation means that Trust Special Administrators could overrule Clinical Commissioning Groups and their legal duty to provide most NHS services for their populations. It also removes the mandatory role for local authority overview and scrutiny committees in managing NHS reconfiguration, if a Trust Special Administrator comes in to reconfigure local NHS services. Many Trusts are vulnerable to a Trust Special Administrator being called in, since many are either in deficit, under investigation or in special measures.
Updated 4 January 2014 with the link to Professor Pollock's article Planning for closure: the role of special administrators in reducing NHS hospital services in England  [BMJ 2013;347:f7322 doi: 10.1136/bmj.f7322 (Published 13 December 2013)]