Ban the Burn! campaign lifts off.
Ban The Burn campaigners launched a national campaign on Sunday evening, August 12th, in Hebden Bridge. The Ban the Burn! campaign aims are:
a ban on burning and draining blanket bog
an end to loopholes in the Heather & Grass Burning Code and other regulations

Environmental consultant and research scientist Dr Aidan Foley had an upbeat message for the campaigners:
" I think one of the most important things for people to realise is not only that they can do something about this problem to improve the management of the catchment, the solution to the problem is very simple. It involves filling in the drains on the moors and alllowing them to revegetate. Filling them in lifts the water table, which means that there's greater storage much higher up the catchment. That changes the vegetation again to what it should be, that is sphagnum moss-based. And that's simple and straightforward."
Over 50 local residents and others from across the UK met up at the Trades Club after walking together to Walshaw Moor grouse-shooting estate, where they saw for themselves how burning and draining have damaged the blanket bogs and wet heathland. [Correction & clarification 17/8/2012: BanTheBurn campaign organisers say the figure of 50 people is an error and a way underestimate, & there were in fact around 90 people.]
Hebden Bridge resident Caroline Elbridge explains,
"We're concerned that the land around the town isn't being managed for all of the people in the town – it's just being managed for some of the people, for their sport, and it's not about what's best for everyone."
During the walk and the campaign launch, Aidan was on hand to explain how damage to the moor's blanket bogs leads to:
increased flood risk in Hebden Water
very significant carbon emissions
adverse impacts on water quality
the destruction of a globally significant habitat type
Calderdale Councillor Janet Battye, who joined the walk instead of digging her garden, said,
"I'm here because the big issue that I'm interested in is that our moors are as healthy as they can be, so they can absorb as much water as possible and help prevent flooding. We need to do all that we can to keep water out of the valley and it's my belief that one of the ways of doing this is to make sure the moorland's working properly."
Contact details
Anyone interested in finding out more about the campaign can contact changingmorethanlightbulbs@gmail.com. There is also a BanTheBurn! Facebook page.
Peat bog degradation – a global problem that contributes to climate change
Peat bog degradation is part of a global problem – the release of carbon dioxide from degrading peat to the atmosphere contributes to global warming. Dr Aidan Foley explains that,
"The global warming issue often seems beyond the scale of anything that we can do. And here is a local manifestation of it, it terms of high precipitation and flooding, but the answer is local and totally achievable. So people really need to understand that they can have an effect, they can have an impact and be part of the solution to this problem."
Live Blog of the Launch (in reverse chronological order)
8pm We finish action planning
As a wind-down to our 12 hour day, Hannah invites people to sum up their experience in a word. People say:
exhausting
eye opening
brilliant
And much else.
7.45 Each group reports on practical ideas for what to do nex
t-  including:
Freedom of Information/Environmental Information Regulations research on relationships between Defra, Natural England and Walshaw Moor Estate and how/whether wildlife/habitats laws are properly applied and enforced
Offering to coordinate volunteers to map and survey ecosystems in the 'sensitive area' category of peat bogs and wet heathlands that Natural England seems to has exempted from the habitat mapping requirement for Walshaw Moor
an exhibition in the library to explain in a simple and straightforward way how the Hebden Bridge floods are related to the (mis) management of Walshaw Moor
a BTB leaflet to hand out to all the businesses and households that were flooded
an offer of free printing for the exhibition photos
making a short documentary
networking with other areas – eg Sheffield – that have been flooded at least partly because the nearby moors are mismanaged and degraded
get the drains and grips FILLED IN!
7pm Hannah facilitates  action planning
People stick up their post it notes from the two minute brainstorms, according to whether the ideas are about:
information gathering
funding & logistics
media
on the ground practical stuff
political campaigning
She reminds us to focus on: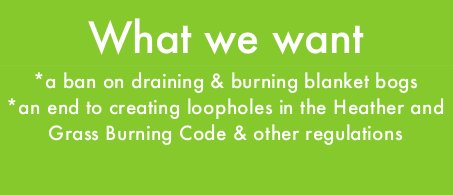 6pm Speakers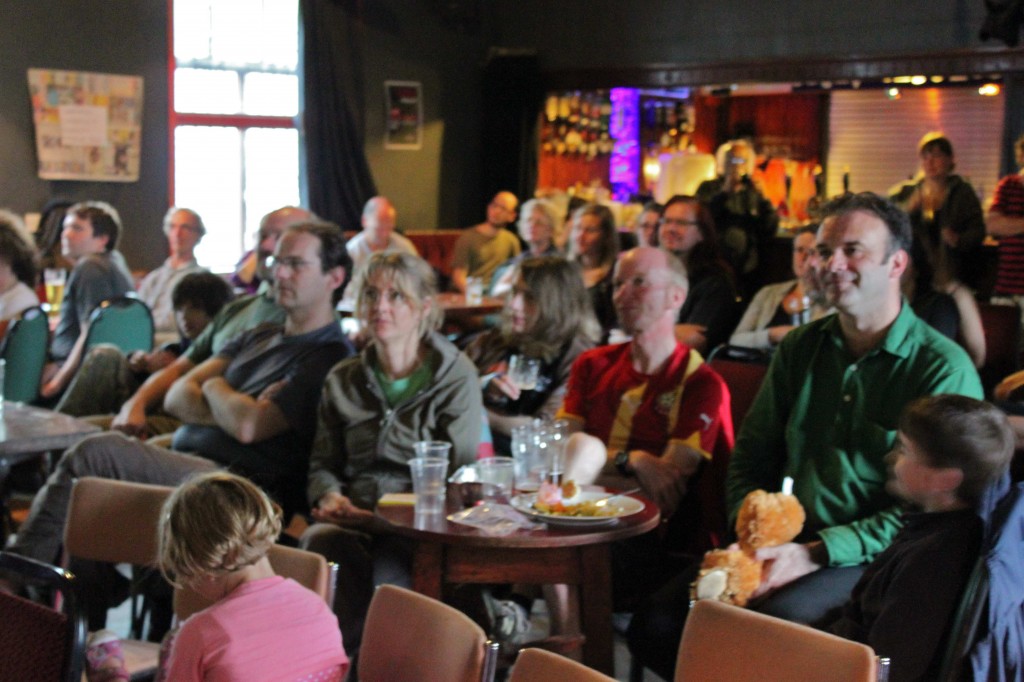 I introduce the background to the Walshaw Moor Estate problems
Dr Aidan Foley, an environmental consultant and research scientist specialising in hydrogeology, hydrology and environmental geology, explains how the blanket bogs work as peat sinks and as vital means of holding water, and dazzles us all with the inspiring message that this is a big problem that's very easy to solve – fill up the ditches and grips with vegetation and the peat bog will rehydrate and restore itself. Floods will lessen and massive amounts of climate-warming carbon dioxide will be taken out of the atmosphere and stored in the ground
Dongria encourages us all to think what we do next.
In the two minutes between speakers, everyone brainstorms ideas and writes them on post it notes.
5pm Everyone gathers at the Trades Club for an amazingly tasty meal.
Afternoon There's no signal up on the tops, so no-one can send pics or text from later on the walk.
Around 1pm walkers reach their first resting point on Walshaw Moor, on their way to Heather Hill.
12.30pm Blake Dean – the walkers are setting off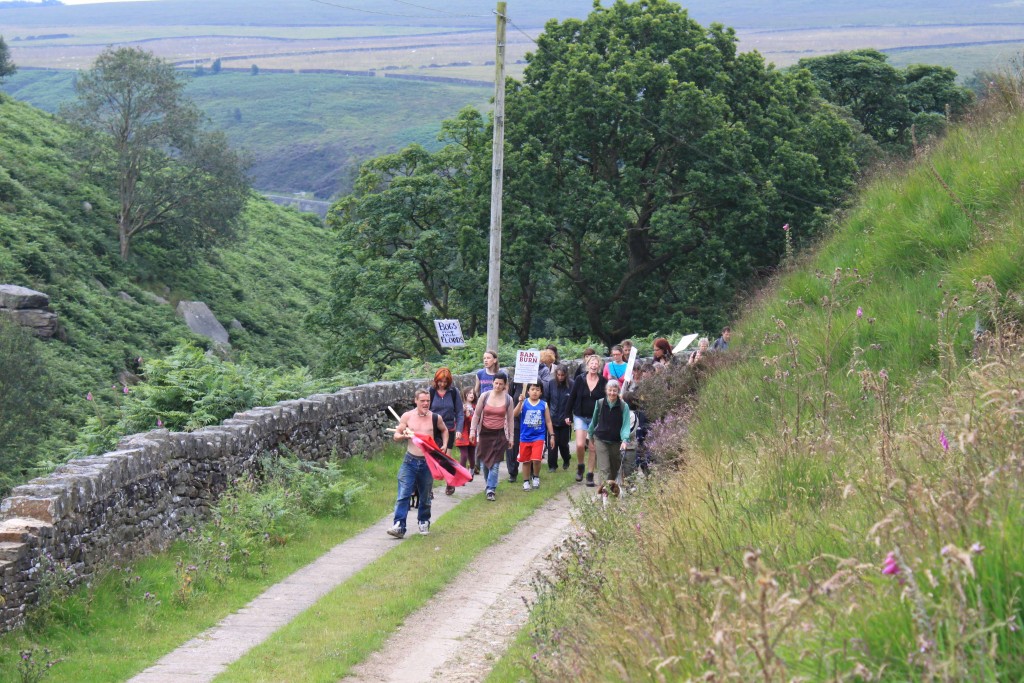 Aidan has given everyone songsheets for Ewan McColl's Manchester Rambler, so expect sweet music!
Calderdale Councillor Janet Battye has joined the walk instead of digging her garden. She says,
"I'm here because the big issue that I'm interested in is that our moors are as healthy as they can be, so they can absorb as much water as possible and help prevent flooding. We need to do all that we can to keep water out of the valley and it's my belief that one of the ways of doing this is to make sure the moorland's working properly."
12 noon Dongria Kondh explains to the walkers where they're going (up Heather Hill on Walshaw Moor), what they're going to see (seriously degraded blanket bog), why it's degraded (because of draining and burning the moor so that grouse can breed and feed in short heather) & how it's different from healthy blanket bog. She also outlines how healthy blanket bog holds a lot of water and so can help reduce the risk of flooding in the valleys. She explains that the campaign is about banning burning and draining of blanket bogs.
A camera operator from BBC TV's Look North has turned up.
The walkers are in a good mood and ready to go!
11.30am Ban the Burn walkers are gathering at Blake Dean Hostel. It really is a family-friendly gathering, with plenty of kids and parents and at least 3 generations of walkers.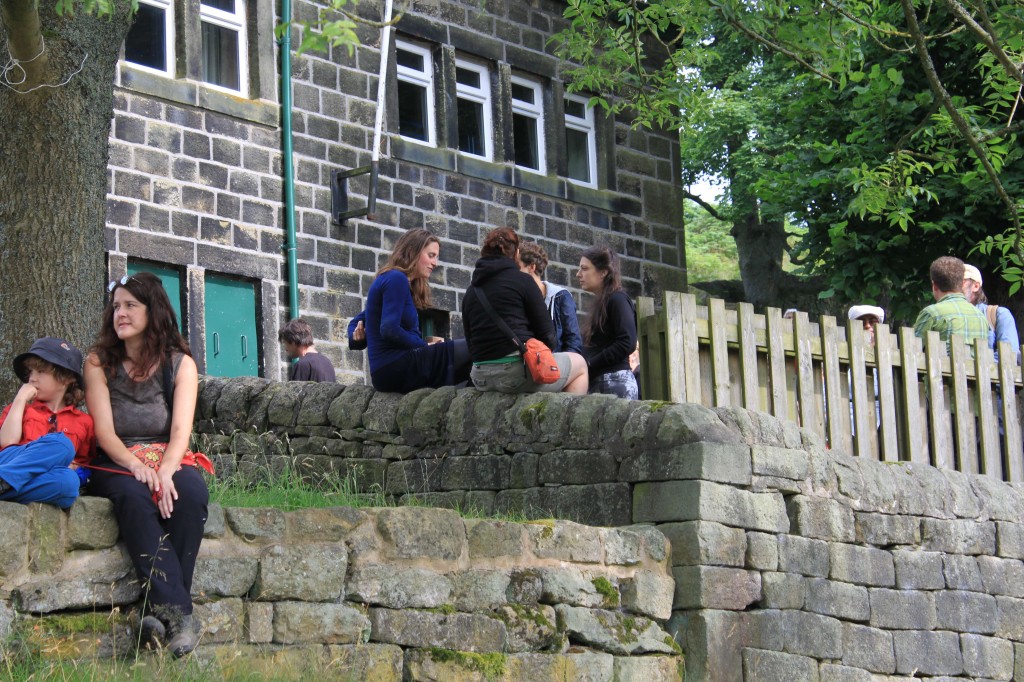 Chris, who's here with his young son, says,
"I think it's a travesty that Walshaw Moor Estate have been given public money for a Site of Special Scientific Interest to pay for them to look after it as a bog, and because they've got some friends in Whitehall – and the Minister for Wildlife's a grouseshooter – a bunch of aristos up here who want to shoot grouse are making life worse for hard working folk in the valley because of the risk of flooding."
11.20 Billy Frugal and his van have picked up five walkers from Hebden Bridge station,  who've come from Manchester and Sheffield. Sheffield in the past has experienced dire flooding that, according to Natural England, is related to degraded peat bogs in the Peak District. Billy's driving us up to Blake Dean.
The sun comes out.
The main farming action up on the tops today seems to be cutting, drying and baling hay.
One of the BanTheBurn! walkers from Manchester says,
"I'm here because I thought it was like a hunt sabbing walk, but for grouse shooting. I think it's completely unethical to breed animals just to shoot them."
Her friend Simon says,
"As I understand it, what Walshaw Moor Estate is doing is making the flooding worse. I don't totally know the ins and outs of it, but anything that's going to contribute to flooding's a bad thing."
9.30 am I've been talking to random people in the Square – some who've come for the walk or to show support to the walkers, others who just happen to be here. And shopkeepers around the square. There's an interesting mix of opinions. None of the staff in the shops want to comment on the record and they generally say burning and draining blanket bog is not an issue they know anything about. Off the record, there is quite a lot of interest in finding out more. And a suggestion that the campaign needs to present information in a simple and straightforward way, so people can get their heads round it easily. Good advice.
A small contingent of hardy folk sets off towards Hardcastle Crags, to walk the whole distance to Blake Dean.
Elizabeth Wilson from Slaithwaite is here because her son in Tod had his cellar flooded, so
"it's a subject close to home. I want to see the possibility of flooding being alleviated, not made worse." 
While Colin Sunderland from Mytholmroyd, who's just popped into Hebden for a quick visit and didn't know anything about the Ban The Burn! walk until he noticed the stall, says,
"Grouse shooters won't like it! I don't think even healthy bog will soak up all the water, but it'll do something."
9.00 Sunday August 12th, St George's Sq Hebden Bridge.
Organisers have set up a stall and a banner.
Hebden Bridge residents and people from other parts of the country are assembling in the Square.
If you want to join the family friendly walk to the Walshaw Moor blanket bog, or come to the campaign launch at the Trades Club from 5pm this evening, the schedule is here.
Hebden Bridge resident Caroline Elbridge has come to the Square with her partner Ben and their toddler BIlly. Caroline says,
"We're concerned that the land around the town isn't being managed for all of the people in the town – it's just being managed for some of the people, for their sport, and it's not about what's best for everyone."