Using shared buying power to drive a harder bargain with energy companies can work.
The Big Switch bid to get cheaper gas and electricity prices for households has accepted Cooperative Energy's offer. This was the best offer from the various energy companies and looks set to save more than 280,000 households taking part  a total of £25 million – with, on average, each household saving  £123 a year.

Cooperative Energy made the cheapest offer to the 280,000+ households that signed up to the Big Switch bid to bulk-buy energy. It offered a better price than giants like British Gas. 38 Degrees, which organised the Big Switch bid, says, "Maybe that's got something to do with their different business model – they don't pay their bosses whopping bonuses, and they're keener on green energy."
What happens next for people who've signed up for the Big Switch
Over the next few days, probably by Monday 14th May or thereabouts, everyone who  signed up to the Big Switch and provided their tariff information will receive a personalised savings quote showing them how much they could save by switching.
Because Cooperative Energy is a small company, they have capped the number of people who can switch to them through the Big Switch at 30,000. Cooperative Energy has used the Big Switch to launch a new fixed rate tariff for people who are prepared to stay with the company for at least 12 months in return for a slightly reduced unit rate for both gas and electricity. Up to 20,000 new Big Switch customers can sign up to Cooperative Energy's  Pioneer Fixed Rate Tariff, and another 10,000 to their Pioneer Variable Tariff.
Signing up will be on a first come, first served basis. The new Pioneer Fixed tariff will not be available to the general public, only to people who've signed up for the Big Switch. Entries for the Big Switch close on May 28th.
The remaining 250,000+ people who've signed up to the Big Switch will have the option of going for the next best deal, EDF Energy's Blue +Price Promise.
95% of Cooperative Energy is from renewable sources (but that includes biomass)
Co-operative Energy is a mutual, which means it doesn't have shareholders and instead each customer gets a share in the profits. When it set up in May 2011, it committed to making sure its carbon emissions were only half the national average for energy companies. Since it set up, it has sourced 95% of its energy from renewable sources – easily beating its carbon emissions target. (However, some of this is from biomass, so it might not be as green as it seems.)
One single tariff for all customers and levels of energy use
Cooperative Energy also has a rational pricing system, with a single tariff regardless of the amount of energy customers use. This compares with the perverse tariffs of many of the big six energy companies, which encourage people to use more energy by offering lower tariffs for high energy users, and penalise people who don't use much energy by charging them a higher tariff.
Other small suppliers with ambitious carbon targets include Ecotricity and Good Energy.
What next? 38 Degrees wants your ideas!
38 Degrees is looking for more ideas about what they should do next  to help bring down gas and electricity bills. They ask people to share ideas and see what others are suggesting on the 38 Degrees website or on the Facebook page.
Cooperative Energy also supports Solar Schools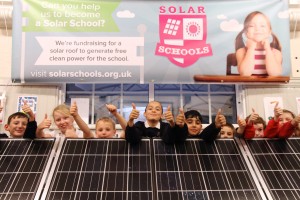 Solar Schools is a project from 10:10 which helps schools to generate their own solar energy.
The idea is for schools to generate their own power by fitting solar panels raised from 'crowd sourced' funds donated by their community.
The scheme has been successfully piloted with eight schools, and aims to see panels fitted to 100 schools across the UK by the end of the 2012/2013 academic year. Co-operative Energy is co-funding the national rollout of the campaign.