In October 2020, Ban the Burn made a formal complaint to Natural England about their failure to investigate 8 examples of Walshaw Moor Estate's burning of sphagnum and apparently unconsented infrastructure construction that we'd first reported in June 2019, and supplemented in March 2020 with information about the Estate's construction of 10 more new grouse butts that year.
Natural England has not acknowledged our complaint.
As a result of massive government spending cuts. Natural England has few resources to monitor and enforce compliance with conservation and restoration requirements on the heavily-protected Site of Special Scientific Interest.
Dongria's hunger strike
While we sympathise with overstretched Natural England staff, we ran out of patience in February 2020, after yet another flood in Hebden Bridge and Mytholmroyd – following months of Natural England's inaction on the information we'd sent them the previous year.
Dongria went on hunger strike outside Natural England's Leeds Office, in order to underline the urgency of the need to protect Walshaw Moor's peatland and hydrology. This is vital to protect biodiversity, mitigate climate change and reduce the flood risk in Hebden Water and downstream in the River Calder.
Luckily, Dongria was quickly able to call off her hunger strike when Natural England promised an urgent meeting with Ban the Burn to answer our questions.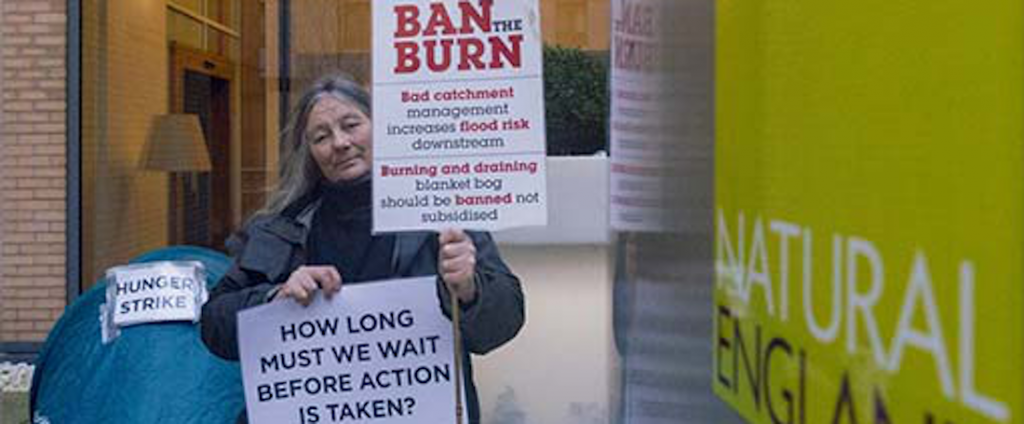 Ban the Burn's meeting with Natural England went ahead in mid-March 2020
Overall, the meeting seemed promising, and Natural England agreed they would continue an on-going dialogue with Ban The Burn.
We welcomed their information about sphagnum innoculation and stone leaky dams on Walshaw Moor.
However, burning remained an issue:
Walshaw Moor had not signed up to a voluntary agreement to rescind their burning consents, which the Government had asked Natural England to negotiate with each estate by June 2019, under pressure from legal action by the European Commission
This has flooding implications – as Leeds University's peatland hydrology studies have shown
Natural England has a new Position Statement on Restoration Burning, which they sent after the meeting
This all underlines need for Government to move forward with legislation to ban burning on peatland. Under the terms of the European Commission's legal action against Defra, if estates refused to voluntarily give up their legal consents to burning, the Government had to introduce a legal ban
There are new issues of concern on Walshaw Moor (new sunken grouse butts, tracks, etc) which will require further investigation by Natural England
We asked detailed questions about each of the 8 apparent breaches by Walshaw Moor Estate of its Catchment Restoration Plan, and what Natural England was doing about them.
Natural England updated us with:
They also agreed to:
Send details of the sphagnum innoculation and stone leaky dams on Walshaw Moor
Look into overall policy re butts on deep peat (as against screens)
Further Investigate Butts/Tracks/grips on Walshaw Moor
Meet us again to discuss progress
Ban the Burn agreed to:
Send grid references of new butts and screens
Monitor damage to peat from vehicles
Circulate a more detailed write up on specific issues
Since the mid-March meeting, there has been NO PROGRESS from Natural England
Covid-19 prevented the planned site visit to investigate the sphagnum burning and apparently unconsented infrastructure construction.
Instead, Natural England said they would do a desk-based investigation, using the photos, grid references and more detailed information we sent them.
11 months on, we've heard nowt about whether they've done this desk-based investigation. Hence our formal complaint. Which Natural England hasn't acknowledged.
As things stand, there's only the public who's done any monitoring
It seems there's no chance of Natural England monitoring peat depths, or checking the grips and drainage, and where burning takes place.
Position statement on restoration burning keeps old Heather and Grass Burning Code loopholes!
Plus, on reading Natural England's new Position Statement on Restoration Burning (itself an entirely self-contradictory concept, since there is no need for burning in order to restore peatland), we found it contains what the RSPB has described as:
"strong (and worrying) echoes of the misused "special circumstances" system under the Heather and Grass Burning Code of Practice 2007 which led to Natural England granting the hundreds of burning consents in the first place"

https://www.rspb.org.uk/our-work/our-positions-and-casework/casework/cases/walshaw-moor/
We were not very impressed by this, since Ban the Burn's campaign ask has always been to ban burning and draining on peatland, and to close the burning loopholes in the Heather Regulations. Here's a look back at where the campaign started, and why.
And here's an old Ban The Burn blog post about the Heather and Grass Burning Code, which was truly rubbish!
In it's new Position Statement, Natural England may have limited its consent to "restoration burning" as a measure of last resort – but it's kept the option of allowing it in "exceptional circumstances", once all other measures have been tried and appear not to be working after at least 10 years.
Under this guidance Natural England may grant separate, short term consents (usually up to 3 years) and requires evidence to show recovery is not already underway.
As Natural England has ignored our formal complaint, we now have to consider asking the Information Commissioner's Office to sort this out.