Local frack-free campaigners went to Calderdale Council's Cabinet meeting on Monday 4th September to ask the Council to remove its support for fracking exploration and commercial exploitation from its draft Local Plan.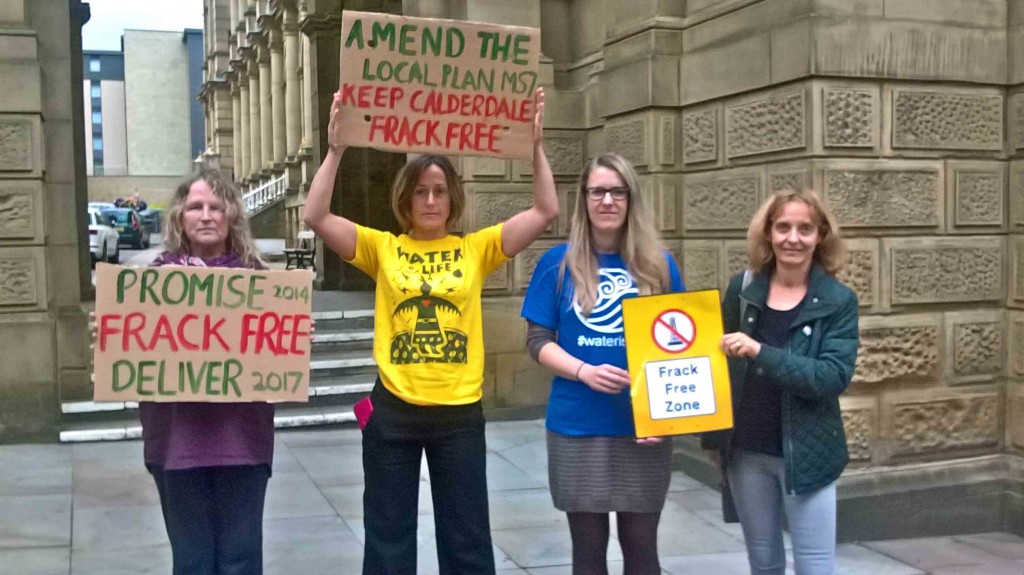 The Draft Local Plan goes against the full Council resolution in 2014 that Calderdale is a frack-free zone  and that the Council would  'take all possible steps' to oppose fracking.
All Local Authorities are required to produce Local Plans, on the government's edict.
Green Party campaigner Jenny Shepherd asked the Cabinet,
"As Calderdale Council pledged in 2014 to keep Calderdale a frack-free zone, isn't it the Council's duty to refuse to support fracking, and to refuse to include support for fracking exploration and commercial exploitation in its Local Plan?

Please will you make sure that the final version of the Local Plan respects the Council's commitment that Calderdale is a frack free zone and that support for fracking is removed from the draft Local Plan?"
Cllr Daniel Sutherland, who works on the Planning Committee, replied,
"It is a misrepresentation to say that Calderdale Council supports fracking. If the Council were to send a policy to the government saying that it won't support fracking in any case, the government will enforce fracking."
Update However, this prospect doesn't seem to bother the London Mayor, Sadiq Khan, whose draft plan for London tells London Councils they should ban fracking.
In the summer of 2013, Cllr Tim Swift, the Calderdale Council Leader, replied to a Calderdale Green Party survey of Councillors' views on fracking:
"Neither I nor Calderdale Labour group support the further development of fracking as an energy source at the present time… I would not support any application for fracking within Calderdale."
In 2017,  he said in a statement:
"Whilst this Council remains committed to hearing all planning application in a fair manner and in full accordance with the law, proposals for shale gas extraction within Calderdale are likely to generate significant public concern. In the event of such an application we request that our Officers take all possible steps to ensure that the environment of Calderdale and the amenity of its residents are protected."
What was the point of passing a frack-free Calderdale resolution if Councillors are not prepared to honour it? Taking "all possible steps to protect the environment and people" is not the same as banning fracking.
Anti fracking campaigner Helen Chuntso said,
"The council is misguided if it thinks that there is a way it can support fracking in Local Plan Policy MS7 by the inclusion of the condition that it can have 'no significant adverse impacts on the environment.'  There is no such thing as safe fracking and no acceptable mitigation which can be put in place.

We need to transition rapidly away from fossil fuels, not go deeper into their exploitation, and we need a council with a full grasp of the issues involved and a backbone to stand up against it, together with other Councils with frack free resolutions. A united Local Authorities resistance to central government support for fracking is both possible and necessary."
Cllr James Baker said:
"I would say we need a local plan that fulfils both the Council's legal planning duties, and provides as robust a defence against fracking sites as possible. We are open to working with anti-fracking groups and other political parties to put forward an amendment that achieves this aim."
The Council has published online a number of Local Plan documents which are available to read and are consultable from 4th August to 29th September 2017 .
You can follow frack-free events on Facebook :
Frack Free Calderdale
Keep your fracking Hands off Calderdale