"Get Your Fracking Hands Off Ryedale" was the message from the Frackfree Planet picket outside the Hebden Bridge branch of Barclays Bank on Wednesday 22nd February.
Calderdale members of Frackfree Planet handed out leaflets to Barclays Bank customers and passers by, to alert them to Barclays' ownership of Third Energy, the company that plans to frack at Kirkby Misperton In North Yorkshire.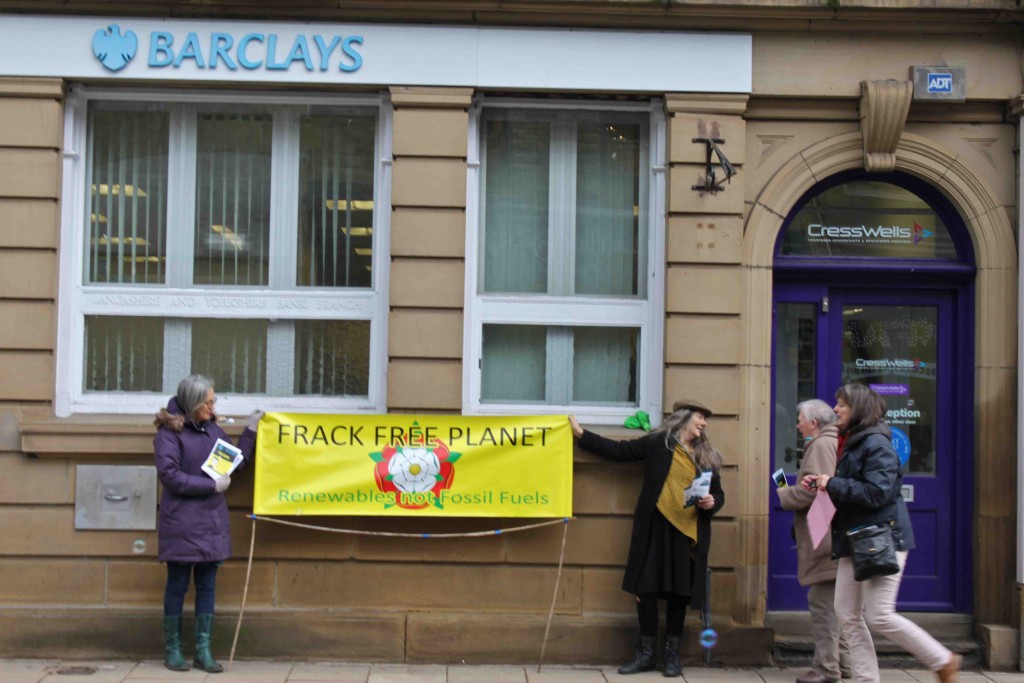 Despite widespread opposition in the area, just before Christmas the High Court rejected a legal move to stop plans for fracking at a well to the south-west of the village.
The Frackfree Planet campaigners asked the public to write to the the Barclays Chairman at 1 Churchill Place, London E14 5HP, telling him that Barclays should disinvest from Third Energy. They also suggested that Barclays customers move their money to a bank that does not invest in fossil fuels.
Passerby Nick Ashton said,
"Fracking is a short term solution to our energy needs. I'm suspicious of the companies behind it. For the sake of 50 years fuel, it's going to be a lot of upset and damage.

Until I got this leaflet, I didn't know anything about Barclays' involvement. I don't bank with Barclays, but my partner does so I'll be putting this in front of her."
Fracking is damaging and unnecessary
There is clear evidence that fracking would speed up climate change, put communities at risk of the release of dangerous pollutants and blight our roads and countryside with mass lorry movements.
Plus there is no need for fracked gas as a transitional fuel, while we move from dirtier fossil fuels like coal and oil to renewable energy.
Energy pathways modelling  (which identifies how much energy we need from different energy sources in order to meet our energy need) shows that we can make the transition to renewable energy generation without the use of fracked gas.
Sarah Dawson, who organised the picket, said,
"I think people in Hebden Bridge would want to know that a local bank is using their money to invest in a company which is responsible for the fracking in Yorkshire and that they can move their money to a more ethical bank quite easily."
Dongria Kondh, pausing from handing out leaflets and chatting to passersby about fracking, added,
"As one of the flood-hit businesses in Hebden Bridge, Barclays needs to wake up to the impact of climate change and stop funding fossil fuel extraction which will only make matters worse."
Frackfree campaigner Jewel Charick said,
"We need to remember in 2015, the ConDem government passed an Order that would allow fracking wells to be used as a nuclear waste deposit. This is another bigger agenda that the government won't talk about."
Hebden Bridge Barclays staff said they'd been told they couldn't comment, but kindly dug out the phone number of the Barclays press officer.
Asked for Barclay's comments on the Frackfree Planet demand for Barclays to disinvest from Third Energy (the company planning to frack Kirkby Misperton),  the press officer emailed,
"Through Global Natural Resources Investments, Barclays has a majority stake in Third Energy: a British business with a history of investment and good corporate citizenship in North Yorkshire. Third Energy has been drilling, developing and producing gas in the region for over 20 years, with an excellent environmental and safety record.

"We are conscious of the concerns of local communities and other groups over potential environmental and community impacts, which we take seriously and will continue to monitor. We have worked closely with Third Energy to ensure their plans are compatible with our values."