West Yorkshire Primary Care Support Service centres in Huddersfield, York (2 of them) and Doncaster are due to be closed next year when they're privatised. This information has only become public through a document leaked to the press.
In a contract worth around £400m for up to ten years, the privatisation quango NHS England is handing corporate giant Capita the Primary Care Support Service (PCSS), that is based in 29 centres across England.
As it takes over the PCSS, Capita plans to close all but 3 PCSS centres and fire nearly 90% of PCSS staff.
The PCSS at Blue Beck House in York is due to close by end March 2016, and the PCSS at Broad Lea House in Huddersfield and the 2 PCSS centres in York and Doncaster are due to close by the end of May 2016.
The 931 NHS staff who work at all the primary care support centres across the country will transfer to the employment of Capita in September this year. Around 150 of these will be offered alternative employment, Unison told the Mirror, but the rest – around 800 – face redundancy.
The PCSS centres are currently part of NHS England. They do the backroom jobs for GPs and other primary care people like dentists, opticians etc. They keep medical records up to date, send out letters to thousands of patients and provide payment services. Without this admin work, people wouldn't be able to receive treatment.
GPs fear that Capita will worsen the already problematic PCSS
GPs are not happy, according to the GP online magazine.
They were not pleased in 2013 when the privatising quango NHS England, (created by the Health and Social Care Act 2012 with the role of selling off the NHS through overseeing competitive tendering of all its services) took over GP support services and cut their budget.
And they are not pleased now that NHS England is privatising their support services.
The BMA General Practitioners' Committee deputy chairman Dr Vautrey told GPonline:
'Many practices have had big problems with the basic service that has been provided to them since the creation of NHS England. There is a real fear that the situation could get worse again rather than better as costs are cut with the service being privatised.'
NHS England is hurrying to privatise the NHS by the end of this Parliament. This is the intention of the quango's Five Year Forward View.
Update 18.4.2023
The Primary Care Support contract, currently supplied by Capita, comes to an end in 2025.
NHS England is considering breaking up the contract into sub-units when it re-procures it. The re-procurement team has been doing scoping work to help "determine if the future service model will be to secure a single supplier or disaggregate the current provision into specific service areas".
After NHS England awarded Crapita the contract in 2015, the service quickly became controversial. GPs complained the services were in "meltdown" less than nine months after the new service was set up. It quickly came under pressure  to improve and NHS England only withdrew a team of experts from Crapita's Primary Care Support England in 2018, two years after they were sent in to support the service.
More recently  breast and cervical screening administration services were stripped out of the contract after a major national incident caused NHSE bosses to lose confidence in Primary Care Support England's performance.
Then-NHSE chief executive Sir Simon Stevens – now Lord Stevens – told a committee of MPs that NHSE wanted to move cervical screening services to a single unified IT system but "we do not have confidence in Capita to undertake that transition" so they were going to "take that in house and, together with NHS Digital, we will do that ourselves".
Why not take the whole Primary Care Support service back in house?
Private companies' cabal is taking over the NHS
What qualifies Capita to take over the Primary Care Support Services? Apart from a willingness to fire hundreds of people, most likely centralise the services in a call centre and massively cut costs in line with NHS England's plan to cut £22bn/year from NHS running costs by 2020?
Spinwatch has uncovered a cabal of private companies that have captured the NHS, with Capita among them.
This Spinwatch graphic shows the wolves who are feasting at the NHS table. This isn't a National Health Service – or even a healthcare market. It's a cabal – and it looks something like this: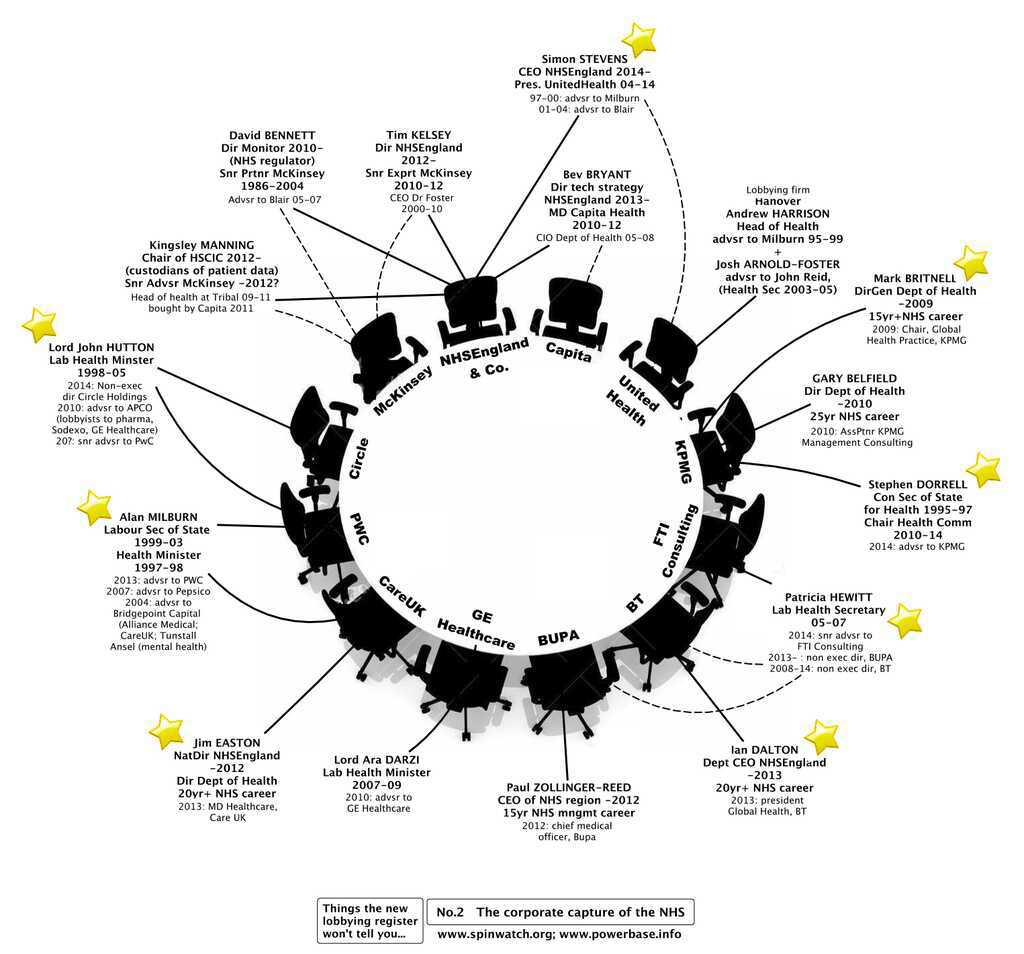 This graphic shows Capita's membership of this cabal. Bev Bryant, NHS England's Director of Tech Strategy, was previously MD of Capita Health.
With a budget of around £110bn/year of public money, the NHS is rich pickings – a constant income stream and source of profit – for the corporate wolves (and their social enterprise sidekicks like Anglian Community Enterprise  – a Capita subcontractor for the PCSS contract).
Liverpool NHS Trusts pull the plug on their contract with Capita because of widespread concerns about the quality of Capita's service
Capita's reputation leaves a lot to be desired. In June this year, NHS Trusts across Liverpool announced they are pulling out of a £27m deal with Capita to run their HR, payroll and recruitment functions.
3 years into a 7 year contract with Capita, the Trusts are bailing out because of widespread concerns about the quality of the service Capita HR Solutions provided.
At least five out of eight North Merseyside providers that transferred services to Capita in 2012 will have brought them back into the NHS, or moved to other providers, by 1 August this year, according to statements given to the Health Service Journal.
This doesn't bode too well for the future of Primary Care Support Services under Capita. Or for the future of the privatised Commissioning Support Units.
Putting Dracula in charge of the bloodbank – privatisation of Commissioning Support Units

Capita has also done well out of NHS England's privatisation of the Commissioning Support Units (CSUs), that will take effect in 2016.
Capita comes second only to United Health in this division of the £1bn CSU spoils.
The privatised CSU consortia will control the purchase of between £3-5billion of NHS services, which under NHS England's 5 year plan are being swiftly reorganised into 'new models of care' that based on United Health's private health insurance system in the USA.
For instance, the Vanguard Multispeciality Community Provider (MCP) schemes in Wakefield and Upper Calder Valley, put in place by NHS England to fast track contentious "Care Closer to Home" schemes, closely copy United Health's MCP 'care model'.
This graphic shows the stitch up whereby NHS England and the global American health insurance company United Health (the previous employer of NHS England's boss Simon Stevens) have handed over the CSUs to the usual suspects – the cabal that has taken over the NHS since the 2012 HSCA became law.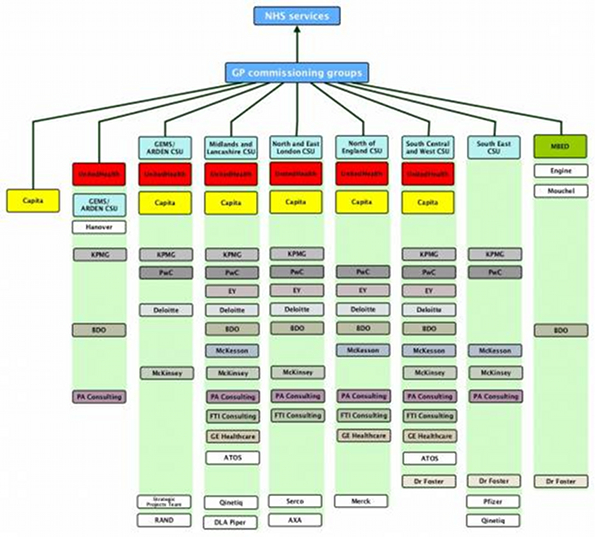 The red boxes are United Health – sorry for fuzzy text
The CSU privatisation stitch up was guided by a secretive NHS England forum, the Commissioning Industry Support Group, that was chaired and funded by United Health's lobbyist, Chris Exeter. Capita was another member of the group, as were KPMG, PwC, EY (formerly Ernst & Young) and McKinsey – all members of the NHS cabal.
The existence of this group only became public knowledge through focussed Freedom Of Informatiion requests from Spinwatch.  The Group gave the cabal regular privileged access to senior NHS officials overseeing the creation of this new market in 'commissioning services'.
The cabal's stranglehold on the NHS is intensified by the fact United Health and its subsidiary Optum are bidding for big NHS contracts, as well as controlling decisions about what services to commission and doing the procurement and contract management work. Like putting Dracula in charge of a blood bank