A couple of documents Calderdale Clinical Commissioning Group (CCG) has sent me in response to a Freedom of Information indicate that Calderdale and Huddersfield will not have an A&E service as we know it.
Instead, one of the documents shows that Calderdale CCG and Greater Huddersfield CCG  intend to replace Calderdale and Huddersfield A&Es with 3 Urgent Care Centres (also known as Minor Injuries Units) plus a unified Emergency Care Centre on one of the hospital sites. An Emergency Care Centre is not a full, blue light A&E like we currently have at both Calderdale Royal Hospital and Huddersfield Royal Infirmary.
According to the Calderdale and Huddersfield hospitals Trust slide presentation on Strategic and Financial Turnaround,  Calderdale CCG said at a meeting in April this year that it wants:
"3 Keogh defined Urgent Care Centres which are medically led; operating (reviewable) 24/7 care at 2 centres; diagnostic facilities and telemedicine with both adult and children's provision."
and
"…unified emergency care centre accessed through Urgent Care Centres or via an ambulance with reference to a networked function across West Yorkshire"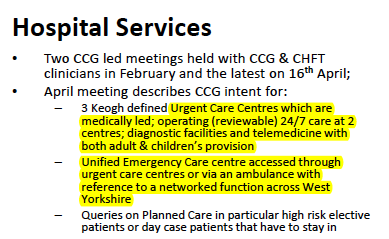 What is an Urgent Care Centre?
Urgent Care Centres are also known as Minor Injuries Units  They treat these ailments:
bruises, strains and sprains
minor burns, cuts and wounds
skin complaints, rashes, bites and stings
small eye injuries
wound infections
minor head injuries
injuries to the back, shoulder and chest
minor wounds to hands, limbs and feet
infections and rashes
fractures and lacerations
stitches (sutures)
dressing care
What is an Emergency Care Centre? Neither Calderdale CCG nor the hospitals Trust is saying

The 2013 Keogh Report says:
"Emergency Centres will be capable of assessing and initiating treatment for all patients and safely transferring them when necessary."
This is not a full blue light A&E department, such as currently exists at both Calderdale Royal Hospital and Huddersfield Royal Infirmary. These have the resources – including 24 hour emergency surgery – to fully treat a wide range of life-threatening health emergencies for both adults and children.
The proposal for an Emergency Centre at the acute hospital is part of NHS England's 5 Year Plan for creating a "new care model" called Viable Smaller Hospitals. This new care model is based on New Labour's Local Hospital Model for London, proposed in 2009.  It is designed to provide minimum core services and in some cases, additional services if these are "sustainable".  In the Local Hospital Model, core services do not include emergency surgery back up for A&E, or an acute paediatric unit to back up the maternity service.  The Local Hospital Model for London report notes that a number of clinical risks to patients go along with this model, and there will be a need for more transfers of sick patients, by ambulance, to Major Emergency Centres.
Plain Speaker asked both the hospitals Trust and Calderdale CCG what resources and services the proposed Emergency Centre would have. Calderdale CCG's interim head of communications replied:
"As you know we are still in a period of engagement about the future provision of community and hospital based services and we are seeking the views of a wide range of stakeholders to help inform our thinking for a new model of care. At this time it would not be appropriate for either the CCG or the hospital Trust to comment on the detail of what may be included in any proposed model(s) of care."
On the contrary, I think it would be very appropriate for the CCH and the hospital Trust to tell us what services they're thinking of providing at the acute hospital. This is a matter of public interest and there needs to be clarity about what the NHS organisations are proposing.
West Yorkshire Urgent and Emergency Care Network Vanguard
The "networked function" that the Emergency Care Centre will refer to is the new West Yorkshire Urgent and Emergency Care Network.
On 24th July NHS England announced 8 new Urgent and Emergency Care Vanguards, including the The West Yorkshire Urgent and Emergency Care Network. The GPs' online magazine Pulse Today says,
"The West Yorkshire Urgent and Emergency Care Network will become a mobile treatment service delivering care at people's homes, with only those needing to go to hospital taken there."
So far I have not been able to find out much about this. I asked Calderdale CCG and they referred me to North Kirklees CCG.
Chris Dowse, Chief Officer, NHS North Kirklees Clinical Commissioning Group and Chair of the West Yorkshire Urgent and Emergency Care Network, put out a statement about the West Yorkshire Urgent and Emergency Care Network Vanguard scheme that said:
"Local and regional relationships between NHS organisations including the ambulance service, and the police and local authority social services departments will be strengthened to deliver the best, most appropriate response for individual patients. We are guided by our principle of "right care, right place, first time – every time." We are now building on the conversations that are taking place and plans that are in the pipeline with the focus on mental health, Yorkshire Ambulance and on creating the West Yorkshire Care Record, learning from the Leeds experience."

"Our partners from Yorkshire Ambulance Service will be working with us to increase the pace of change which will see our ambulance services recognised by patients as a mobile treatment service rather than just a means of transporting them to hospital for emergency care."
The June 2015 Keogh document says:

"Urgent and Emergency Care Networks will be based on the geographies required to give strategic oversight of urgent and emergency care on a regional footprint, ensuring that patients with more serious or life threatening emergencies receive treatment in centres with the right facilities and expertise (red section of the diagram), whilst also assuring that individuals can have their urgent care needs met locally by services as close to home as possible (blue section of the diagram)."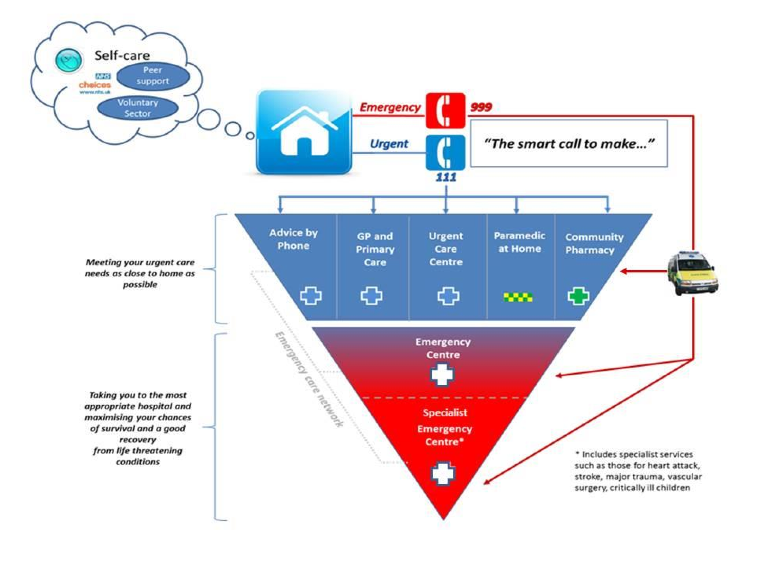 This all adds up to no A&E as we know it in Calderdale or Huddersfield
The diagram shows that only Specialist Emergency Centres have services for heart attack, stroke, major trauma, vascular surgery, critically ill children and other unspecified emergency services. The 2013 Keogh Report called them Major Emergency Centres and said:
"Major Emergency Centres will be much larger units, capable of not just assessing and initiating treatment for all patients but providing a range of highly specialist services. These centres will have consistent levels of senior staffing and access to…specialist equipment and expertise…"
The Emergency Centre is shown as blue shading into red. All it will be able to do, according to the 2013 Keogh Report, is  to assess and initiate treatment for all patients and safely transfer them when necessary.
Slide 19 (below) from the other document that the CCG sent me in response to my FOI request shows our hospitals dissolving their current functions into "network solutions" and "integration solutions" which looks like code for the Multi-speciality Community Provider-led Care Closer to Home scheme. We need to watch out that our District General Hospitals aren't dismantled with their services hived off to Specialist Emergency Centres on the one hand and the new GPs' private limited company Wainhouse Healthcare Limited aka Pennine GP Alliance on the other.
At the North Kirklees Support the NHS workshop in Dewsbury on 25th July, former surgeon and BMA member Anna Athow warned about the implications of this, in terms of NHS England's 5 Year Plan for breaking up the NHS into an American private health care system running on private health insurance  A report of this will be on Plain Speaker shortly, please come back soon to find the link.
'Network solutions – we can do this with other hospitals – Acute providers operating at scale'.)
Fyi, the documents the CCG sent in response to a Freedom of Information request are here and here
Updated twice 16th July 2015. Updated 26th July with information about the W Yorks Urgent and Emergency Care Vanguard scheme and about Emergency Centres as described in the July 2013 Keogh Report Updated 28th July with comment from Calderdale CCG interim head of communications. Updated 30th July with info about the "Viable Smaller Hospitals" new care model in NHS England's 5 Year Plan