Calderdale 38 Degrees NHS Campaign Group were out on the street in sunny Halifax on Saturday 11 July to launch their Calderdale Public Service Users petition, which is addressed to Calderdale Council.
Hundreds of people signed the petition and the campaigners were kept busy answering questions from passers by.
The Petition calls on Calderdale Council to set up a new procedure for providing public services, so that the Council:
is always the preferred provider
publicly justifies every decision to privatise services
only awards contracts to companies that observe both UK and international Human Rights Law, recognise Trade Unions, pay a living wage and have no history of fraud, tax dodging or endangering public or employees' safety
fully informs the public about all public service contracts, at all stages- from what contracts cover to how the Council manages them
favours local companies and requires big contract winners to subcontract to local companies
For this to happen, the petition needs at least 2000 separate, valid signatures from Calderdale residents.
You can sign the petition online here.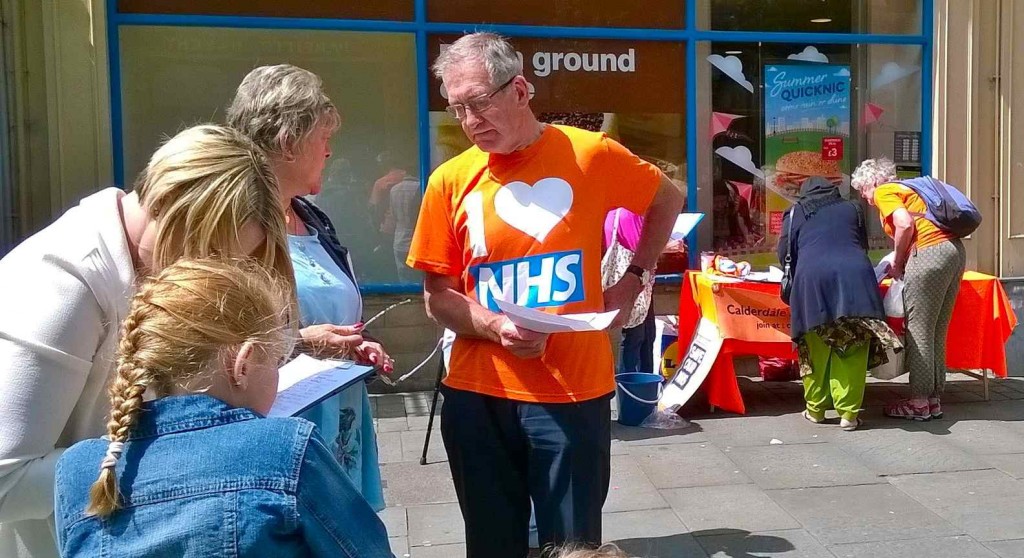 In 2012 (the latest year for which I've been able to find the figures), Calderdale Council paid around £140m/year to companies to carry out many public services that the Council used to provide.
This means:
public money is being used for private profits instead of the public good
some contracts go to companies with dubious ethical standards
democracy suffers – commercial confidentiality stops the public from knowing if Councillors are making good decisions
Jane Rendle, Chair of Calderdale 38 Degrees NHS Campaign Group, said:
"People who signed the petition on Saturday have been very supportive, telling us that they are angry about what is happening to their NHS and fearful of the future. The government is determined to push ahead with ever more services delivered by private companies, often with the details kept from us.

"Our petition strikes a chord because it asks Calderdale Council to be open with us about our public services."
Most people want public services for people not profit
Support from people in Halifax for the petition isn't surprising – most British people support the idea of public services for people not profit.  A survey by We Own It, a group campaigning for public services for people not profit, found:
60% of the public support public ownership being a default option before services are contracted out
79% believe the public should be consulted before any service is privatised or outsourced
88% believe there should be a right to recall private companies doing a bad job
88% believe private companies running public services should be transparent about their performance and financial data
Cross-party support
There is cross-party support for these principles. MPs from the Labour, Green, LibDem, Democratic Unionist, SNP, SDLP, Plaid Cymru and Alliance Parties, as well as Independents, supported the Public Service Users Bill in the last Parliament. The Bill was introduced in this Early Day Motion:
"That this House notes that public services have been privatised and outsourced without giving a voice to the public service users affected by those decisions; recognises that the public needs real powers to object to sell-offs, access information and hold private providers to account for their performance; and calls for the introduction of a Public Service Users Bill which would make the in-house option the default, require public consultation before privatisation or outsourcing and promote transparency, accountability and social value in public service contracts."
People are increasingly questioning the 'Private is Best' myth
It's clear that public ownership can deliver high-quality, cost-efficient services   The publicly owned East Coast line, for example, delivered over £200 million back to the taxpayer.
Jane Rendle, Chair of Calderdale 38 Degrees NHS Campaign Group, said:
"The best way to provide services like the railways or the NHS is if they are publicly owned.

"Our petition asks Calderdale Council to provide services themselves if possible and to be open with us when they are involved in contracting with private companies.

We want the Council to make sure that contracts only go to companies that pay all their taxes, are good employers and behave safely and reputably."
Councils are starting to bring services back in house – a survey by Unison, the public services trades union, showed that 57% of  local authorities had brought a service back in house, or were considering doing this. This was mostly about improving efficiency and reducing costs, and the next most popular reason was improving quality.
Calderdale Council is still privatising many public services
Since 2014, when Calderdale Council became responsible for Public Health services – previously the responsibility of the NHS – it has privatised some services, re-contracted Integrated Sexual Health Services and Stop Smoking Services from NHS providers and is putting others out to competitive tender.
Public health services Calderdale Council has privatised include:
Integrated Adult Drug and Alcohol Recovery Oriented Service
Calderdale Schools Nursing Service (also called Healthy Child Programme)
The End Loneliness scheme aka Staying Well Pilot
This Staying Well pilot diverts NHS money to replace the Council's social care, community services, home and day care services and home-delivered meals, that bit the dust after the Coalition government slashed local authority budgets. Calderdale Council has contracted Hebden Bridge Town Hall, the Threeways Centre in Ovenden, Halifax Opportunities Trust and the North Halifax Partnership, to provide "hubs" for the pilot and to pay community groups to provide social activities for lonely over 65s.
Privatisation of Calderdale Council's Children's and Young People's Service includes the Tier 2 (community) Child and Adolescent Mental Health Service and a new Prevention of Child Sexual Exploitation Service that replaced the Calderdale Safeguarding Children Board.
All Calderdale's children's centres are now privatised – the Council described this privatisation process as:
"a major exercise with a total value of £4m… supported by additional commissioning capacity." (Source: Plan for Commissioning Services for Children, Young People in Calderdale 2012-2015)
Calderdale's Adults Social Care services are now almost entirely privatised and the Council's role is to "shape the market" for these services.
From publicly owned and run services to individual insurance schemes?

Privatisation of Council services dates from 1980 when the Tory government introduced compulsory competitive tendering for local authorities' public services.
35 years later, more and more areas of public life have been put up for sale, with money diverted from services to shareholders.
Once services have been privatised, the direct link between the citizen and the service is weakened – to the point where the Tories are now considering breaking the link completely and requiring people to buy their own individual insurance for health, social services and social security, so there is no longer any collective provision