This evening's Calder Ward Forum at Hope Baptist Chapel (6.15pm for 6.45pm start) is a chance to ask Councillors for information about how a new model of NHS care that is being set up in the Upper Calder Valley is going to affect patients.
The Upper Calder Valley Multi-speciality Community Provider (MCP) Vanguard scheme is a pilot funded by NHS England that aims to set up a "new model of care", based at the Todmorden Health Centre.
It will fast-track the so-called Care Closer to Home scheme that is part of the Right Care Right Time Right Place proposal to cut and close acute and A&E hospital services, including acute children's and complex maternity services.
Care Closer to Home aims to make this possible by taking services for the frail elderly, chronically ill and children out of hospital and putting them into the community, on the unfounded assumption that this will cut acute and A&E hospital admissions.
The UCV Vanguard scheme aims to set up the Care Closer to Home scheme for frail elderly patients in Tod Health Centre by the summer of 2016.
Debbie Graham, Calderdale Clinical Commissioning Group's Head of Service Improvement, told Calderdale Council's Adult Health and Social Care Scrutiny Panel (SP) that:
people in the Upper Calder Valley are "engaged" with the Vanguard scheme
the CCG are talking with Cllr Janet Battye and  Upper Calder Valley Renaissance (a "partnership" regeneration organisation with Calderdale Council) and
there is an Upper Calder Valley MCP Vanguard Steering Group.
However, Upper Calder Valley Renaissance told me it had "nothing to report" about the Vanguard scheme.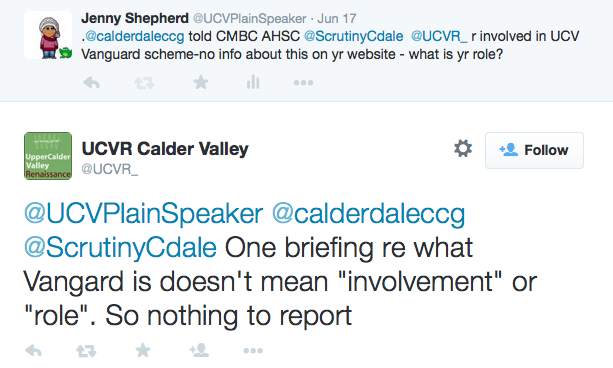 When I asked Calder Ward Councillors for information, Cllr Janet Battye suggested I ask Debbie Graham for information. Ms Graham has not replied to my emails.
There are big questions about this Vanguard scheme. Some of them are identified here.
In addition, the cost-cutting "multi-speciality community provider" new model of care the Vanguard scheme aims to set up is based on a new model of care advocated by United Health, a massive US health insurance company that used  to employ Simon Stevens, who is now head of NHS England. United Health and its subsidiary Optum are now buying up large chunks of the NHS.
Is the imposition of this new model of care, geared to the American private health insurance model where profit holds sway, aligning the NHS to eventual takeover by United Health and other private health companies?
Crucially, what effects will this new model of care have on patients and NHS staff? Both immediately, and further down the line?
The Vanguard MCP model of care and United Health's MCP model of care are based on the replacement of GPs by less well qualified Nurse Practitioners and Physician Assistants. So how will this affect patients' access to well-qualified staff and treatments?
There is no public information about this, despite Ms Graham's assurance to Calderdale Council's Adults Health and Social Care scrutiny panel that the Upper Calder Valley is "engaged" in planning for the new MCP Vanguard scheme.
We need to answers to these questions. Hopefully Councillors at the Calder Ward Forum this evening will be able to answer them.