Yesterday (1 July 2015), Health Secretary Jeremy Hunt MP told the Local Government
Association conference that prescription medicines will be labelled by price and marked
"funded by taxpayers" from next year.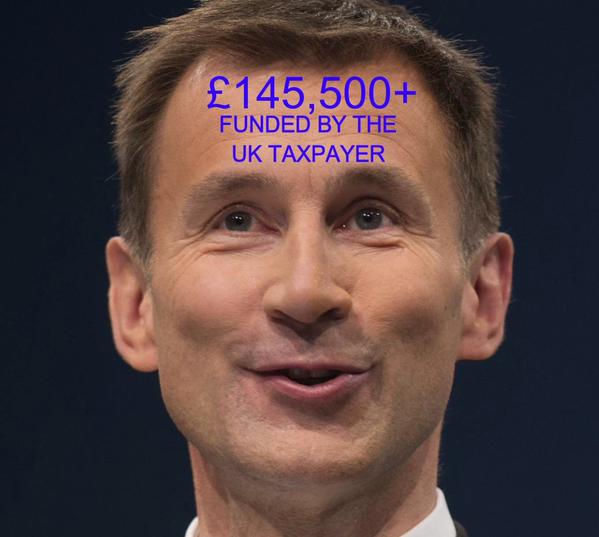 In his speech he said that patients need to take "more personal responsibility for use
of precious public resources."
He went on:
"We spend £300 million a year on wasted medicines. People who use our services need to know that in the end they pay
the price for this waste."
Simon Ashley Cross was not impressed by this attempt to shame people who are unfortunate enough to be ill and need prescription medicines. Here is his response.
A bit of news for everyone this uninformed and witless moron is trying to shame
I work closely with the NHS and I know the cost of medicines. The cost of a prescription is over eight quid. Here is a bit of news for everyone this totally uninformed and witless moron is trying to shame!
I take a statin which costs £1.28 a month to the NHS and I pay over eight quid –
the net loss to me because I can't just buy it is seven quid; I make a contribution of
£84 for my medication a year and if I don't take it, the inevitable cost to the NHS of my
heart attack would be thousands. This means that just on this simple example I am making a contribution of thousands to the NHS and will not be humiliated by this government's belief that people want to be ill to ensure they are a burden on the NHS.
Other examples of prescription profiteering are:
pain killers on FP10 (the prescriptions used for out patients that can be taken to any community pharmacy) –  average cost less than £5,
calcium and vitamin D generally costs around £3.40,
almost every antibiotic £3.00 on average, statins (the most widely prescribed medications) generally around £7 profit per prescription,
diabetes medication costs around £6 on average per item
most cold and cardiovascular drugs cost below the prescription charge.
NHS pays the government 32p tax out every £1 of government funding for the NHS
The other thing these pollocks do not tell you is that, for every pound the government
grudgingly allow the NHS, they get 32 pence back in tax.
I went to a conference as part of my work where the speaker who was an NHS procurement manager cited this figure.
Some clarification of the 32% figure on taxation. It is made up of:
taxation on salaries, much of which is paid at above 40%
VAT on medicines and services
tax on property and land purchase and divestment, tax on energy
import and export taxes for goods and services bought and sold internationally.
The person I heard speaking on this did point out that overall taxation is difficult to assess but 32% is the best conservative figure.
So the £113 billion the government say they gave the NHS last year, they got around £37 billion back in taxation. This means we actually spent £76 billion, which equates to around £1,125 per person. Most of us pay significantly more than that as a contribution for health provision through tax and NI. The average tax take specifically for the NHS per person is around £1,600.
In summary, while these pointless people continue to tell us that we cannot afford the
NHS, they would be in a really bad way if they were not getting the income the NHS
provides the government coffers. We need to stop allowing these self serving and uncaring
individuals to lie about the NHS and they must be replaced by government which
understands the value of the nations health!
I have done a bit of digging and it turns out that Boots the Chemist (who serially avoid
paying tax and the government stoically let them) dispense around 120 million
prescriptions per year. For every item (unless it is a special where the fee is much
higher) the pharmacy are paid 90 pence. This means that the government give Boots over
£100 million a year just for dispensing medicines from their shelves. Boots pay no tax on
this free money so where Jeremy Hunt has the gall to try and embarrass poorly people
I really do not understand!