Calderdale parents, teachers and trades unions are calling for the government to scrap its new proposal to test infants on a narrow checklist of basic skills and knowledge, within the first six weeks of starting school.
They have set up a group called Calderdale 2 Young 2 Fail, in order to campaign against these so-called Baseline Assessments.Yesterday they  were handing out information postcards in Hebden Bridge, where they met with a good response from the public.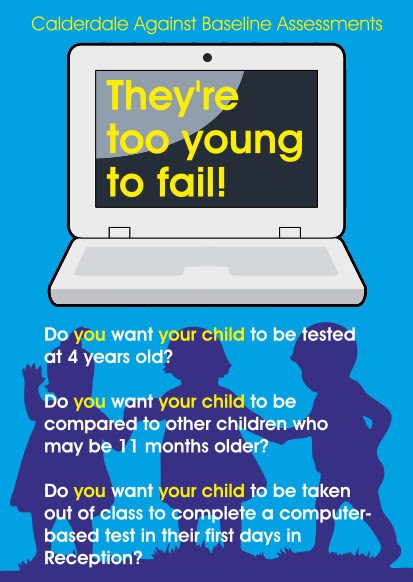 James Wilson, a Calderdale parent and teacher who is involved in the campaign, said:
"These proposed tests won't benefit the children nor improve schools. They won't even provide a reliable or valid source of information to the government!

Time spent on Baseline Assessments will hinder children settling into school – the first thing infants need to achieve in the first weeks of school is not to cry! Sitting them in front of a laptop and testing them is simply not the right thing to do.

These tests will not be age-adjusted or reflect child development.

Schools currently use the Early Years Foundation Stage Profile and this is a child-friendly, meaningful, rounded assessment of development. It's based on prolonged observation, not on plonking infants in front of a laptop, with no help given, within a few weeks of them starting school."
In addition Calderdale 2 Young 2 Fail campaigners say the proposed test is flawed because it's unreliable, disruptive, statistically invalid, harmful to children's wellbeing, harmful to good teaching practice and therefore to children's learning and damaging to parent-nursery-school relationships.
To find out more, you can visit the campaign website  or email calderdale2young2fail@gmail.com.