Thanks to a Save our A&Es float – carrying bandaged, bruised and bloodied youngsters with their parents dressed as nurses and doctors – and a Calderdale 38 Degrees NHS campaign stall at Halifax Gala today, thousands of people in Halifax have found out more about proposals for the NHS and social care shake up in Calderdale and Huddersfield. These could see one or both A&E departments in Halifax and Huddersfield downgraded to Minor Injuries Units.
Mark Laycock, on the float dressed as a doctor, said,
"This is a great way to let people know what's going on. Judging from the drop in sessions that the NHS organisations ran in Halifax, hardly anyone knows what's going on. Only a handful of people knew they were happening. This campaign is highly important."
Please consider signing this online petition calling on the Council's Scrutiny Panel to hold a formal inquiry into the proposals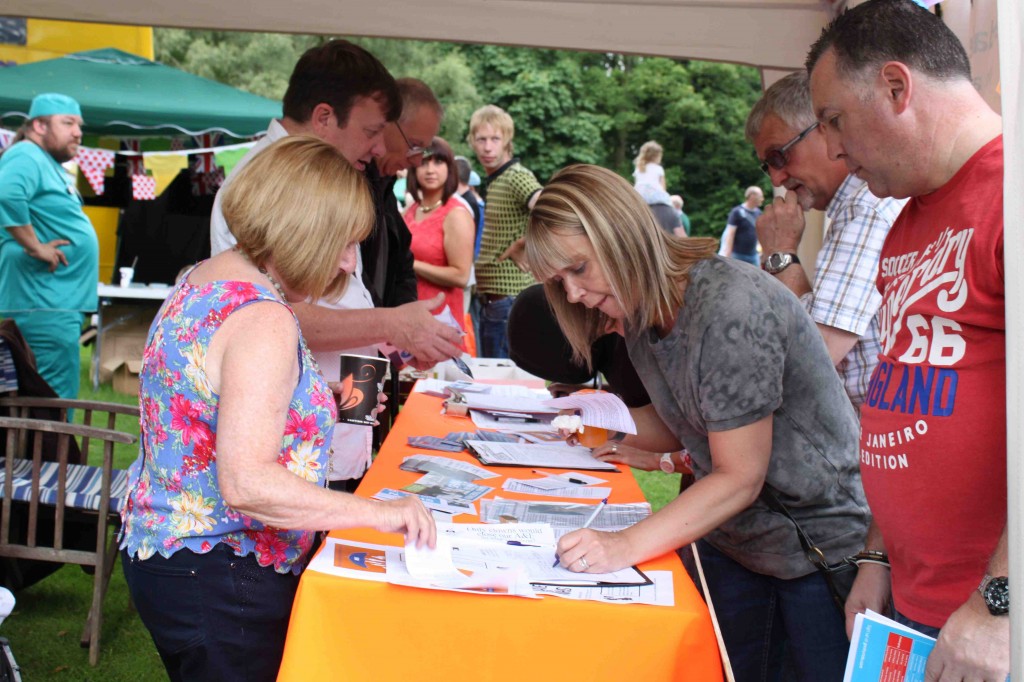 At the Halifax Gala stall, loads of people signed petitions to the Calderdale & Huddersfield NHS organisations. One called on them to keep the A&Es open, and another was to Calderdale Council Adult Health and Social Care Scrutiny Panel, calling on them to hold a formal inquiry into the local NHS organisations' proposals to close/downgrade one or both A&E departments in Halifax and Huddersfield.The Scrutiny Panel has the power to call the organisations in for questioning and also to invite the public to give their views.
The Council voted unanimously in April to tell the NHS organisations to withdraw their proposals but they haven't. So now it's time for the Council's Scrutiny Panel to use its powers to call in the proposals for formal review. If they still don't think the proposals are any good when they've heard all the evidence, they can refer them to the Secretary of State for Health to look at. If you didn't get a chance to sign the petition at the Gala, but would like to, it's online here https://www.surveymonkey.com/s/VKJPB5G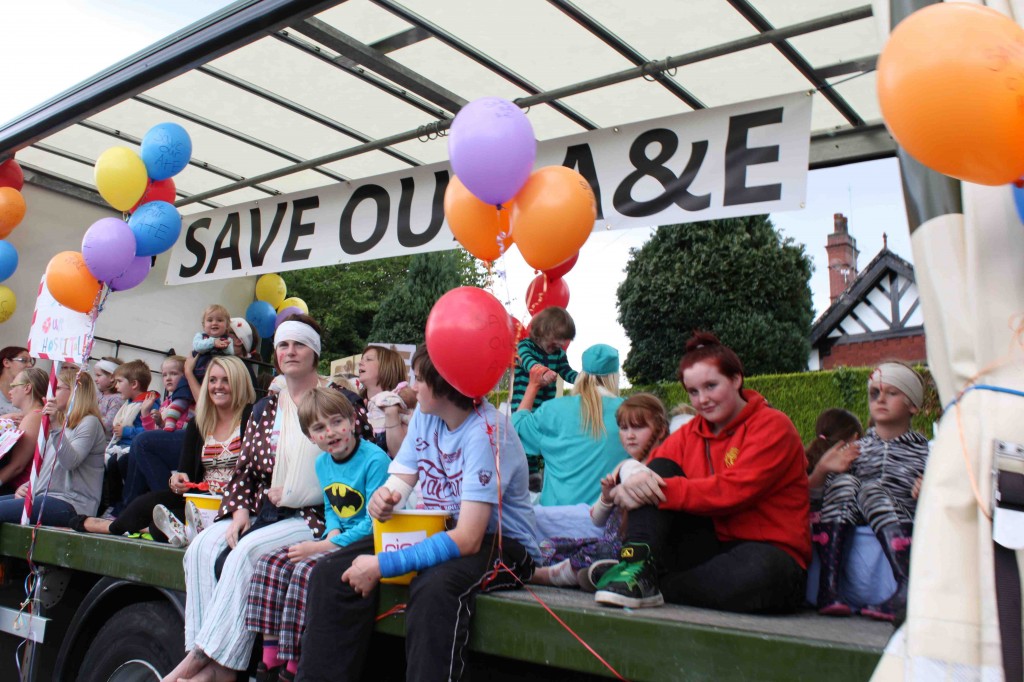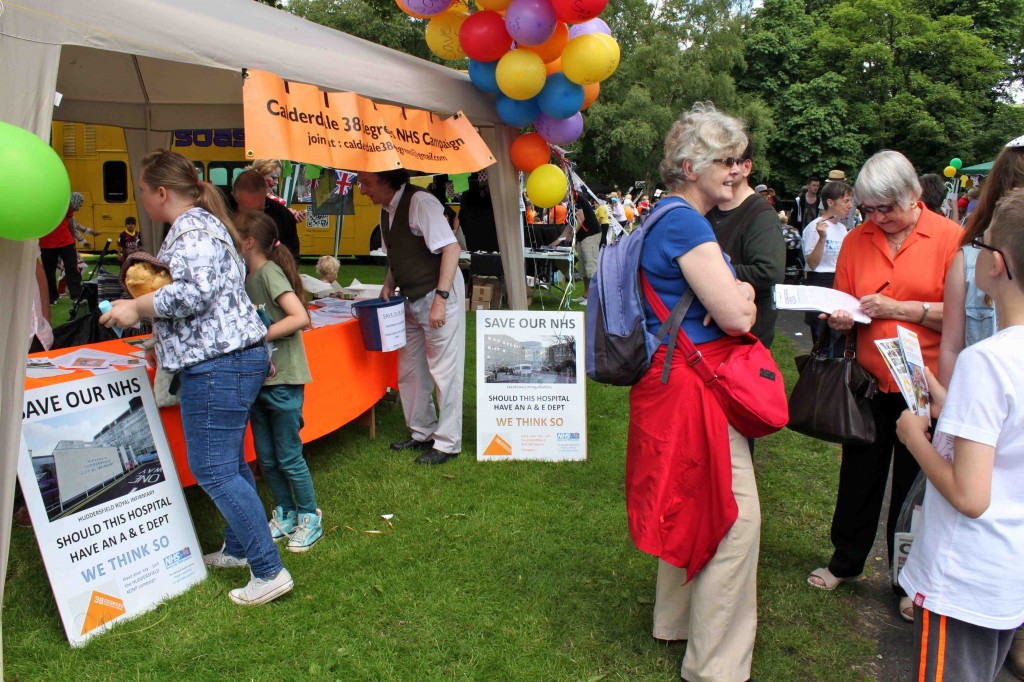 As well as closing/downgrading one or both of the A&E departments, the proposed NHS and social care shake up could also:
turn Calderdale Royal Hospital into a small planned care clinic using only 87 of its 450 beds,
send all acute and emergency patients to Huddersfield Royal Infirmary (where there would be100 fewer beds than at present), and
introduce a new, uncosted and untested system of care in the community, with the aim of keeping patients with chronic illnesses out of hospital. This has led to huge chunks of the NHS being privatised where it has been introduced in other areas of the country.
Ronnie Wykes, a member of the public, said,
"Closing one or both of our A&Es is the most stupid idea. We need A&Es in Huddersfield and Halifax. To be honest, you can't travel from Halifax to Huddersfield in peak period and expect to get people there on time. The dual carriageway is rubbish and there's no other way to get there. Whoever thought up this idea needs to take someone seriously ill from Halifax to Huddersfield and see how they like it. They may think it's only four or five miles away, but with the amount of traffic on the road, it might as well be 50 miles."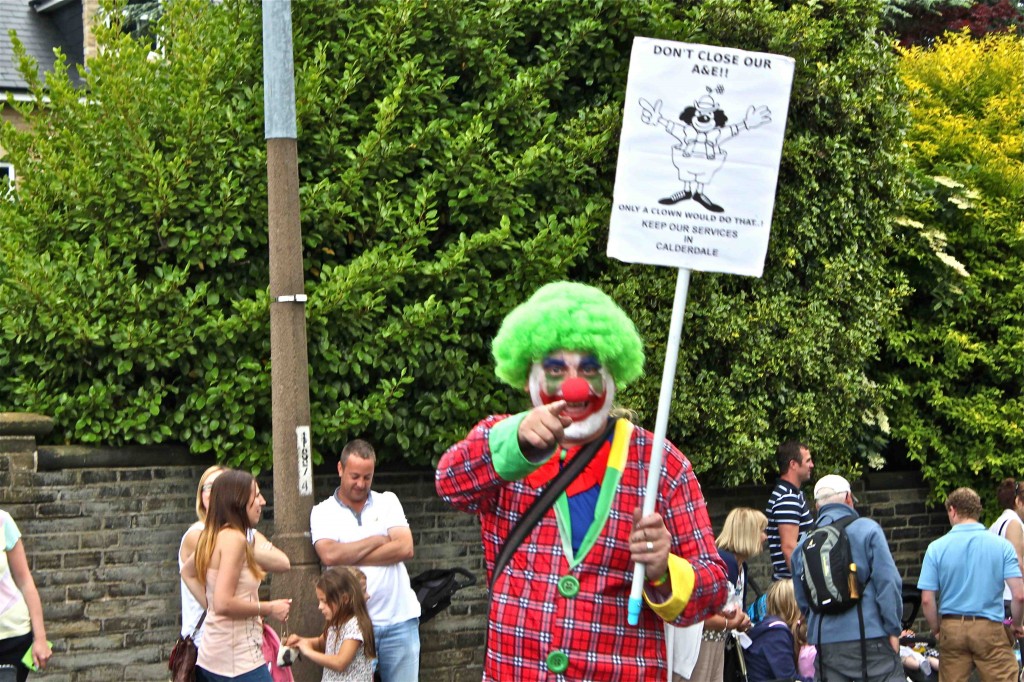 Gary Scott, who organised the float and inspired Calderdale 38 Degrees NHS campaign to run the stall at the Gala, said,
"Big thank you to everyone who came along and helped out on the A&E float and stall today. I think we did a great job of raising awareness, and had a lovely time too."

More photos here.