The "Save our A&Es" Float for Halifax Gala tomorrow (14th June) is all sorted. Beds, blood, bandages, kids, doctors, nurses are all ready and raring to go.
But there's still time to let organiser Gary Scott know if you'd like to come and help out (you don't need to be on the float), and/or if your kids would like to join the others on the float.
Please meet at the "Suma" truck at Eureka car park at 10.45 am if you'd like to be on the float, or to walk alongside with information flyers and/or buckets for donations to help the Calderdale 38 Degrees NHS campaign to Save Our A&Es.
Please note, no under 16s can walk in the road alongside the float.
Bring your NHS rap to Joe Cusimano's competition!
If anyone has any budding musicians in the family – here's a little competition. Come with a rap about our hospital, or the NHS, and rapper Joe Cusimano will pick the best one or two, and perform them on the Save Our A&E float.
Information stall – find out what you can do to Save Our A&Es
The wonderful Calderdale 38 degrees campaigning group will be running the stall on  Manor Heath Park, so please drop by and thank them for doing what they do, maybe put a couple of quid in their bucket to help cover the campaign costs, and pick up some balloons and leaflets to stick in your window and find out what you can do to help Save our A&Es.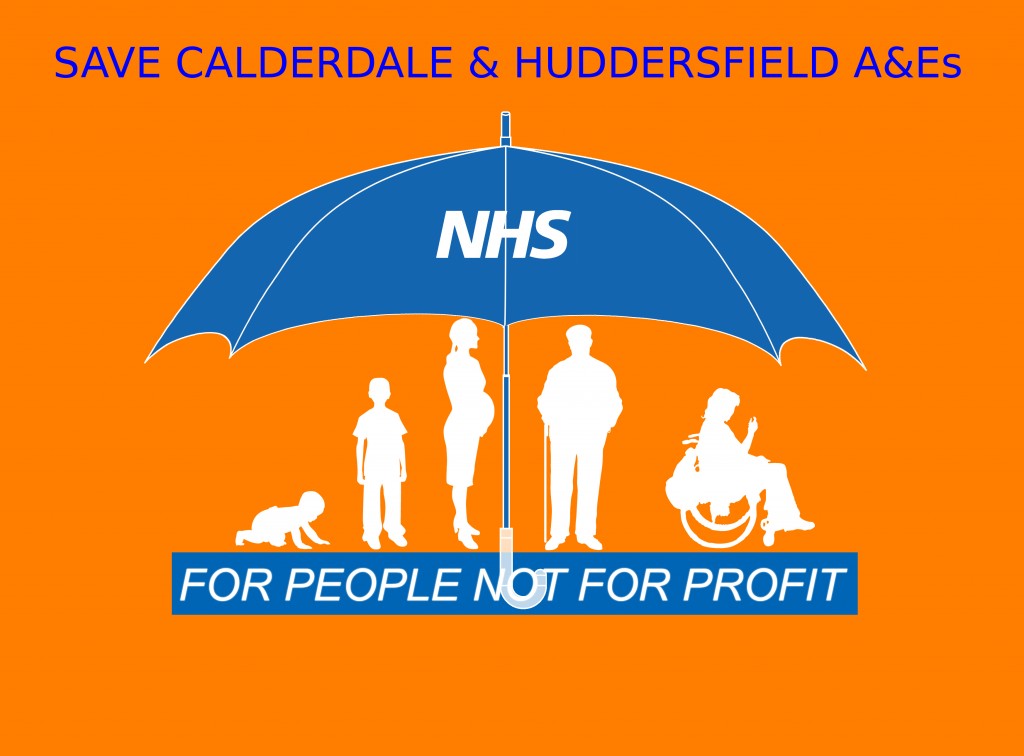 What's this all about?
Local NHS organisations are proposing to:
• Downgrade or close one or both of Calderdale and Huddersfield's A&E departments.
• Turn Calderdale Royal Hospital into a minor injuries unit and a small, planned care clinic using only 87 of its 450 beds.
• Send all acute and emergency patients to Huddersfield Royal Infirmary, while cutting 100 acute beds there and admitting fewer A&E patients.
• Set up 4 minor injuries units and a new, untested and uncosted system of care in the community, designed to keep people with chronic illnesses out of hospital. In other areas this has led to £billions of NHS services being put out to tender with contracts awarded to private companies.
If you're not happy with these proposals, here are some things you can do
• Tell your Councillors that Calderdale Council's Adult Health & Social Care Scrutiny Panel must call in the NHS organisations to account for themselves at an inquiry, where the public will also be able to speak
• Display a Save Calderdale and Huddersfield A&Es poster in your window (pick one up at Halifax Gala)
• Mums & dads with small kids can join a buggy army to lobby NHS organisations and Councillors (ask at the Calderdale 38 Degrees stall at the Gala)
• Help with public stalls and leafletting (ask at the 38 Degrees Stall at the Gala)
• Come to the NHS 66th Birthday party at Mytholmroyd Gala on 5th July – or hold your own!
• Walk it for the NHS from Calderdale Royal Hospital, via HRI and Dewsbury Hospitals to Wakefield on 23rd/ 24th August, to join up with the Jarrow to London People's March for the NHS (ask at the stall)
Admission to Halifax Gala on Manor Heath Park is open at 1pm and costs £2 per adult, £1 per child and £5 per family.  The money raised goes to charity.
As well as the Save Our A&Es stall, there are lots of things going on at the Gala – music by local dance group Bazzmatazz, Rudi Wallenda and his comedy car, and entertainment by Total Awareness Promotions. There will be a living re-enactment village plus go karting, fairground, donkey rides, baby show, charity stalls and plenty of refreshments.
A fun day out!