Ban the Burn protesters, bearing mops and buckets, visited the Head Office of Natural England this morning to deliver a clear message- DON'T FUND FLOODING – only to find that Natural England had advised staff to stay away from the office rather than face the protesters from Hebden Bridge, which suffered major flooding twice in the summer of 2012.
The protesters managed to hand over their petition to one remaining member of staff in the office.
The protesters wanted to tell Natural England that action on reducing run-off from the uplands is urgent, in order to minimise flood risk downstream.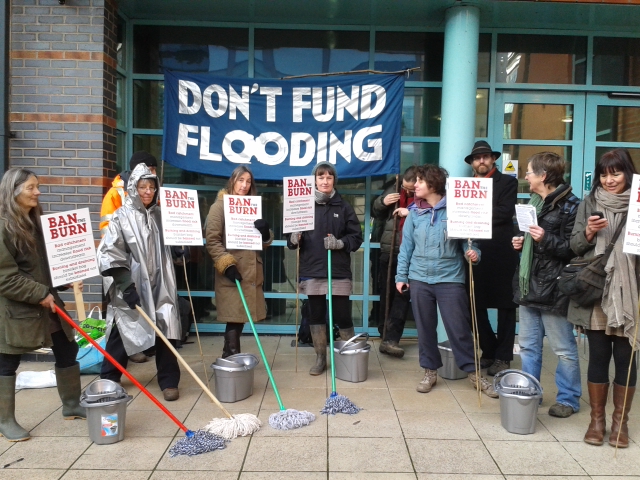 Commenting on Natural England's new uplands guidance on blanket bog restoration, the protesters said that burning on blanket bog should be banned, not subsidised; and in areas of blanket bog, Environmental Stewardship subsidies that are paid to farmers and landowners out of public money should require an end to blanket bog burning and should be entirely geared towards restoring blanket bog – not to promoting conditions that favour grouse shooting.
Ban the Burn protesters cite scientific evidence, accepted by Natural England, that burning blanket bog damages protected habitats and wildlife, decreases the ability of peat-lands to store rain water, and increases run-off of water into valleys in the catchment area.
Jim Peterken, a Ban The Burn supporter, said,
"The general public may be interested in the issue that our hard-earned public tax money is being paid to rich landowners to flood us. Grouse moor owners are being paid millions of pounds through the environmental stewardship scheme, to protect the uplands. But they are burning blanket bog and making flooding worse in areas like Hebden Bridge. Not to mention destroying biodiversity."
Groundhog Day
Asked by UCV Plain Speaker to comment on Ban the Burn's petition, Natural England was unable to identify the staff member who met the protesters. Instead, Lyndon Marquis, Natural England's Senior Press Officer at the Leeds office, emailed this statement:
"Until March 2012 there were no agreed limits to management activities, such as burning, grazing and vehicular use on the Walshaw Estate above Hebden Bridge. In March 2012 we were able to enter a management agreement and Higher Level stewardship agreement with the Estate. Now, for the first time, burning activities on the Walshaw Estate will be subject to specific controls. Burning will not be permitted in areas where heather amounts to less than 50% of the vegetation cover and will not be permitted in most of the areas defined as sensitive by the Heather and Grass Burning Code 2007 – this includes areas of blanket bog. An active programme of peat re-wetting has also been agreed, so that blanket bog restoration can take place. In the areas where it has been agreed that burning can take place, limits have been set regarding the length of the burning rotation."
This is old news and it misses the point of Ban the Burn's protest at the Natural England Sheffield office. This was to comment on Natural England's "refreshed" uplands guidance.
Natural England's new, draft guidance states that restoration of all degraded blanket bog is possible and that landowners should phase out blanket bog burning because of the damage it causes. But it doesn't say when this will happen.
Ban the Burn has a five-point response to Natural England's new uplands guidance:
"We welcome Natural England's statement that all blanket bogs and other peatlands have the potential to be restored, and its conclusion that burning on blanket bog has a range of impacts which are overall negative and should therefore be phased out.
But Natural England's guidance is not urgent enough – there is no timeline for the restoration of blanket bogs. We're flood victims, this is urgent, we can't wait.
We should not be giving public money to landowners who continue to burn blanket bog. For example, environmental stewardship subsidies should not be paid to landowners and farmers who are still carrying out managed burning.
When public money is spent on agri-environment schemes in areas that include blanket bog, it should be used to support blanket bog restoration based on scientific evidence identified in the 2012 Uplands Review.
We would like clarification of how the new guidance will affect current consents and environmental stewardship agreements that permit managed burning of blanket bog."
Farm subsidies and flooding in the South – it's not just grim up North
The issue of public subsidies to farmers and landowners for farming practices that increase the risk of flooding has recently become a hot topic, with revelations that recent flooding in the Thames Valley and Somerset Levels has been worsened through the increase in land coming under the plough, and the cultivation of maize for biogas
and winter wheat.
Both winter wheat and maize crops leave the soil bare over winter, on hillsides above both the Thames Valley and Somerset Levels flood plains. Leaving the earth bare over winter means that there are no plants to hold rain water and slow its run off.
The resulting high levels of soil erosion cause rivers to silt up with soil from run off. This obviously leaves less room in the rivers for water, which then flood more rapidly than they otherwise would.
Environmental campaigners like George Monbiot are calling for farm subsidies to be made conditional on abandoning these practices, and adopting farming methods that slow the flow of water off the land and into floodplains.