Craig Whittaker MP has voted in favour of the House of Commons second reading of the Care Bill – including Clause 118 that makes it possible to close hospitals, A&E departments and other other departments, without proper public consultation. This is at odds with the Tory manifesto commitment to "stop the forced closure of A&E and maternity wards"

The Care BIll still has to go through various other stages in Parliament before it becomes law, but if and when it does, Clause 118 could have a serious impact on the uncertain future of Calderdale A&E. This is currently the subject of a review that is recommending a merger of Calderdale and Huddersfield A&E and relocation to a site in Huddersfield.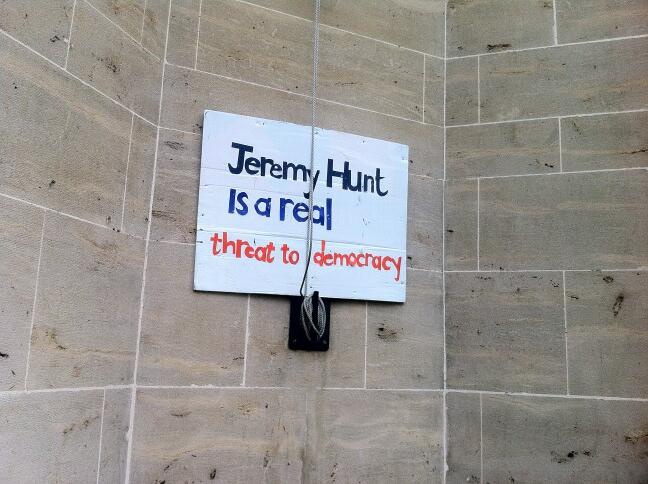 Jeremy Hunt "fought the law and lost, so now he's trying to change it"
Heidi Alexander, Labour MP for South Lewisham, was one of the few MPs to fully discuss Clause 118 in the House of Commons debate on the Care Bill. She pointed out that Clause 118 has been introduced to the Care Bill because Jeremy Hunt, the Secretary of State for Health, had twice fought the law and lost, when trying unlawfully to force closures at South Lewisham Hospital in order to redirect funding to a failing, nearby NHS Trust that was bankrupted by Private Finance Initiative re-payments.
Ms Alexander said that having "fought the law and lost… now he is trying to change it." She called for Clause 118 to be deleted from the Bill.
Hansard records that Heidi Alexander MP said:
I now wish to address part 3, chapter 4, which extends the powers of special administrators appointed to failing hospital trusts. The changes are only a small part of the Bill, but they have serious implications for hospitals and the health service across the country. The introduction of even more draconian powers for special administrators will hamper the public's ability to have their say on key hospital services and could lead to a chaotic and rushed system of hospital reorganisations that will not be in the best interests of patients or our democracy.

Grahame M. Morris: My hon. Friend is making important points about clause 118, which has become known as the "Lewisham clause". Given the recent experiences of the length of time the trust special administrator has to consult the general population, does she think that 100 days is long enough?

Heidi Alexander: In my experience, it is wholly inadequate. The consultation period is being slightly extended through this Bill, but I still do not believe it can lead to a genuine, open and honest debate between the people trying to lead change and the public, who have a right to make their voice and views heard.

16 Dec 2013 : Column 545

I wish to discuss our experience in south-east London of the first ever use of the trust special administration regime when the South London Healthcare NHS Trust was placed into administration last year. It is important for the House to understand that this process is totally different from any other hospital reconfiguration. It is a very fast process—roughly six months from start to finish—led by an administrator who is brought in from outside the organisation primarily to balance the books. The administrator is appointed to a specific failing trust, but what happened in our corner of London was that the administrator determined that in order to sort out the financial problems of the failing trust he needed to look beyond its confines, and that is where Lewisham hospital came in: a separate, successful, neighbouring hospital was told that its full accident and emergency department, its maternity service and its excellent paediatric department would have to go to solve the financial problems elsewhere.

The people of Lewisham did not think that that was very fair. The case was fought in the courts and the Secretary of State was told, not once, but twice, that he was acting unlawfully—hence clause 118; he fought the law and lost, so he is now trying to change it. He wants administrators to be able to specify and force through massive service changes at hospitals that are not part of the trust to which an administrator has been appointed. In effect, he wants to do elsewhere what the courts told him he could not do in Lewisham. When the trust special administration regime was first legislated for, guidance was issued by the Department of Health stating that the process should not be used as a "backdoor approach" to reconfiguration. That is precisely how it was used in Lewisham, and had the law not been on our side our full A and E and maternity service would now be closing, and half our hospital would be up for sale.

The TSA process is a brutal and rushed one. It starts with the need to save money, with questionable clinician input. When the starting point is the accountant's bottom line, the public are understandably sceptical about whether the medical and clinical input has just been shaped to suit the desired financial end point. The speed at which the process takes place leads to shoddy and haphazard work. The administrator in south London recommended to the Secretary of State that he make decisions about Lewisham hospital based on an understanding that the whole process would cost £266 million and would take three years to implement. After the Secretary of State took his decision, it emerged, from the office the trust special administrator, that it would cost twice that and take twice as long. The quality of the condensed public consultation was atrocious: people were struggling to find copies of the consultation document in local libraries; we had an online response form that did not even contain a direct question about Lewisham's A and E; and hundreds of people had to stand outside packed public consultation meetings because they could not get in. That is not the way to deal with a subject that understandably arouses such passions in people. People care so much about the health service because it is often where they experience the worst and best moments of their life. They want to have their say in how their services are organised, and giving even more draconian powers to special administrators erodes their ability to do that.

16 Dec 2013 : Column 546

I understand that hospital services have to evolve—some services will have to close or be relocated—but to get public support for change, we have to get the process right for persuading people of the case for change. An augmented special administration process, acting as a steamroller for the closure of hospital services, makes it less likely that those arguments are won, not more. These changes are at complete odds with the Conservative party's manifesto commitment to

"stop the forced closure of A&E and maternity wards".

The changes take power from the very doctors the Government say they are giving power to and could destroy trust in those who are central to leading the case for change and improvement in our NHS. For that reason, as well as others, I will be voting for the Opposition amendment, and it is why I believe that clause 118 should be deleted from this Bill as it progresses through Parliament.
More info on the hospital closure clause of the Care Bill here: