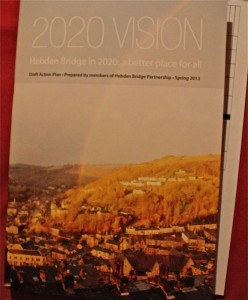 2020 Vision Hebden Bridge in 2020: A better place for all,  is pretty much business as usual.  This Draft Action Plan is up for consultation and there is a launch & public consultation day today, 18th May, 10am-3pm at Hebden Bridge Town Hall.

The Hebden Bridge Partnership draft action plan contains 39 modest proposals for:
improving traffic problems
making the town more accessible to wheelchair users and others with mobility problems
meeting the projected requirement for new housing
improving train station facilities and parking
improving Calder Holmes Park, the Memorial Gardens and the canal basin/marina and canalside
relocating the market, establishing an accredited farmers' market, hiring a town promotional manager, developing tourism and promoting the town's shops
supporting community wind turbines and microhydro electricity generation and making better use of unused green spaces
This is all well and good, but's where's the real vision? Business as usual isn't going to hack it if we want to deal with the radical climate, environmental and social justice issues that now face us.
Where is the recognition of a core principle of the National Planning Policy Framework, that planning should be a "creative exercise in finding ways to enhance and improve places where people live…supporting the transition to a low-carbon future…"?
Making the transition to a low-carbon future will have to underpin and shape planning for transport, a circular economy, food and farming, housing,  energy conservation, efficiency and generation.
Where is the recognition of the problem that Hebden Bridge is a low wage town where  young people can't earn enough to pay for housing in the town? Where is a commitment to making Hebden Bridge a living wage town?
Maybe Hebden Bridge Partnership could get its collective head round National Planning Policy Framework paragraph 17 – making the transition to a low-carbon future – and the need for a living wage economy. And then think through how these principles will shape the fabric of the town, its jobs and business practices.