Friends of Mytholm – a group of local residents concerned at the impact of the proposed development of the former Mytholm Works site in Hebden Bridge – invite local residents, businesses, residents of Mytholm Meadows sheltered accommodation; teachers and parents of children who attend the local primary school to a Buffet Lunch & Discussion upstairs at the Stubbing Wharf pub (wheelchair and pram access from tow path) at 12 noon, Sunday 14th October 2012. Followed by a site visit.

Schedule for lunch, discussion & site visit
12 noon – lunch and discussion, chaired by Town Planner, Christopher Standish.
1.30pm – site visit
2.30pm – Stubbing Wharf: Presentations (to be confirmed) , questions, discussion
4pm – Christopher Standish, Town Planner, review and summary.
5.30pm – close.
Friends of Mytholm say,
" We need the views of local people, particularly Mytholm residents. Would you love to be able to pop round the corner to do your shopping,  not have to go into Hebden? Are you afraid of being kept awake at night by vibrant neon signs, and  delivery trucks?
What do we, as residents of Hebden Bridge and in particular of Mytholm, want for this site?  What would be the impact on residents, workers and local small traders? According to a Friends of the Earth analysis, 50% of small business' income returns to the local economy; only 5% of supermarket income is spent locally
We hope to discuss all these issues fully, in detail."
For more info or to arrange a lift if you need one,  phone Susan on 01422-844718, tweet@MytholmFriends, or see the Friends of Mytholm Facebook page.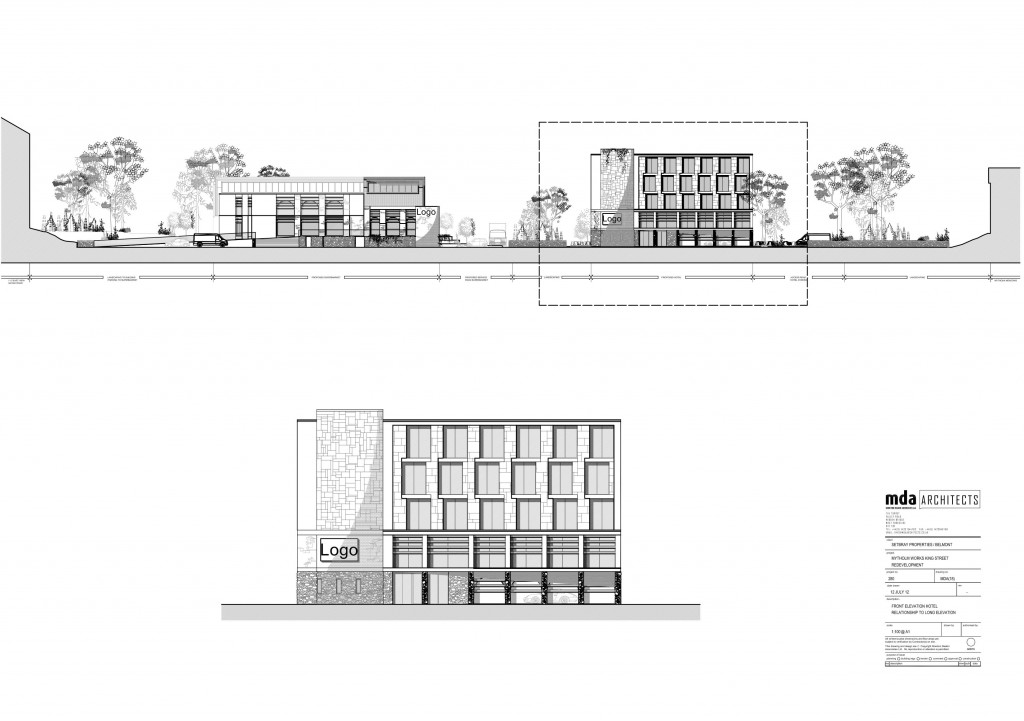 This drawing shows the front elevation of the proposed hotel in relation to the front elevation of the whole proposed development. The designs for the site development have been submitted by Hebden Bridge architects' company Moreton Deakin Associates, whose office is in the Turret, Valley Road. According to an article in the Hebden Bridge Times, the proposed hotel and supermarket would create 100 jobs. I've asked the planning consultant Roger Lee to substantiate this figure, by letting me know the source for it, but haven't received a reply.
Information about the former Mytholm Works site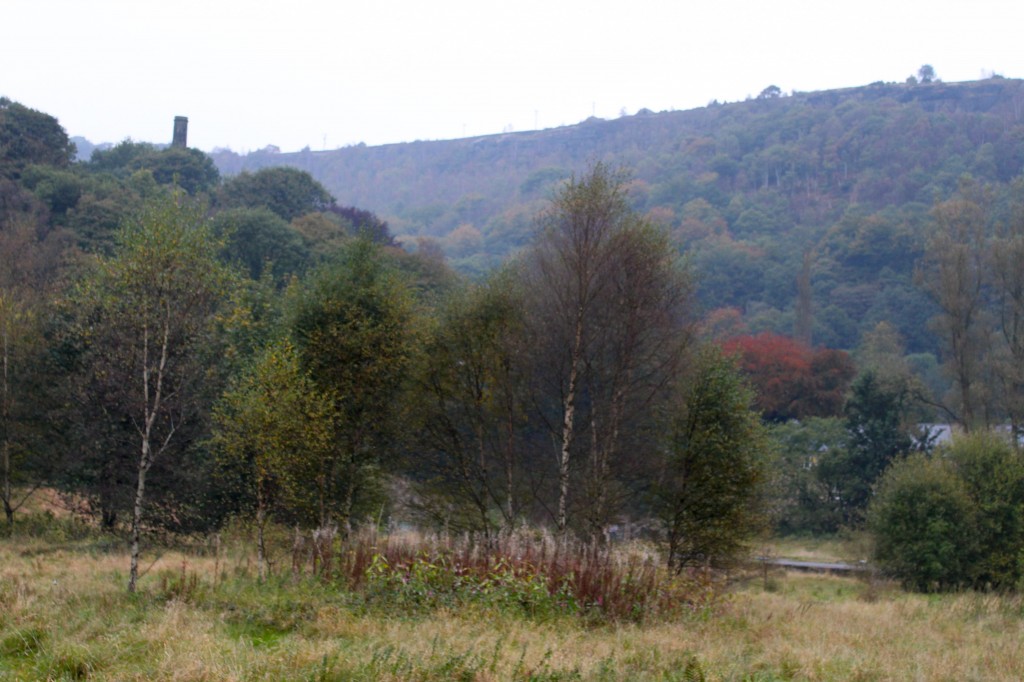 The site is:
a preserved area for a floodplain
a designated wildlife corridor plus a protected species and trees area
an air quality and sound management area
In 2007, Calderdale Council granted planning permission to Belmont Homes, the owner of part of the Mytholm Works site, for 58 residences and 2,500 sq metres for commercial use. Following expiry of this permission, the owners reapplied.  Their application was refused because legal changes mean that it is no longer possible to build housing on a designated floodplain.
The current owners (Hebden Bridge company Setbray Properties and Cheshire-based Belmont Homes) are currently applying for planning permission to build:
supermarket with a gross floor area of 23,053 sq ft and a net floor area of 11,000 sq ft – apparently this net figure is the retail floor space –  larger than the Co-op
56 bedroom, 5 storey hotel
Parking for 171 vehicles, including 11 disabled spaces
a micro-hydro electricity generating turbine
How to contact Calderdale MBC Planning Services
You can send comments and questions to:
Calderdale MBC, Planning Services, Northgate House, Halifax HX1 1UN, 01422-392237, town.planning@calderdale.gov.uk
This is where you can see the planning application – ref: 12/01003/FUL Construction of retail store, five storey hotel and hydro electric power station.