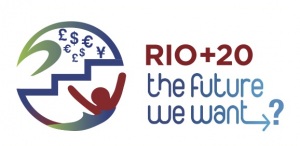 Check out this webpage showing all the corporate sponsors of the Rio+20 Corporate Sustainability Forum – which "will provide a venue for business, industry and investors to meet with Governments, local authorities, civil society and UN entities – with 2,000 participants expected"
And then check out what the United Nations is offering the corporate sponsors.

In exchange for money to fund the Corporate Sustainability Forum, including the costs of the Rio+20 Secretariat in funding Member States from Least Developed Countries and Small Island Developing States to attend the conference,  the UN confers its seal of approval on the corporations' sustainability initiatives. The highest levels of sponsor (Gold and Green, you bet) also have the "Opportunity to organize a 90-minute session focused on one of the identified Forum themes."
Government delegations from the countries most vulnerable to damage from climate change are present as beneficiaries of multi-national corporations that are major greenhouse gas polluters, and therefore directly responsible for the plight of the countries whose delegations they're sponsoring.
For example, Santander Bank and Petrobas are among the Gold Sponsors, that sponsor the costs of delegations from Least Developed Countries and Small Island Developing States. Santander Bank is notorious for its investments in dirty fossil fuel extraction businesses. And Petrobas is equally implicated in fossil fuel production. What kind of invidious power relation does this sponsorship establish?
Well I guess the United Nations has to learn that you can fool some of the people some of the time, but you can't fool all of the people all of the time.