Over the weekend, Calder Valley again suffered horrendous flooding – the third in eight years.
When Ban the Burn heard that Theresa Villiers, the Defra Sec of State, would be doing a walkabout in central Mytholmroyd on Wednesday between 9am and 10am, we called Craig Whittaker's constituency office to say we would like to talk to her.
We wanted to ask when the government is bringing in promised legislation to ban peatland burning and to make sure it has no loopholes or exemptions that would allow burning to continue.
They agreed it would be appropriate for us to talk to her.
This legislation is vital in order to protect the globally significant blanket bog habitat that acts as a big carbon sink but is currently being seriously degraded by mismanagement, in pursuit of profits from industrial scale grouse shooting.
There's solid evidence that this increases the flood risk in the Hebden Water catchment, and so downstream along the River Calder. It also risks more climate disruption, by changing a huge carbon sink into a carbon source. And it washes peat into our reservoirs, increasing our water bills because of the clean up costs.
We could be in the strongest position now to get burning banned
Ban the Burn has campaigned since the 2012 floods to ban heather burning on the Walshaw Moor Estate and to stop loopholes in the 2007 Heather Burning regulations.
After years of campaigning, we thought we were in the strongest position we have been to get burning banned.
Environment Minister Zac Goldsmith and DEFRA Under-Secretary Rebecca Pow are both backing a ban, with the Committee on Climate Change recommending legislation is brought within the year.
DEFRA confirmed on 27 January that it will be announcing its timeframe for legislating in the soon-to-be-published England Peat Strategy.
Where's Villiers?
But we never talked to Villiers. She avoided Mytholmroyd.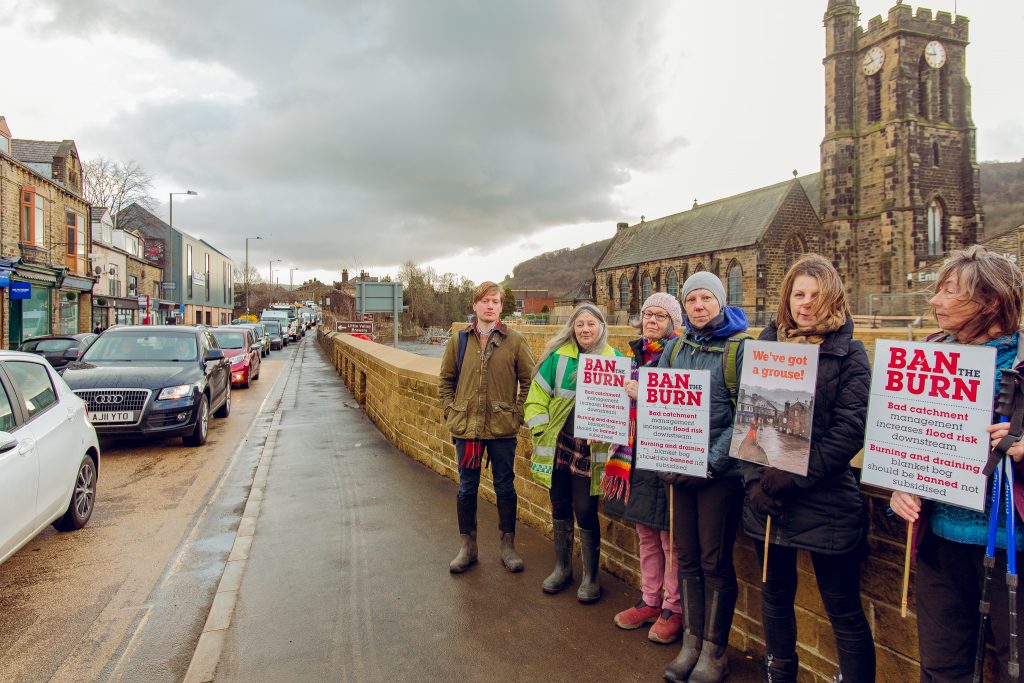 Ban the Burn waited for her from 8.30am. No one knew she was visiting – flood wardens, the community centre, the fire station, the enterprise centre, the GP surgery. Around 10.15am, Whittaker's constituency office finally answered the phone and told us Theresa Villiers MP wasn't doing a walkabout but holding a private meeting.
Where? The constituency office had no idea. But they knew Cllr Tim Swift and Calderdale Council Chief Exec Robin Tuddenham were in the private meeting. So we called Cllr Tim Swift's office. His PA said she had no knowledge of where the meeting was taking place.
Really?
We were clearly being given the run around.
A carefully managed media circus and PR job
We had no idea that around 10am Helen Chuntso, who works in Hebden Bridge Town Hall, had posted on Facebook,
"The Town Hall is crawling with journalists, DEFRA, Environment Agency, with politicians sneaking in through the side door for closed meetings…
A carefully managed media circus and PR job awaits us….
Just imagine if we talked about upland management, the use of investing in ecosystems to defend people in the valley, criminal sentences for burning Sphagnum moss, and not just expensive concrete walls that cause traffic and illegal levels of air pollution. Thank you … all those consistently working on this." And the link: Ban the Burn News
Cllr Scott Archer Patient has said on Hebden Bridge facebook group that there were no minutes of the meeting – but he took notes and will publish them asap.
If there were no minutes, then it seems the meeting was a PR exercise, not something to produce priorities for action or formal resolutions/demands of government?
And of course now Boris Johnson has kicked Villiers out of the Cabinet – entirely predictably.
So what possible point was there in the meeting?
The whole thing seems farcical. Calder Valley deserves a lot better.
The shooting lobby is celebrating Johnson's new Secretary of State for the Environment
Theresa Villiers' replacement is George Eustice, MP for Camborne, Redruth and Hayle in West Cornwall – a former UKIP member who switched to the Tories when he couldn't get elected as a Kipper.
The British Association for Shooting and Conservation are celebrating.
So George Eustice's appointment will keep the grouse shooters happy. If not Zac Goldsmith. Now we're wondering what will become of the Conservative government's commitment to new legislation to ban heather burning on peatland.
MP's excuse as leaky as the gap in Mytholmroyd flood wall
Ban the Burn returned home to Hebden, where Craig Whittaker MP was walking towards the station.
He said he'd just left a meeting with Theresa Villiers in the Town Hall and she was already on her way back to London.
He protested his constituency office hadn't known that the meeting was in Hebden Bridge. Theresa Villier's office had only notified him of this change of plan at 9pm the evening before and he had not had time to let his constituency office know.
His excuse was as leaky as the gap in Mytholmroyd's flood wall. If Whittaker had been too busy to tell his Constituency Office what was going on, how did they know Theresa Villiers' planned walkabout had changed to a private meeting?
Whittaker is confident we can safely leave Walshaw Moor Estate issues to him
I said I was disappointed that we'd not been able to tell Theresa Villiers why it is so important to bring forward the proposed legislation to ban burning, and to make sure it has no loopholes or exemptions.
Craig Whittaker told me it didn't matter that Ban the Burn had not managed to speak with the Secretary of State, because he is fully up to date with all the issues relating to the management of Walshaw Moor Estate.
I replied that this is not the case. He didn't know what Ban the Burn has found.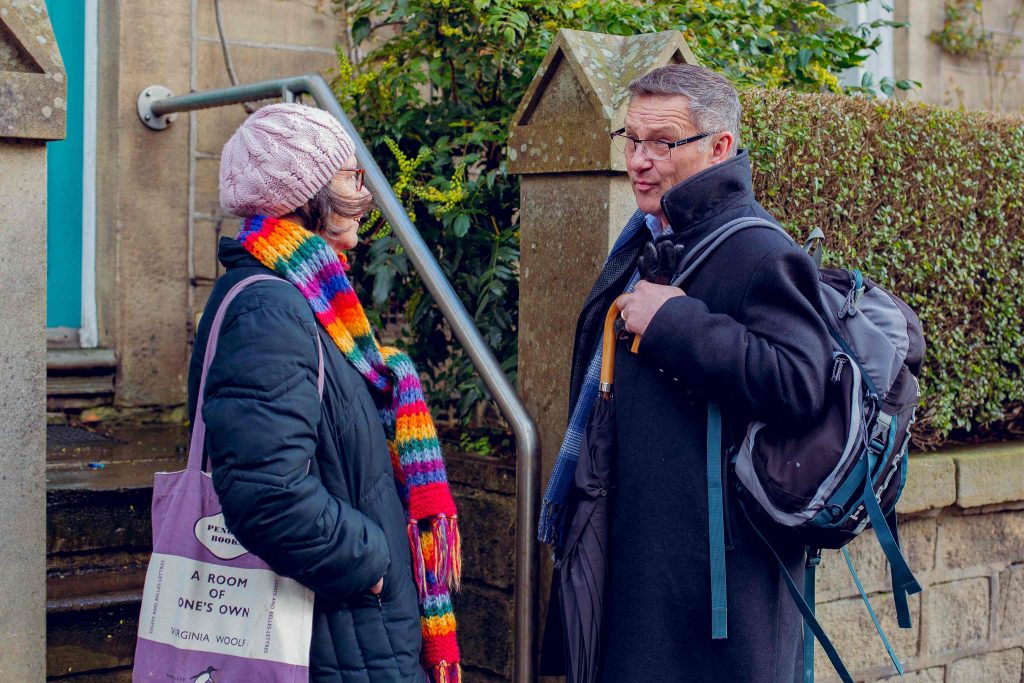 So much for the 2017-42 Walshaw Moor Estate restoration plan
For the last few years, Ban the Burn and Calderdale Wildlife Group have been on the moors monitoring Walshaw Moor Estate's compliance with the new 25 year restoration plan 2017-2042.
We do this because Natural England (which is the quango that's supposed to do this) has been so severely cut, it can no longer afford to.
Last autumn we gave Natural England evidence of the Estate's continued burning of sphagnum moss and apparently un-consented construction of infrastructure.
In November Natural England committed to investigate these examples of apparent mismanagement in breach of the 2017-42 Restoration Plan. But they've done nothing – or if they have, they've told us nothing.
Ban the Burn has just written to Natural England demanding to know the results of this investigation and giving them a timeframe. We have run out of patience. I told Craig Whittaker we would like him to chase this with Natural England and to ask Theresa Villiers to chase it too.
Craig Whittaker countered that it was not true that Natural England lacked the capacity to monitor whether Walshaw Moor Estate is complying with relevant Habitats and Wildlife laws and regulations and the new restoration plan. He added Natural England had been up on Walshaw Moor Estate with him three times.
I was interested to learn that Natural England has apparently told him one thing and us another.
Luke Steele, Spokesperson for Ban Bloodsports on Yorkshire's Moors, asked,
"Why isn't Craig Whittaker behind the Conservative line that burning has to be banned? When is he going to get in line? Will he please explain his position? Do you or don't you support the ban on burning? And what is the timeframe for the England Peat Strategy?"
I guess now we have to ask George Eustace and Zac Goldsmith these questions.
Ban the Burn 2020 flood briefing
Craig Whittaker's constituency office worker offered to send Theresa Villiers the flood briefing we had intended to give her during her Mytholmroyd walkabout. And said he would make sure to send it to her successor if Boris Johnson kicked her out of the cabinet. As he has.
Who was at the Villiers meeting?
We gather that the meeting with Theresa Villiers and Craig Whittaker MP was attended by:
Andrew Entwistle (Hebden Bridge Chief flood warden)
1 flood warden each from Mytholmroyd and Todmorden
The Environment Agency
Calderdale Councillor Scott Archer Patient
Sian Rogers who works for Calderdale Council and is coordinating everything at Hebden Bridge Town Hall and feeding needs and concerns back to the Council
Calderdale Council Leader Tim Swift
Calderdale Council Chief Exec Robin Tuddenham
a business owner from Mytholmroyd
a business owner from Market St, Hebden Bridge
It's possible there were other people at the meeting that we've not heard about. We hope it was not an utter waste of their time that took them away from so much urgent flood clean up work.