The 4th October decision by the Secretary of State for Business, Energy and Industrial Strategy to allow Drax Plc's planning application for the UK's largest ever gas-fired power capacity will lock the UK into dirty energy production for at least another two decades, climate campaigners have said.
Government overruled Planning Inspector's recommendation to refuse the gas plant
The Secretary Of State overruled the Planning Inspector's recommendation to refuse the plant, with the bizarre claim that the new gas plant didn't contradict the "move towards net zero carbon".
The Planning Inspector's recommendation agreed with key objections made to Drax's planning appliction, and with the arguments Biofuelwatch and others including ClientEarth put forward.
For example, he stated:
"There is a significant risk of high carbon lock-in, which goes against the on-going and rapid transition to low carbon energy generation as advocated by NPS EN-1."
Frances Howe from Biofuelwatch stated:
"We are disappointed by the Secretary of State's decision. Drax already burns more wood than any other power station in the world, and now it will return to its former position as the UK's largest fossil fuel burner, too. The public money Drax will require for this project needs to be spent on renewable power from wind, waves or sun."
Ash Hewitson from Reclaim the Power said:
"The Government has shown that it listens more to dirty polluting energy companies than the communities it claims to represent. Thousands of people have said that they do not want new gas."
Drax gas plants can't go ahead without big new subsidies
Drax wants to replace its remaining two coal-fired units with far larger gas units. This will be the UK's largest gas power capacity to date. For this project, Drax is asking for substantial new subsidies, in addition to the £2.16 million a day it already receives for burning wood.
The Secretary of State's decision is bad news – but Drax's Annual Report made it clear that they can't actually go ahead without big new subsidies for burning gas. Preventing them from getting such subsidies is by far the best chance of stopping this project. And a subsidies decision isn't imminent. In fact, the whole Capacity Market this depends on remains suspended by the European Court.
Drax Power Station is already the world's biggest biomass plant, burning over 7 million tonnes of imported wood pellets, many of them sourced from the clearcutting of forests that lie at the heart of a global biodiversity hotspot in the southern USA.
Two huge trainloads of these pellets barrel through Hebden Bridge station twice a day.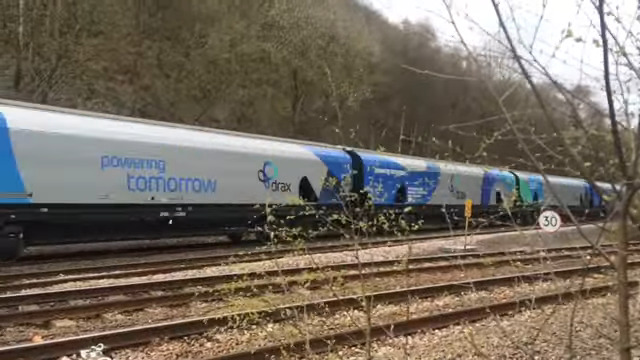 In April this year campaigners handed in a petition of over 96,000 signatures and an open letter signed by 92 organisations internationally to the then Secretary of State for BEIS, Greg Clark, asking him to reject Drax's proposal.