A Hebden Bridge patient with serious long term ailments is being prevented from accessing NHS treatments for which they have a clinical need.
If you support her wish to get to the bottom of this matter, please sign this open letter, by Friday 30th March.  Upper Calder Valley Plain Speaker will  then deliver, it with all signatures, to the Hebden Bridge Group Practice Manager.
This open letter aims to:
help to get these problems sorted for this patient and any/all others with similar problems

find out if other patients in Upper Calder Valley are experiencing similar problems

help to identify any systemic causes of these problems

bring public pressure to bear on the responsible authorities to sort both the immediate problems and any systemic causes
If you, or anyone you know, is experiencing similar problems and would like to be part of this attempt to solve them, please email Upper Calder Valley Plain Speaker. Your information will be treated as confidential. Data protection law will be followed. Nothing will be published without your permission and everything will be anonymized.
The patient is now overwhelmed by their ailments that are far worse than they would be if they had received the treatment they need.
Dear Hebden Bridge Group Practice,
We are writing, with their consent, on behalf of a patient at the Practice who is being denied referral to NHS hospital treatments for which they have an urgent clinical need.
We understand that GPs, like most NHS front line staff, are overworked and pressured, and that stressed, exhausted Hebden GPs have left the practice, disrupting  continuity of patient care.
We hugely appreciate the work you do for your patients and are simply bringing to your attention the avoidable suffering of a patient who is being denied access to treatment that they need, and asking you to rectify this right away and explain how it came about.
We are particularly concerned about the possible effects of harsh NHS spending cuts required by the West Yorkshire and Harrogate Sustainability and Transformation Plan. To make these cuts, NHS Commissioners are "managing demand" for elective care, through a scheme called Commissioning for Value. Decisions about what treatments to pay for are based on economic value, not patients' clinical need.
Please immediately give this patient the treatment they need
The patient needs an urgent  referral to neurology, as they have 2 cervical discs protruding on spinal nerve roots causing loss of use in hands and the pain is at stupid levels.
This has been going on for 1 year and 11 months, and since November the patient has had serious cervical compression vertigo which makes transferring from their wheelchair dangerous – but the patient has been told the GPs can't refer them to the the neurology department at Calderdale Royal Hospital.
Why?
We are dismayed to hear that your patient is unable to access treatments and medicines for which they have a clinical need. This violates the core founding principle of the NHS.
The patient is a wheelchair user who suffers high levels of pain due to spinal problems. These started when they were 21 and L5/S1 prolapsed. The disc lay on the spinal cord and did permanent damage which is why the patient now uses a wheelchair.
Then L5/L4 went in 2003.
The patient told Upper Calder Valley Plain Speaker,
"I know the symptoms and the damage and I'm scared of more damage as I already have 3 critical signs of nerve damage."
1 year and 11 months after their referral to the hospitals Trust physio department, they still haven't heard anything about a hospital referral to the neurology department and have been told the GP can only refer to the Musculo-Skeletal (MSK) clinic in Tod.
During this time,  the patient has been referred to the hospital's physio department, then to physio at Tod MSK clinic.
The MSK clinic referred the patient for an MRI scan which says 2 disks are protruding on nerve roots.
This was followed by a phone call from a Hebden Bridge GP with details of the MSK clinic letter about the disk compression.
Hebden Bridge GPs then told the patient they were sending them to pain clinic. A letter from MSK followed, sending them to the pain clinic in Halifax.
The patient told UCV Plain Speaker:
"I've done 3 pain management courses and the last one I couldn't attend as I was in too much pain to go to Halifax 3 times a week."
As well as the restriction on GPs that prevents them from referring patients to the hospital neurology department, and limits them to referrals to the MSK clinic, part of the problem seems to be that many of the GPs at Hebden Bridge group practice have left. So there has been no continuity of care.
The patient also has bad eczema that flares up with stress. The eczema is now so bad only the left thumb works.
A GP has told them that nothing more can be done for their eczema, and refused to prescribe more diazepam to go with the pethidine for a severe flare up. Their prescription service keeps stopping.
Their carer has spoken to the practice manager about repeated slip ups with prescriptions.
Currently they have to call the surgery every week for their repeat prescription which gives them their meds weekly. They're not always able to call due to pain. They used to have a monthly script delivered. Repeated calls to the GP practice by a friend, a family member and the carer have failed to resolve this problem.
Please make sure this patient is swiftly referred to the hospital neurology department and her prescriptions are sorted out.
Cuts to musculo skeletal and neurology services are "headline opportunity" for spending cuts
Has NHS Commissioners' use of a 'Go Compare' type benchmarking tool called Right Care caused Hebden Bridge GP practice's inability to provide the clinical care this patient urgently needs?
This Right Care "Go Compare" type scheme was set up in 2010 on the basis of an NHS cost-cutting report by the global consultancy company, McKinsey. According to evidence given to the House of Lords Committee on NHS Sustainability in 2016, the aim was to
"release £11.5 billion from the £115 billion available and shift it from lower value activity to higher value activity"
"Value" being economic value, as  Professor Sir Muir Grey – director of Better Value Healthcare Ltd – explained in his submission to the Committee.
Use of this scheme by the West Yorkshire Sustainability and Transformation Partnership means that financial considerations now dictate the treatments available to patients.
This is how private insurance companies work. It is not appropriate for a universal health care system like the NHS, which is funded out of general taxation and operates on the principle that it provides universal access to treatments based on clinical need.
The Calderdale CCG Commissioning for Value pack, Jan 2016, prepared by NHS England, claims that use of the Right Care comparator has led to a 36% reduction in GP referrals to acute MSK services by a CCG in Kent, as a result of following a local triage protocol.
Recent Right Care Commissioning For Value packs for both Calderdale Clinical Commissioning Group and and West Yorkshire and Harrogate Sustainability and Transformation Partnership identify the Musculo-skeletal service as one where restrictions to patients' admissions to hospital for elective care would allow significant spending cuts.
This would help make the £1bn NHS and social care cuts by 2020, that are required by the West Yorkshire and Harrogate Sustainability and Transformation Plan.
The 2016 Calderdale Commissioning for Value pack  also shows Neurological services as the top "Headline Opportunity" for cutting spending.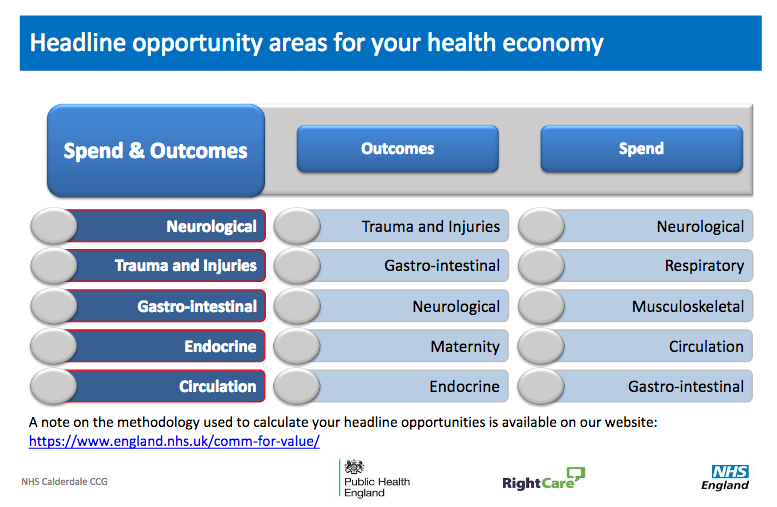 Another slide from that Commissioning For Value pack shows that cutting £536,000 on hospital Neurological services would save 5 lives/year in Calderdale. Presumably at the expense of the discomfort and pain of patients who were "triaged" away from hospital treatment,  because in their case this did not represent  good economic value.
Is this the reason why this Hebden Bridge patient has been refused a referral to the neurology department at Calderdale Royal Hospital?
And what about the GPs' refusal to provide further treatment for the patient's eczema, and to prescribe diazepam? Does the Right Care 'Go Compare' tool have anything to do with that? This shows that if the CCGs in West Yorkshire and Harrogate cut GPs'  neurological prescribing so it was in line with comparator Clinical Commissioning Groups, the Sustainability and Transformation Partnership could potentially cut between £188,000 and £207.7m.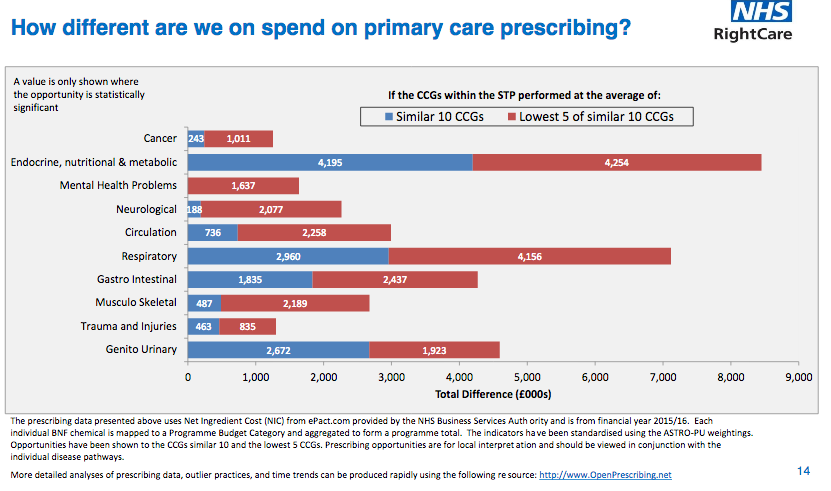 We look forward to your reply