On 27th October,  Frack Free Calderdale folk gathered in St George's Square, Hebden Bridge, to tell Yorkshire Water that fracking waste water is dangerous, and they are unhappy with the prospect of fracking waste water being treated at Yorkshire Water's Knostrop Waste Water Treatment Works in Leeds.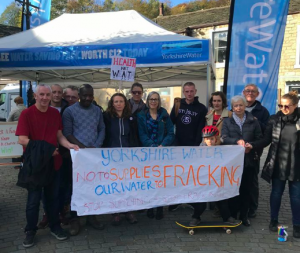 In a statement on their website,  Yorkshire Water said,
"Our current assessment is that the risks to water supply from shale gas production are acceptable, provided they are properly identified and lead to appropriate risk mitigation. If more companies apply for permission to produce shale gas by hydraulic fracturing we will review each application on a case by case basis."
Their statement also said,
"Although we don't have control over whether fracking takes place in the region we are a statutory consultee on planning applications for onshore shale gas extraction.
This means we carefully consider and comment on all shale gas planning applications to make sure that where fracking does occur, it has no impact on water supplies. We cannot emphasise enough how absolutely vital it is to us that customers enjoy the safest drinking water at all times."
Yorkshire Water's position on treating waste water from fracking, stated on their website, is that
"We're currently unaware of any firm proposals by FCC Environment to send waste water from the fracking process to our Knostrop Waste Water Treatment Works (WWTW) in Leeds. 

Any treatment of waste by FCC Environment would have to be to a standard that we were able to treat at Knostrop WWTW. If FCC Environment cannot treat waste water to acceptable levels it will be returned back to the waste producer or to an alternative disposal facility. We have stringent quality standards we have to meet before we can discharge waste water safely back to the environment from Knostrop. 

We would like to make it clear to our customers that Knostrop is a waste water treatment works (a sewage works) and has no role whatsoever in the production of drinking water supplied to local homes and businesses."
However, the Fresh Water Habitats Trust says,
"Fracking results in increased local and regional risks to freshwater habitats through abstraction, land take and pollution. Given insufficient information and much controversy about the level of some of these risks, the precautionary principle is to avoid fracking
until better data, over longer timescales, are available."
Frack Free Knostrop's website outlines their concerns about fracking waste water:
the lack of knowledge surrounding what will be within the fracking waste water and therefore what substances should be tested for in order for the water to be deemed safe
the potential for bio-accumulation of heavy metals in the River Aire, destroying animal habitats
–
the possibility of a toxic spill which could contaminate drinking water."
They also explain that:
 Once the water is treated by FCC it would have to pass through the YW site before being released into the River Aire. It has been determined that YW have a legal obligation to release the fracking waste water if it meets the required standards. This means that YW have an obligation to us as their customers to ensure that the water is tested properly before it is released into the river…
The E[nvironment] A[gency] are the government agency responsible for issuing the licences to treat the fracking waste water; they are also the agency who set the standards which FCC and YW must comply with before the water is released into the river…. Consequently we followed up by contacting the EA and putting our queries and concerns to them. The responses we received we disappointingly vague…
Yorkshire Water were in Hebden Bridge to publicise Treesponsibility's tree planting on their land at Gorpley Reservoir, as part of the natural flood management scheme to slow the flow and reduce flooding in the Calder Valley. This is obviously A Good Thing, but Yorkshire Water needs to make sure its environmental credentials are as strong in relation to protecting the public from the dangers of fracking, as they are in taking action to reduce flood risks.