Sometimes we win battles!
Frack Free Calderdale is pleased that last week at their Annual General Meeting, Barclays' Chairman John McFarlane told their shareholders that the bank would be withdrawing their financing of Third Energy – the company they own 97% of and that is licensed to frack in Ryedale, North Yorkshire. This could be a huge win for the anti-fracking and climate justice movement in the UK and one we should celebrate!
For the last two years, students and others have been protesting outside their local Barclays branches – calling on them to divest from fracking in the UK, North Dakota Access Pipeline and the Cerrejón coal mine in La Guajira.
This year, Frack Free Calderdale has protested outside Hebden Bridge Barclays and asked Barclays to stop financing Third Energy.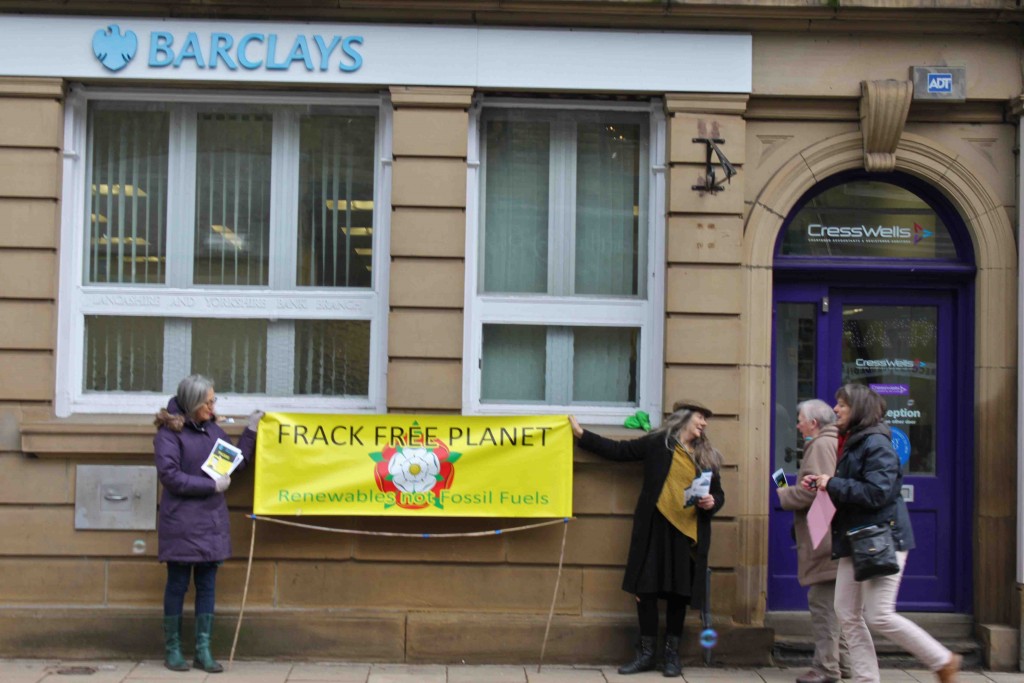 However, Drill or Drop reports that a spokesperson for Third Energy said:
"This doesn't change the situation on the ground. Barclays will sell at some point, as any private equity investor would, but there's no urgency or deadline."
And a spokesperson for Barclays said:
"The Chairman reiterated at Wednesday's AGM that the TE [Third Energy] holding sits in Barclays Non-Core (BNC). BNC was set up three years ago to house assets not core to our strategy, and will be folded back into the Group at the end of June, with c.£25bn of risk-weighted assets (including the TE holding) still on its books.  We will sell our TE holding at some point, though there is no new driver of that or urgency to the situation."
Barclays continues to be a world leading financier of extreme oil and gas, and lags behind other high street banks on policy surrounding future investments in coal. So while this victory shows that we can win against Barclays, it's not the end, it's just the start.
To keep the pressure on, please:
1. Support the campaign to get Barclays to divest from all fossil fuels.
2. Tweet to make sure they don't do a U-turn:
Hey .@Barclays make sure you keep your promise to #divest from fracking in Rydale. What about #NoDAPL ? or 
SHARE on Facebook
3. If you're a student you can attend the July People and Planet  summer gathering – Power Shift – which will launch their Divest Barclays campaign. You can book your place now to find out how you can take on Barclays on your campus.