If you are thinking of going to support Kirkby Misperton Protection Camp, here is some info about how to get there and what they need.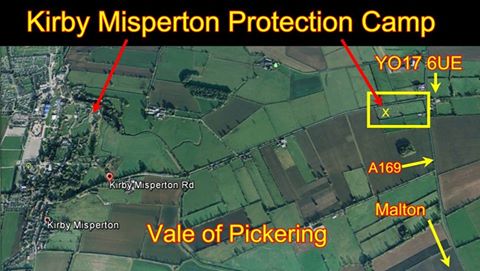 They are trying to, over time, gather large numbers at the weekend, to show the strength and breadth of the support.
Campaigners there say they are committed to staying until Third Energy renounce their intention to frack.
They set up camp just before Christmas, after the High Court rejected a legal move to stop plans for fracking at a well to the south-west of the village.
Make a date in your diary for the Saturday cafe and kids space with Derek Chapman, Wesley Midgley, Jules Beaumont Chapman, Lisa Holden, Jae Taylor, Sam Butler, and the rest of the support crew…… 
….. Mostly come and talk to our brave protectors  and spread the message. 
No Fracking Way!
Anyone wishing come to Kirby Misperton Protection Camp by public transport, can be picked up from Malton Train Station. If you can give them at least one hour notice, it would be greatly appreciated. 
Call either Ian on 0779 151 8740 
or Steve on 0777 633 1707.
Trains from Hebden Bridge to Malton take about 2 hours and involve a change at Leeds.
Bus Timetable for Leeds – Malton – Kirby Misperton – Whitby : http://www.yorkbus.co.uk/…/files/coastlinerttwebdec16.pdf
Also: donations should be made to Kirkby Misperton Protection Camp and can be posted to this address:
The Clock House
Little Barugh
Malton
N.Yorks
YO17 6UY
Thank you!
Please sign the People's Declaration: No Fracking in North Yorkshire, No Fracking Anywhere.
And please consider switching to Ecotricity so you're not paying for gas that may be fracked. If you switch here Frack Free Ryedale gets £60. Although best to be aware that Ecotricity doesn't participate in the Warm Home Discount Scheme, which gives people on lower incomes £140 towards their energy costs each winter. So if you claim this discount, buying your energy from Ecotricity will stop this.
Kitchen update. 14.1.2017
Firstly thank to so many for kind donations. 
Especially the home made and the hot foods , the love and warmth come through and nourish body and soul. Keep it coming. 
Could I request that people let us know what is coming, so we may stagger the influx and avoid any wastage. Post on here or contact Derek Chapman, Lou, Eddie or Tracie. Derek is offering to organise a rota, as this would help. He says PM me and I'll give u my number.
All homemade food must be supplied with date of making, name and contact details. 
Also we MUST know if products contain, meat, dairy, or nuts (please list any allergens). 
We don't need all ingredients, or your secret recipe, just the possible hazards. 
We also don't want to dictate what you make, please be creative and cook what you love  
We aim to be fully EHO compliant, stock management and labelling systems are now being enforced.
Meat, is welcome, note there are many dietary requirements on site, and we accommodate all… though please label, and keep out of the main kitchen for H & S reasons.
Regarding dry goods, with thanks, could we stop the donations of tins, cereals, pasta and condiments for now please, until we put another call out.
No more loo rolls too.. They presently have a dedicated two man tent!!
Things that are always useful.. MILK and honey for tea ☕ 
Home made (labelled) cake n biscuits
Last week I joked about the great teabag count…. It really is approaching 10000 with fruit teas and herbs teas…. Wow 
Lots of coffee n hot chocolate too.
So to conclude.. Come on down for an hour or two, for a tea n chat n biscuits n cake
We need builders for the washing up station, and builders for pallet chairs n tables..
And people to feed and chat to!
Come next Saturday, maybe?