Calderdale and Kirklees 999 Call for the NHS has advice leaflets about filling in the Have Your Say consultation survey about the future of our NHS in Calderdale and Greater Huddersfield.
Please help deliver advice leaflets on responding to the Have Your Say survey
If you can deliver these to your street, or to any community group/s you are part of, please let us know.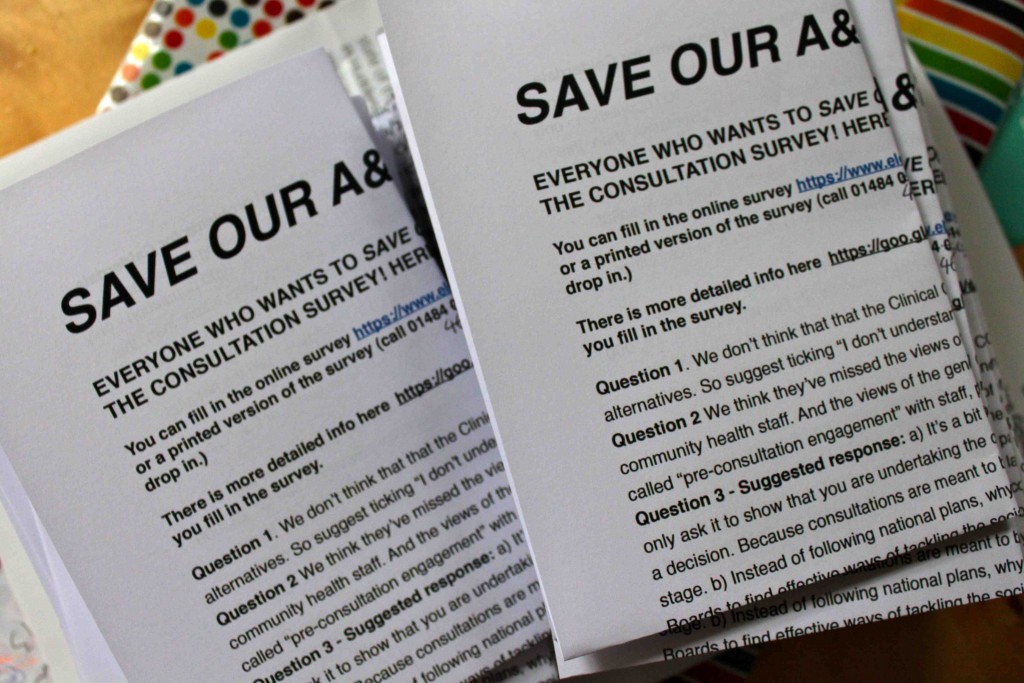 The advice leaflet is downloadable here – if you have a printer and can print some yourself. If not, please email and we can get the leaflets to you.
Please email or comment in the comment box on what streets/ groups you are leafletting, so that we don't duplicate efforts.
2,500 have already been delivered in Huddersfield, thanks to Friends of Huddersfield Royal Infirmary. And a few have already been delivered in Calder Ward in Hebden Bridge.
You have probably had one of these leaflets (below) from the Clinical Commissioning Groups, in the post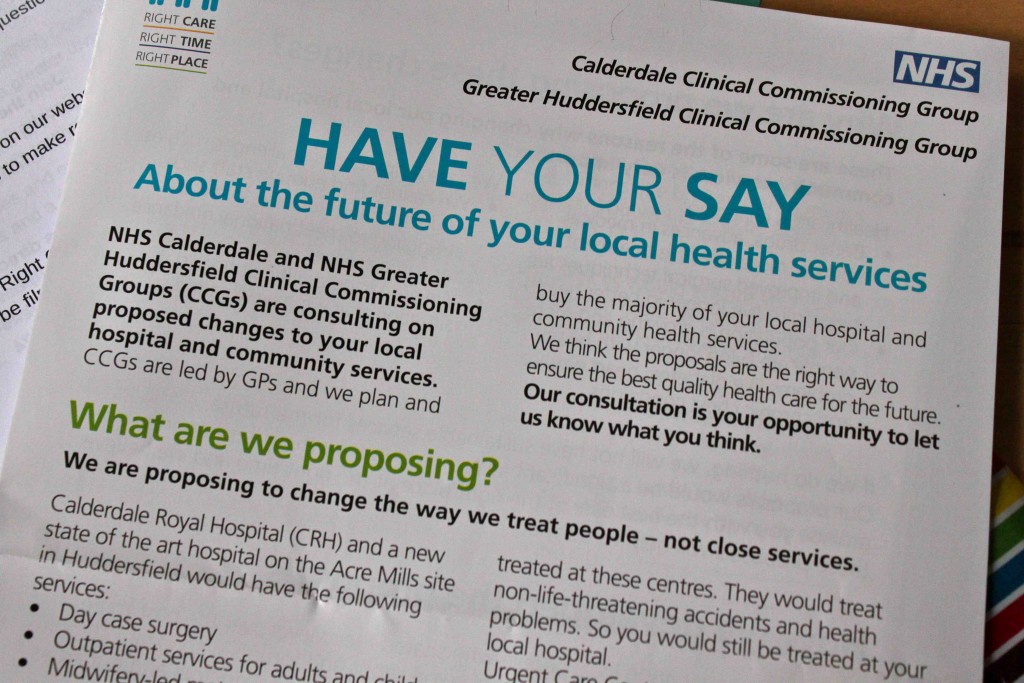 The Clinicial Commissioning Groups' 'Have Your Say' leaflets state they are not proposing to close services – but there is an A&E in Huddersfield and there won't be one if they carry out their proposals. That is a service closure.
And they are proposing to close planned care services in Calderdale Royal Hospital.
Everyone needing planned surgery will have to go to a new small planned care hospital in Huddersfield, that will  serve the whole of Greater Huddersfield and Calderdale. The new planned care hospital would be 1/5 the size of HRI, with NO acute and emergency services – not even an intensive care unit in case things go wrong during or after planned care surgery – just an urgent care centre for minor illnesses and accidents.
They propose knocking down Huddersfield Royal Infirmary.
All acute and emergency patients will have to go to Calderdale Royal Hospital. There will only be one Emergency Centre for the whole of Greater Huddersfield and Calderdale. (A new type of A&E with access only by ambulance.)
They are proposing to do all this with 77 fewer hospital beds and 900 fewer hospital staff.
The leaflet doesn't tell you that the NHS is badly underfunded or that this is why it is "unsustainable" to carry on with the hospital services we currently have.
The leaflet doesn't tell you that although they may have talked to over 4000 local people, thousands more have signed petitions opposing their proposals – and the Clinical Commissioning Groups have NOT sought or taken into account the views of front line hospital staff or GPs – they have presented information to them, which is an entirely different thing.
The information in the leaflet about the impact of the proposed changes is misleading.
They say that for urgent care, most people would still go to their local hospital, to the new urgent care centres. Research by the Royal College of Emergency Medicine shows that this is unlikely.
The Clinical Commissioning Groups say that a single Emergency Centre would mean quicker safer treatment. But they have not done a risk assessment to identify the likely number of increased deaths as a result of Greater Huddersfield patients having longer ambulance journeys. Nor have they quantified the likely increase in lives saved as a result of treatment in a single specialist emergency centre. So how do they know?
Where a similar "service change" has been carried out in Northumbria, patients in the single Emergency Centre at Cramlington Hospital have had on occasions to wait on trolleys in corridors. Cutting hospital beds, and their questionable assumptions that high numbers of patients will be treated at the urgent care centres instead of attending the Emergency Centre mean it's not at all clear that treatment will really be quicker and safer.
The proposed community services changes will be delivered by lower qualified staff than at present and will rely heavily on voluntary and community sector organisations, unpaid care from family and friends and patients' self management of their own care.
Info here about Calderdale & Kirklees 999 Call for the NHS