On Wednesday 27 January, both Huddersfield Royal Infirmary and Calderdale Royal Hospital (CRH) told staff they were  on "black alert" – not for the first time this year.
At the 12th January Junior Doctors Strike picket, a junior doctor said that CRH had been on black alert for most of the previous week.
Black alert is when the hospital can't take any more patients because it hasn't got beds for them. This means patients who come to A&E may spend time on trolleys in corridors before they can be admitted as inpatients.
Paramedics say there were no ambulance diverts from HRI and CRH A&Es during the Weds 26/7th Jan black alert.
During this most recent black alert, Calderdale and Huddersfield NHS Foundation Trust carried out a number of measures to make sure that acute and emergency patients were cared for safely and compassionately, and staff basically bust their arses to make sure this happened.
The Trust implemented "senior level gold command arrangements" that included:
a call three times a day with partner organisations
cancellation of all non-essential work
multi-disciplinary teams on wards helping to identify patients suitable for discharge and find places for them out of hospital
doctors undertaking more regular senior review of patients and cancelling existing arrangements to give them more time on the wards
additional nursing staff
As a result of these measures the hospitals'  beds position became more manageable overnight – but on the Wednesday morning, the Trust was still anticipating it would continue to experience pressures at least for the rest of the week.
Fund the NHS properly – stop cutting GP practices'  funding and hospital beds and services
It doesn't take a rocket scientist to realise that government funding cuts to GP services is behind the increased numbers of patients attending A&E. If patients can't see their GP, of course they're going to go to A&E.
It's equally obvious that a country like ours, with one of the lowest hospital bed/population ratios in Europe, is going to frequently run out of hospital beds.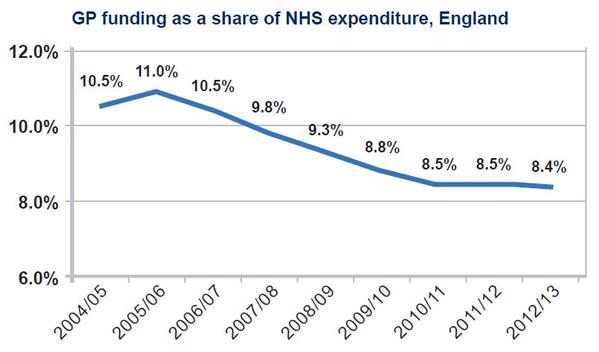 The government must fund the GP service properly and stop messing around with their contracts  – and with imposing 'primary care lite' schemes like so-called Care Closer to Home, through its stealth-privatising quango NHS England.
Care Closer to Home in fact will take care further from home, by grouping GP practices in a few 'hubs' where a few GPs oversee a lower qualified workforce of physician associates, nurse associates and voluntary organisations.
All part of Simon Steven's 5 Year Forward View,  that aims to drive the NHS to adopt "new care models" and a "modern workforce" – both based on American private health insurance company systems, imported from his previous employer, United Health.
Meanwhile, the Clinical Senate says that lack of clarity in the Right Care Right Place Right Time clinical model, and lack of any evidence of local clinicians' involvement in identifying whether its planned standards of care are achievable, mean it's impossible to tell whether it will deliver the required standard of care.
So why is it a good idea, when our hospitals are on black alert at almost the drop of a hat, to:
cut 77 hospital beds
close one A&E
shed 755 staff
centralise all planned care in one hospital and all acute and emergency care in the other, so patients are travelling hither and yon, and distances to A&E increase for over a quarter of a million people
move a whole slew of hospital services into the "community", which GPs are deeply unhappy about and say will mean the opposite of care closer to home
A local GP says:
"Devastating cuts to 40% of GP surgeries nationally – 55% in Huddersfield – make a mockery of the 'care closer to home' strap line."
And 2 GP's have phoned a local "support the NHS" campaigner to say that there is now general consensus amongst the GP practices that these so-called "Right Care Right Place Right Time" proposals are going too far.
None of this makes sense. Except as a way of defunding the NHS and running it into the ground, so people take out private health insurance and our NHS can be more easily privatised.