The clinical model for the proposed Right Care Right Place Right Time scheme, that NHS commissioners and the Calderdale and Huddersfield hospitals have finally agreed after arguing about for two years, could be thrown up in the air yet again by a cost-cutting 5 year hospitals financial plan that is being drawn up by Ernst and Young (EY), at a cost of £0.5m to the deficit-ridden hospitals Trust.

Our hospitals may be broke, but the global management consultancy company EY had a global income of $US28.7bn in the financial year ending 30 June 2015. This is its fastest growth since 2008, an 11.6% increase over 2014. Obviously clearing up the mess from the 2008 bankers crash of the world economy is good business for EY and its ilk.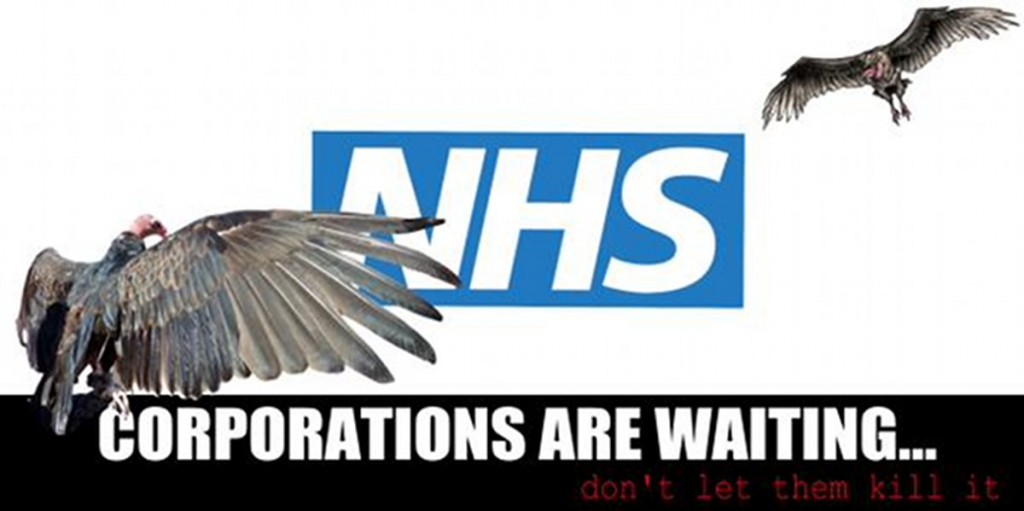 EY's advisory section, worth US$7.3bn in 2015, grew 17.6%. And EY's healthcare section announces:


So no prizes for what's going to be in its deficit-cutting 5 Year Financial Plan for our hospitals. (It's worth noting that the Health 2.0 definition of "prevention" is very different from the public health definition of "prevention". Involving lots of profits for digital technology companies, among other things.)

This is why 999 Call for the NHS Calderdale and Kirklees will be sweeping EY out of Calderdale Royal Hospital on Saturday 28th November. All who want to help sweep the NHS free of privatisation are welcome. More details soon.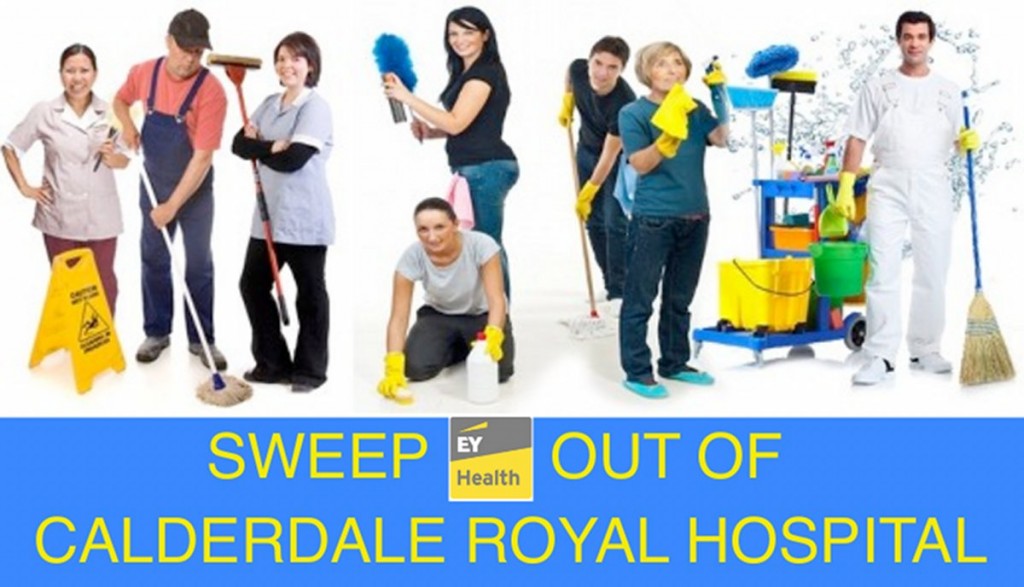 RIght Care Right Place Right Time aims to cut acute and emergency hospital services and replace them with cheaper care in the community – which the hospitals regulator Monitor now says is "no panacea". Nice that they've finally caught up. The Calderdale public has been saying the plan is mad and bad for over two years.

In its new guidance on cutting demand for NHS services, Monitor says that:
"Our findings caution against expecting too much from a shift away from hospital settings; this is no panacea.

"Developing schemes to move healthcare closer to home should sit alongside processes and decision systems within acute hospitals.

"The schemes will need to work effectively with other initiatives designed to address shorter run challenges, such as measures to ease the flow of patients through acute hospitals."
What's EY doing in our hospital? Monitor has the whip hand
The government is starving the NHS of funding, and has been since 2011 when it introduced the Nicholson Challenge aka QIPP – the Quality, Innovation and Productivity Performance scheme.
This required the NHS to make year on year cuts of 3-4%/year, that are called efficiency savings. The overall "saving" in the 4 years to 2015 was meant to be £30bn. Which is a hell of a lot of money to take out of the NHS by the back door.
The upshot is that our hospitals Trust is now broke and under special measures from Monitor, the NHS competition enforcer and financial regulator. It has breached the  condition of its licence from Monitor, by going into deficit.
Monitor told the hospitals Trust to pay for a consultancy, to produce a 5 Year Financial Plan that gets rid of the Trust's deficit. The Trust had to commission the consultancy through Crown Commercial Services, which has a list of approved Corporate Finance and Financial Strategy companies that include the usual suspects like Deloitte, Ernst & Young, KPMG, McKinsey etc.
We need to sweep the NHS clean of privatisation, starting with these global management consultancy companies that have hijacked the NHS. This is why we need to support the NHS Reinstatement Bill, due its second reading on 11 March 2106.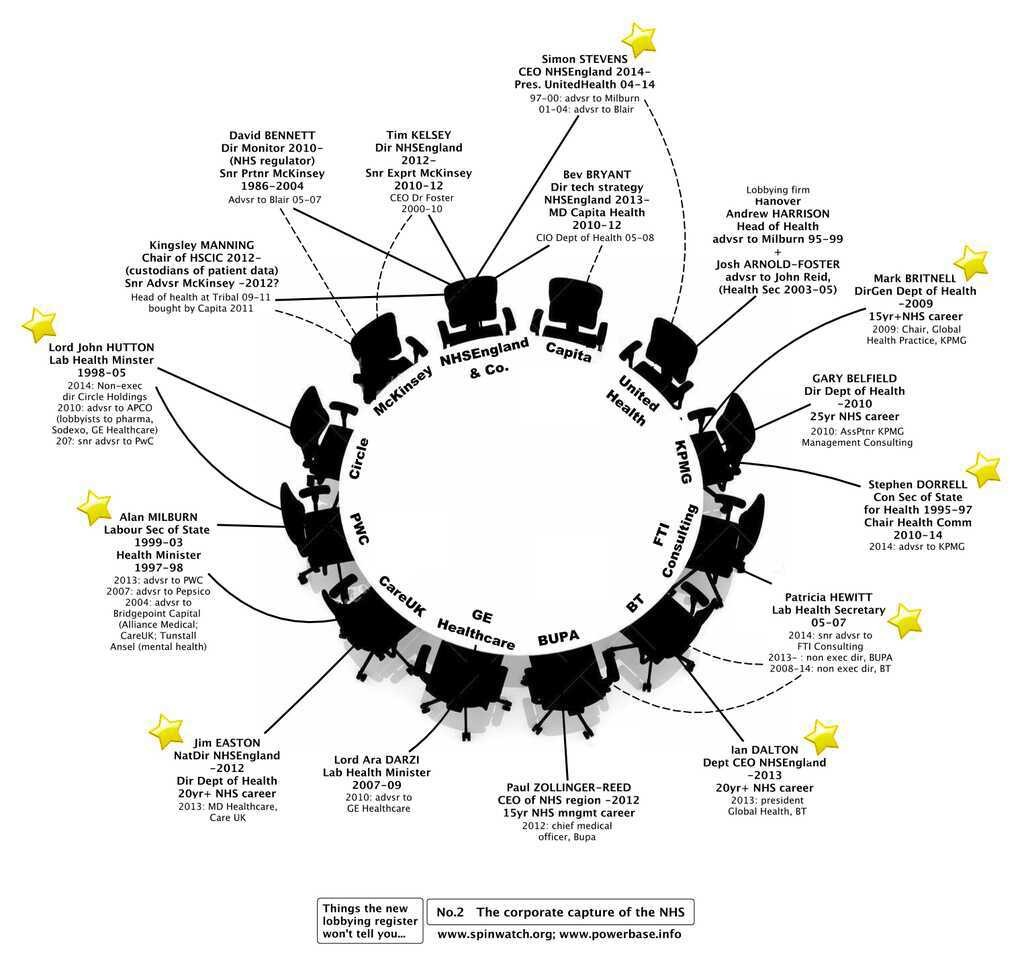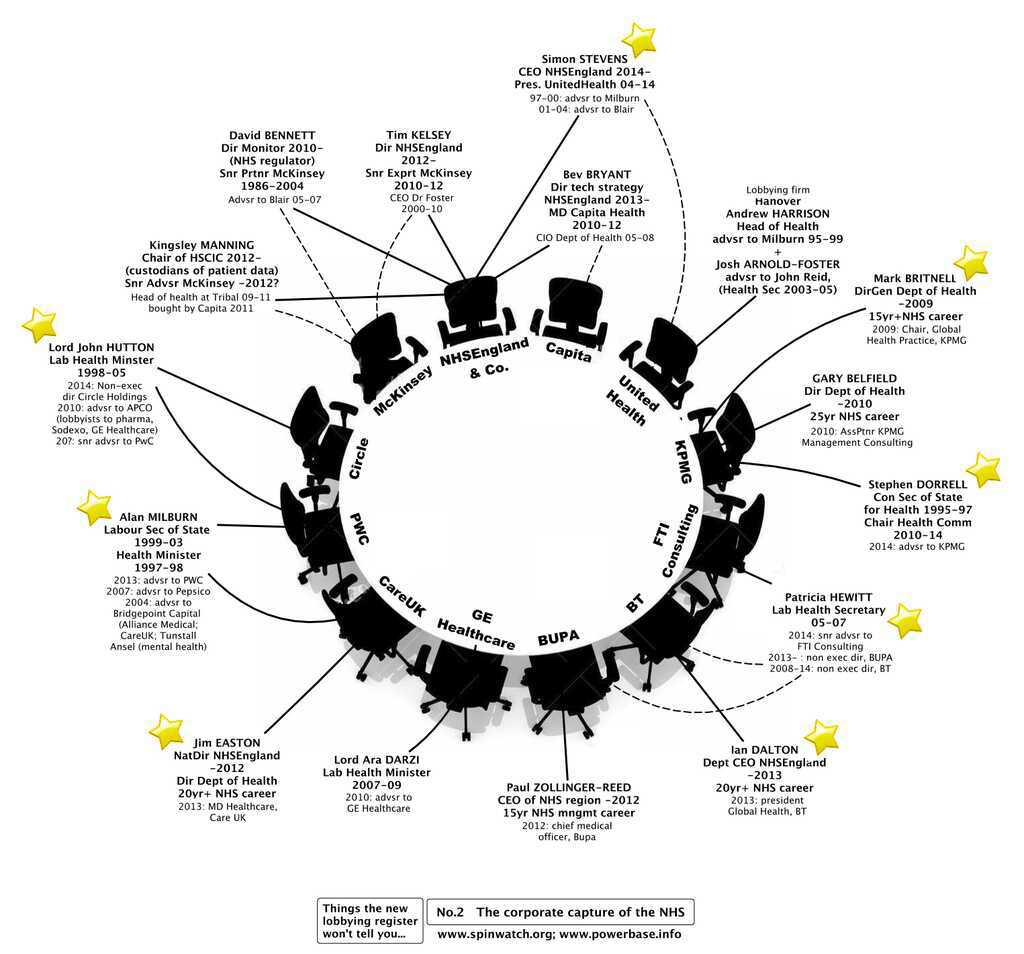 Monitor and its corporate crony EY have the whip hand over Calderdale and Huddersfield hospitals. Terry Hallworth, a member of the public from Huddersfield, said,
"Both CCGs are like rabbits caught in the headlights with the juggernaut of Monitor bearing down on them. All their plans and deliberations are meaningless and totally dependent on what Monitor decides about CHFT. And Monitor doesn't give a damn about the CCGs, public or CHFT. They are concerned with one thing and one thing only. Money."
Ernst and Young's 5 year financial plan for the hospital could change the Right Care Right Place Right Time scheme
According to the Calderdale and Greater Huddersfield CCGs' Chief Finance Officer, Julie Lawreniuk, EY's Five Year Financial Plan for the hospitals will include a standard business case template, that will evaluate the different elements of the proposed Right Care Right Place Right Time model of care and decide on the sites, including weighting factors.
At the 24th September joint CCGs meeting, Ms Lawreniuk said,
"We haven't got the financial information yet. The CCG has to assure CHFT's Five Year Financial Plan. What would happen to the CHFT estate? A lot of financial implications will be driven by the estate and the workforce. And can we say that the Five Year Financial Plan will be complete in 12 weeks?"
Matt Walsh, the Calderdale CCG Accountable Officer, said
"We need to watch the Monitor/CHFT Five Year Financial Plan and watch if it affects the clinical model."
After the meeting Paul Cooney, Chair of Huddersfield Keep our NHS Public, said
"Clinical consensus has been reached – but another clinical model may come out of the Monitor/CHFT Five Year Financial Plan."
Quality and safety v Monitor/CHFT financial plan
Dr Steven Cleasby, deputy chair of Calderdale CCG governing body, said,


"We've agreed on a clinical model of care but we're not clear on the financial picture, apart from the £155m funding gap locally. Are we going to be in clearer position once the CHFT Five Year Financial Plan is in? And what weight regarding quality and safety competing with the financial case will be given, in deciding the location of the acute and planned care hospitals?"
Commenting after the meeting, Calderdale 38 Degrees NHS Campaign Secretary Rosemary Hedges said,
"The proposed model of care is completely oblique and incomprehensible to any member of the public."