Members of the public protested outside the August 13th meeting of Calderdale Clinical Commissioning Group's Governing Body, as the NHS bosses met to consider "evidence" of their "engagement" with the public about plans to cut acute and emergency hospital services and replace them with care the community, aka Care Closer to Home.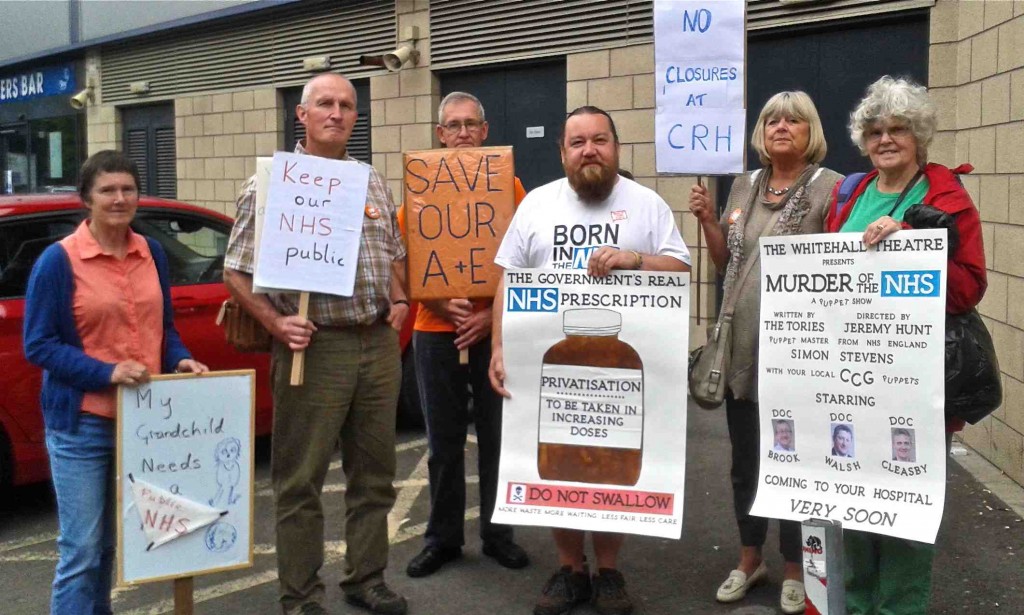 The day before, at a meeting of the Calderdale and Kirklees Joint Health Scrutiny Committee, Councillor Adam Wilkinson had questioned the CCG's absurd claim in their engagement evidence pack that there had been no public complaints about their proposals. Cllr Wilkinson pointed out the presence of people at the meeting who had protested long and loud and continue to do so, and said:
"The statement that the CCG hasn't received any complaints about its Right Care Right Time Right Place proposals over the last 3 years isn't true."
On behalf of the thousands of people who oppose the NHS and social care shake up plans, Rosemary Hedges asked Calderdale Clinical Commissioning Group (CCG) Governing Body to explain why they were saying that in the last 3 years they have received no complaints about these plans.
Well over 1600 people in Calderdale have signed a Calderdale 38 Degrees NHS Campaign group petition opposing the plans to cut our hospital services – and over 7000 have signed another petition calling for a House of Commons debate to stop the proposed closure of Calderdale A&E.
After reading the engagement evidence pack, Ms Hedges, who is Secretary of the Calderdale 38 Degrees NHS Campaign group, wrote to the CCG, saying:
"We wish to state that we have done nothing BUT make complaints about this model for the last 3 years.  We have done this through letters to the CCG, letters to the local press, we have held meetings with you and sent you reams of information about our concerns and disagreement with this model.
We attended all of your early engagement events when you were still asking ordinary members of the community what they thought.  I myself  attended the event at Mytholmroyd Community Centre and state VERY clearly that I did not agree with this model and I did not want it implemented, as did many of my colleagues.
There is huge public opposition to this model of moving services out of our hospital so that you can all but close it down.   Please can you explain why none of this information has been recorded, and how you can reach the conclusion that there have been no complaints about it."
Responding to this statement in the meeting, the Calderdale CCG Chair Dr Alan Brook told Ms Hedges that Calderdale 38 Degrees NHS Campaign can put in a complaint and added:
'Would you like me to record that you are opposed to strengthening community services?'
The engagement evidence pack was presented to the CCG Governing Body meeting, without any discussion of its untrue claim that the CCG hasn't received any complaints about its Right Care Right Time Right Place proposals over the last 3 years
Calderdale 38 Degrees NHS campaign also wanted an answer to the question of what work the Clinical Commissioning Group is doing about Calderdale Council's People's Commission recommendation that the CCG with its partners should examine options for restructuring Calderdale Royal Hospital's PFI debt. Dr Brook said that the CCG would reply in writing to the Council about the motion.
Update 9 June 2016 This post has been corrected in the next to the last paragraph, to remove the incorrect statement that Calderdale CCG's Head of Service Improvement, Debbie Graham, presented the engagement evidence pack to the Governing Body meeting. In fact Debbie Graham was not at the meeting and as the Minutes show, Martin Pursey, Head of Contracts and Procurement, presented the engagement evidence pack.  Apologies to Debbie Graham for this misprepresentation.