The Health Service Journal has reported that Greater Huddersfield Clinical Commissioning Group and North Kirklees Clinical Commissioning Group have finally announced that they have awarded the £285m/£238m (various accounts of the value) contract for Care Closer to Home community health services to Locala, the company that took over Kirklees' NHS community health services in 2010, under New Labour's Transforming Community Services scheme.
The Clinical Commissioning Groups (CCGs),  Locala and the CHFT hospitals trust are still not saying a thing publicly about the contract award, although NK CCG messaged me,
"We are currently continuing to work through the process and will publicise the details when we are able to do so."
What on earth is going on? What is stopping them publicising the details when they're already in the public domain through the Health Service Journal? Did somebody leak the info or what? This is how the Health Service Journal trailed the news, claiming that:

"Several sources with knowledge of the bidding process have told HSJ this consortium has been named as the preferred bidder"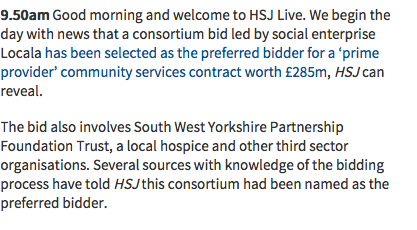 The CCGs' Governing Bodies agreed in mid-May to award the contract to the preferred bidder. The mandatory 10 day standstill ended on 27th May. During the standstill, the identity of the organisation that has been awarded the contract cannot be announced, in order to give time for the losing bidder to challenge the decision. Although the standstill should have ended on 27th May, it is still in place and Plain Speakers's requests for info have been met with the answer that the CCGs will spill the beans in due course.
The Care Closer to Home scheme is part of the contentious proposals to cut and close Calderdale and Huddersfield hospital services, that were supposed to be subject to public consultation last September, but that the Clinical Commissioning Groups decided to postpone in the face of big public opposition to the hospital cuts and closures, while speeding ahead with carrying out their proposals to move hospital services into the 'community'.