Here's a (rather long) summary of everything I've been able to find about Calderdale Council's ongoing privatisation of Calderdale public health services.
Many members of the public want to know which public health and social care services Calderdale Council is privatising, and why. There seems to be little or no publicly available set of information about this. (Update: Although the Calderdale Council contracts register from 2016 onwards is available on Yortender)
The 2012 Health and Social Care Act transferred responsibility for some specific public health services from NHS Primary Care Trusts to Local Authorities, which also became responsible for health improvement and health protection.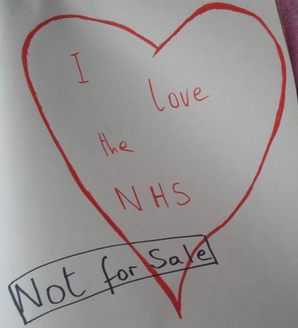 Health improvement work aims to increase people's health life expectancy and reduce health differences between local areas. Health improvement measures include working with other organisations to create a healthy environment and enable, inspire and motivate the public to:
make healthy choices;
seek treatment earlier;
protect themselves against health threats.
Health protection is basically about the control of infectious diseases and environmental hazards.
Inadequate public health funding for Councils
The Council's public health services are mostly funded by a Department of Health grant to Calderdale Council.
This was £9.829m in 2013/14, £10.679m in 2014/15 and was to be frozen at the 2014/15 level in 2015/16 – except that at the start of June 2015, the government announced that this year's public health spending will be cut by 7.4%.
This amounts to a cut of £750k to Calderdale Council's public health grant.
Cllr Simon Young, Calderdale Council Cabinet member for Public Health, Wellbeing and Engagement, told the Council's Adult Health & Social Care Scrutiny Panel June 2015 meeting that:
"For the first year, the Council can use reserves to avoid cuts to public health services. But then what?"
He said that the proposed cut is up for consultation, so people can feed back their views to government including through their MPs.
If you also want to ask your ward Councillors to tell the government not to cut the Council's public health budget, you can find their contact details here.
Even before the government's 7.4% cut to the public health budget, in November 2014 Calderdale Council's Use of Resources Scrutiny Panel heard that Calderdale Council's 2015/16 public health budget (equating to £48 per head of population per year) was about £1m below the target for public health spending, which is £53 per person in Calderdale over the next three years.
So now, with the £750K/year funding cut, Calderdale's public health budget is about £1.75m below the target.
Cutting public health spending by commissioning cheaper services
In early 2013, Calderdale Council's Chief Executive told the Use of Resources Scrutiny Panel that when the Council took over responsibility for public health, a review of public health services would identify "savings" from greater integration and economies of scale.
Since April 2013, Calderdale Public Health has come up with "a cost-cutting procurement process" – ie ways of buying public health services more cheaply – in order to help the Council to achieve the overall saving of £1.35M that was required over the next few years.
As of November 2014, Calderdale Public Health were further examining their public health budget to see what else they could cut.
Using public health money for other stuff, to plug Council funding shortages
After the government transferred responsibility for public health from the NHS to local authorities, the Nursing Times reported concerns that cash-strapped local authorities would attempt to use their new control of Department of Health funding for public health to plug gaps elsewhere.
This seems to have been happening at Calderdale Council – in 2014/15 £1,107,500 public health money was transferred to other Directorates.
The Director of Public Health's report to the November 2014 Use of Resources Scrutiny Panel said that, as part of the council's cost-cutting 2013/17 financial plan, in 2014/15 £600k of public health money would be reallocated "across directorates" to replace existing council spending, with a further £750k in 2015/16.
The £600k public health/NHS funding that was "reallocated" to replace existing Council spending was spent on:
Children and Young People's Services £57,000 (child sexual exploitation preventative work £50,000; primary school preventative work : £27,000)
Economy and environment £89,662 (Road Safety Officer £37,220; Assistant Road Safety Officer £18,602 ; Assistant Road Safety Officer £26,440; Travel and Subsistence resources £ 7,400
Communities Directorate £165,500 (Public health educational work – library services £27,500; Public health outreach work in neighbourhoods £48,000; Public health activity related to upbeat subsidy of £90,000
Adult health and social care £165,500 (Previously funded substance misuse work from AHSC to be funded by public health funding: Area substance misuse work £128,000; Residential placements £35,000; Former Dashline funding £88,000; Part contribution to substance misuse work young people £16,838)
This £600k public health funding that was "reallocated" to replace existing Council spendingis identified in the 2014/15 public health budget, below, in the line "Contribution to cross-Council budget savings"
In addition to this £600K transfer of public health money to other services, £507,500 was transferred to other services out of the public health reserves. This was spent on:
implementation of 20mph limit (Economy & Environment)
contingency reserve for 20mph and active travel (Economy & Environment)
public health support to CCG (don't know what this is)
child poverty measures
air quality measures – environmental health (Economy & Environment)
tobacco control programme in schools/smoke free areas/playgrounds & parks
physical activity and dementia awareness
support for Tour de France legacy activity
Re-procured public health services
I've found that so far, with the exception of Calderdale Stop Smoking Services and Calderdale Integrated Sexual Health Service, the Council has privatised the public health services that it has re-commissioned , and has cut the cost of the services.
Here's what I've found about the new Calderdale Council Public Health contracts.
Renewed contracts with the NHS
Calderdale Stop Smoking Service
The Public Health report to the November 2014 Use of Resources Scrutiny Panel said
"This service is being reprocured in 2015 to produce further savings and ensure further value."
Calderdale Council put this out to competitive tender and in May 2015 awarded the contract to the same NHS provider – South West Yorkshire Partnership Foundation Trust (the mental health trust) – that had provided the previous Calderdale Stop Smoking Service.
Calderdale Council awarded the contract to "the most economically advantageous tender" in terms of Price (Weighting 30) and Quality (Weighting 70).
The new Calderdale Stop Smoking Service contract runs from 01/07/2015 – 30/06/2018  and the total final value of the new contract is £2 475 000 GBP (£825K/year).
This is £19K/year cheaper than Calderdale Council's £844K/yr spending on smoking and tobacco-related services in 2014/15.
The Calderdale Stop Smoking Service specifically wants to support:
"those in deprived communities, pregnant women and those in the 'routine and manual' socio-economic group to stop smoking. The service will support Calderdale residents to successfully quit smoking and as a result to have improved health outcomes and lower levels of healthcare utilisation."
Calderdale Integrated Sexual Health Service
This £8.4m contract was awarded on 23 June 2015, to Calderdale & Huddersfield NHS Foundation Trust (the hospitals Trust), which had provided the service before it was "re-procured".  Info about the contract award is online here.
The estimated contract dates are 01/12/2015 – 30/11/2018, with an option to extend for up to a further 3 years.
The contract was supposed to have been awarded earlier this year but for some reason it wasn't and the Council re-tendered the service.
According to the Calderdale Council public health budget, in 2014-15 Calderdale Council spent £2,109,699 on NHS sexual health services which were provided by the Calderdale & Huddersfield NHS Foundation Trust.  They ran Genito-Urinary Medicine (GUM) and Contraception and Sexual Health (CASH) clinics at Broad Street Plaza in Halifax, Todmorden Health Centre, and Brighouse Health Centre; if necessary patients were referred on to the appropriate specialist within the Hospital Trust.
The new Calderdale Integrated Sexual Health Service follows national direction from the Department of Health. Its contract covers sexual health prevention and treatment, combining the Chlamydia screening programme, CASH and GUM services.
The contract blurb says the Integrated Sexual Health Service triages patients to the required level of care and is provided on a "hub and spoke" model so that care is delivered in the community, with prevention as a key priority.
"The service will provide a leadership role in sexual health within the local area and work with all other relevant clinical and non-clinical sexual health and healthcare providers to support seamless service provision and promotion."
In 2013, hospital doctors and sexual health specialists wrote to all Councils in England warning them of the dangers of putting sexual health services out to competitive tender, and advising them not to do this.
Privatising public health services in Calderdale
These are the re-procured contracts that Calderdale Council Public Health has sold off to private/third sector companies and charities.
Integrated Adult Drug and Alcohol Recovery Oriented Service
In 2014 Calderdale Council put the existing the Drugs, Alcohol and Tobacco Prevention and Treatment Service out to competitive tender.  At the time this service was provided by the NHS mental health Trust, the South West Yorkshire Foundation Partnership Trust.
(Update: Calderdale Council awarded the contract to the charity Lifeline, which went bust in 2017. The Charity Commission said  that Lifeline's collapse highlighted the need for tight financial controls and oversight by charity trustees. Lifeline is just one of a number of charities that have collapsed, casting doubt on the running of essential public services by charities.
Calderdale's Drugs, Alcohol and Smoking Cessation service was then taken over by DISC (Developing initiatives for support in the community) as the "lead provider".  According to the Care Quality Commission report, DISC is one of three providers that run Calderdale Recovery Steps as a partnership that delivers accessible adult drug and alcohol services across Calderdale. Clients may use local 'Recovery Hubs' in Halifax or Todmorden, or go to their own GP surgeries for treatment, support and reviews known as primary care extended services. End of update)
DISC subcontracts work to the Basement Recovery Project and St. Martin's Health Care.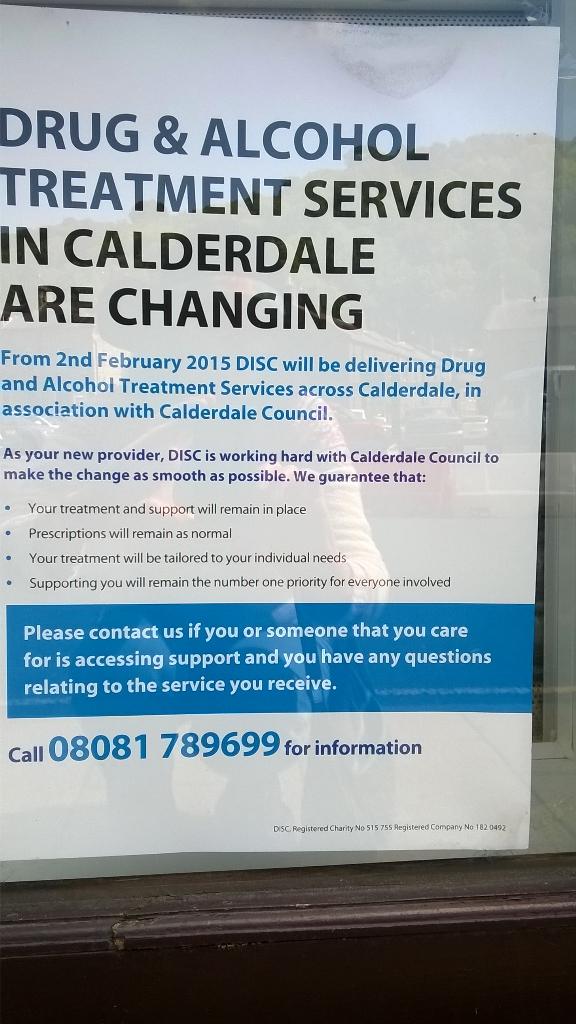 The NHS previously provided most of the treatment services for drug and alcohol misusers and out of area placements –  the South West Yorkshire Foundation Partnership Trust ran Calderdale Substance Misuse Service (CSMS). This cost £2,573,242/year.
The Public Health Report to the Use of Resources Scrutiny Panel in November 2014 said,
"The new procurement will release in region of £300k [ per year] to support council savings."
The criterion for awarding the contract was: the most economically advantageous tender in terms of: Quality (weighting 70), Price (Weighting 30)
The new contract with DISC runs from 02/02/2015 – 02/01/2018, and the contract value is £8,971,374  Excluding VAT. This works out at £2,990,454/year, excluding VAT.
How much cheaper is the new Integrated Adult Drug and Alcohol Recovery Oriented Service?
It's a bit hard to tell. Under the previous contract with South West Yorkshire Foundation Partnership Trust, Calderdale Substance Misuse Service (CSMS) cost £2,573,242/year.
In addition to this  Calderdale Substance Misuse Service contract, apparently Calderdale Council had also had a contract for substance misuse services worth £137,505/year with the Basement recovery service in Central Halifax, and 5 other contracts for adults' substance misuse services that together cost £738,973.
The November 2014 Public Health Contracts and Procurement Plan shows that all these substance misuse services  were to be bundled up together  into:
"a new service – procured with single provider model"
Presumably this has to be the Integrated Adult Drug and Alcohol Recovery Oriented Service, now led by DISC? Which costs £2,990,454/year excluding VAT.
This compares with the 2014/15 cost of £3,413,720 for the various substance misuse – related services that were to be turned into the new, single provider service.
So it looks as if the new contract has saved a fair bit more than the estimated £300k/year.
Calderdale Schools Nursing Service (also called Healthy Child Programme)
Locala now provides the Calderdale Schools Nursing Service. The new contract is £235K/year cheaper than the previous contract with the NHS, whereby Calderdale and Huddersfield NHS Foundation Trust (the hospitals Trust) provided Calderdale Schools Nursing Service.
However, the Locala Schools Nursing Service contract, which started in April 2015 and runs for 3 years, has dropped a number of services previously provided by Calderdale Schools Nursing Service:
Sex and relationship education delivery in the classroom
The National Child Measurement Programme (NCMP)
Immunisations
Hearing test
Locala will also be providing the healthcare element of the council's youth offending team.
The value of the contract is £1.8 million over three years (£600K/year), with the possibility of being extended for a further two years. But the Public Health 2014/15 Budget shows the contract for the NHS Schools Nursing Service and Youth Offending Team Health Service cost £835,211/year.
For these reasons, it's hard to compare the costs of the old and new contracts.
Calderdale Council also wants school nurses to introduce new practice in asthma care and provide first aid training to pupils.
Paul Butcher told the Nursing Times:
"The school nursing contract with Calderdale and Huddersfield NHS Foundation Trust was coming to an end, so we advertised the contract and bidders had to meet the criteria in our service specification.

"This was to maintain a high quality service and a fair and transparent process that was open to all."
Amanda Thomas, Communications Manager for Locala Community Partnerships, a company providing NHS community services in West Yorkshire, commented on a Nursing Times article about the new contract:
"We are not an NHS organisation; people who work here are employed by Locala not the NHS but Locala holds contracts to provide NHS services…All 20 colleagues (18 school nurses, one youth offending team nurse and one member of the admin team) were TUPE'd to Locala Community Partnerships after we were awarded the contract and under Agenda for Change kept their terms and conditions. They have brought with them and will continue in their NHS pensions."
0-5 Early Years (Health visiting, oral health, breastfeeding support)
(Update) Responsibility for commissioning the 0-5 Early Years service transferred to Calderdale Council Public Health in October 2015. At the time, this service was provided by CHFT as the Healthy Child Programme. It included the Health Visiting Service and the Family Nurse Partnership that provided services for teenage mothers.
In 2017 Calderdale Council awarded the £17,821,670 0-5 Early Years contract to Locala. It was set to run from 01/04/2017 to 01/04/2020.)
The End loneliness scheme aka Staying Well Pilot
The pilot is provided by Calderdale Council's Staying Well Community Team, plus community hub groups at Hebden Bridge Town Hall, the Threeways Centre in Ovenden, Halifax Opportunities Trust and the North Halifax Partnership, plus community groups that the hub groups commission to provide social activities for lonely over 65s, plus the pilot GP surgeries.
When the scheme was announced in April 2014, it was defined as an experiment that could include
"befriending lonely older people, providing them with regular contact with a friendly face; activity clubs where people can meet to prepare and share meals for those who struggle to cook and mobile solutions to help dementia sufferers get around."
It was criticised at the time because of the lack of solid evidence about whether reducing loneliness will improve people's health or increase their life expectancy – although this was not seen as a problem, as long as the pilot is thoroughly evaluated in ways that contribute to building up such evidence.
The Staying Well pilot uses NHS money to replace cuts to the Council's social care, community services, home and day care services and home-delivered meals, as a result of Coalition government's cuts to local authority budgets.
In 2013, Calderdale Council's cuts to adults health and social care services included :
decomissioning an intermediate care facility, where people went to convalesce on discharge from hospital
cutting homecare in Extra Care schemes
cuts to daycare services for older people
cuts to support for adults with mental health needs
cuts to home support for people with dementia
Nationally, between 2009/10 and 2012/13:
spending on social care for older people fell by 15 per cent in real terms from £10.6 billion to £9.8 billion;
Almost a quarter of a million fewer older people received publicly funded community services in financial years 2012/13 compared to 2009/10, a 26 per cent drop;
Home and day care spending by councils fell by 23 per cent (or £538 million) over the same period;
The number of older people receiving home-delivered meals has more than halved since 2009/10
The original announcements said the cost of the End Loneliness scheme was £1.25m (£1m provided by Calderdale CCG and £0.25m provided by CMBC). More recent publicity info says £1m. It was originally trailed as a 2-3 year experiment, starting in April 2014, to be evaluated by an unspecified university.
By January 2015 it was renamed as the Staying Well Project, a £1m, 1 year  social prescribing pilot project to reduce loneliness and social isolation, improve health and wellbeing, and reduce demand on GP practices and hospitals, with the evaluation to be carried out by a researcher at Lincoln University.
There is more info here from Elaine James, Calderdale Council's Commissioning & Strategy Manager, Adult, Health & Social Care.
This says the core of the Staying Well scheme is:
"systematic profiling and risk stratification of the top 100 'at risk' patients from each of the 6/7 'pilot' GP lists".
The Staying Well Community Team visits the top 600 at risk patients and connects them to social activities.
"Extra support staff are now working with the Council's Neighbourhood Schemes team on the Staying Well project to help boost the number of people being matched to social activities in their communities. Work has been stepped up to help people find out more about the support available, with referrals coming from over 60 sources and volunteers working with GP practices to encourage active participation."
Calderdale Council and NHS Calderdale Clinical Commissioning Group have commissioned community groups to act as community hubs, which "micro-commission" local community groups to provide social activities, from exercise classes to knitting groups. Each community hub has a commissioning budget of £50K.
The social activities are also supposed to :
"expand volunteer capacity to befriend and connect."
Here are some key features of how the Staying Well scheme is intended to work:
Codes for social prescribing are developed for piloting by participating GPs. (Info here about Staying Well social prescribing.)

(Update:

NHS England and NHS Digital have established national social prescribing referral codes for use in GP IT systems. These codes record: a) Social prescribing declined b(  Referral to social prescribing service (procedure). It is part of the Primary Care Network Directed Enhanced Service contracts for 19/20 and 20/21, that all general practicesemploying a social prescribing link worker through the Additional Roles Reimbursement Scheme should use these codes to record social prescribing activity.)
Social prescriptions are matched to available social activities that the community hub groups have commissioned (more info below: Hebden Bridge Staying Well Pilot)
Digitisation approaches -whatever they are – are part of the deal.

(Update

: This report explains digitisation could include "…a referral management platform, an app, a website, a wearable, a simple database, an online directory of services, a system used by a provider delivering social prescribing style services …)
The "Expert by Experience" peer support networks for dementia, stroke, cancer, MSC and COPD are meant to expand.
The scheme will be marketed including by social media – all those silver surfers online!
The participating patients are supposed to "systematically self-report wellbeing outcomes" – ie say how their health is affected. The 'Staying Well in Calderdale' Community Team then visits them after 6 months to evaluate their "self-reported wellbeing outcomes".
The evaluation of Calderdale Council's Staying Well in Your Neighbourhood  is being carried out by Jolien Vos at Lincoln University.  He will evaluate the impact of the scheme on the health and well being of individuals, and on primary care services.
Staying Well Elland info is downloadable here.
Hebden Bridge Staying Well Pilot
The Hebden Bridge Group Practice Patient Group meeting on 16th February 2015  heard about the Staying Well Project at the HB Group Practice, which is one of five pilot sites across Calderdale.  The impact of the prescribed social activities on lonely and socially isolated individuals will be assessed, including the cost-benefit of the project, and:
"Clinicians will soon have access to a "social prescriber"
The social prescriber will be based in the Practice to counsel and advise patients who may feel lonely or isolated. Hebden Bridge Town Hall will also be signposting patients to activities and groups.
Hebden Bridge Community Association is running the Staying Well pilot community hub at The Town Hall in Hebden Bridge. It says the pilot's aim is to help reduce unnecessary GP appointments and emergency hospital admissions by encouraging people to stay socially active.
Hbden Bridge Community Association recently ran a micro commissioning process to create and develop social activities. It paid a grant to Heptonstall Village Team to develop a lunch club, coach trips and regular events at Heptonstall Social and Bowling Club for lonely patients.
I've been unable to find the Council's criteria for selecting the "community hub" groups, but the community hubs' criteria for their micro-commissions of social activities from local community groups are available online. I don't know what the CCG's criteria were for selecting the pilot GP practices.
Food for Life Partnership (FFLP)
Calderdale Clinical Commissioning Group (CCG) and Calderdale Council (Public Health) have jointly funded the Food for Life Partnership programme for Calderdale Schools.
The Food for Life Partnership supports schools and caterers to provide fresh, nutritious and sustainably sourced meals and make lunchtimes a positive social experience. By using a whole school approach the Food for Life Partnership helps children, their teachers and families understand the importance of good nutrition and where their food comes from, through practical cooking, growing and eating produce, farm visits and curriculum support.
The current programme (funded for two years) builds on the first 12 months of the Food for Life Partnership activity in the area, which was funded by the Public Health team.
I haven't found anything more specific than this.
Update May 2019: In 2018, all funding for the Food For Life programme was cut. Info here.
Contracts still to be awarded
Tier 1 and 2 weight management services
These services are due to be recommissioned in 2015.
The National Child Measurement Programme was previously delivered by Calderdale and Huddersfield NHS Foundation Trust (CHFT). The numbers of children measured 2011/12 were 2,464 reception aged children and 2,300 year 6 aged children resulting in participation rates of 95.4% and 96.1% respectively (target 85%).
But I am confused, because the Public Health Report to the November 2014 Use of Resources Scrutiny Panel says that Weight Management Services were provided by two main contracts: Upbeat and a GP-based service with small contracts with Weight Watchers and Slimming World.
So this must be the adults' Weight Management Services, which are to be re-specified and re-commissioned with a single "lead provider."
Who knows what's happened to the children's measurement programme that the NHS hospitals Trust was providing?
Bit of background – Transfer of NHS money to Councils looks like a sleight of hand to make up for central government cuts to Councils' funding
Calderdale Council gained responsibility for public health services in April 2013, when the Health & Social Care Act 2012 kicked in.
27 public health contracts were transferred to the Council from Calderdale NHS Primary Care Trust (which had by then become Calderdale Clinical Commissioning Group – the NHS organisation responsible for buying hospital services, GP services and community health care services for Calderdale).
In addition, because of the transfer of NHS funding to local authorities through the Better Care Fund, Calderdale Council now has responsibility for a number of community health care services which it co-commissions jointly with Calderdale Clinical Commissioning Group. The CCG has to put contracts out to competitive tender. It has a register of contracts on its website.
When the government announced the transfer of NHS funding to Councils, sceptics said that this was a ruse for diverting otherwise ring-fenced NHS money, so that cash-strapped Councils could afford to mend potholes in the roads.
The January 2014 Adult Health and Social Care (AHSC) Scrutiny Panel heard that the transfer of NHS money into Calderdale Council had allowed the Council to cut the AHSC
budget by £2m, at the same time that it increased the Economy and Environment budget by £0.75m, because:
"…there was a need to recognise good relationships with the Clinical Commissioning Groups who had agreed funds of £3.6m in 2013/14, £4.2m in 2014/15 and possibly £15m in 2015/16, which took pressure off the Council budgets."
Despite the NHS money from Calderdale Clinical Commissioning Group taking pressure off Council budgets, since 2013 Calderdale Council has cut and privatised most adults social care services, as the result of Coalition government cuts to local authority spending.
Further swingeing cuts to the Council's AHSC spending are due in 2015/16 – 2017/18.
The adults social care contracts that the Council has privatised are listed on the contracts register on Calderdale Council's open data webpage.
But not the public health service contracts. Which are also being privatised – although  who made the decision to put NHS public health services out to competitive tender, and when and why did they decide on this?
By 2014 the hospitals Trust, which at the time provided various Calderdale public health services, was aware of Calderdale Council's plans to "regularly test the market" for public health services – ie put them out for competitive tender, on the grounds that:
"this will support their ability to demonstrate value for money on a regular basis."
Source: CHFT's Strategic Plan Document for 2014-19 – Public Report  (p7, section on Competitor Analysis, Local authority commissioned services)