(Re-posted from 2012)
There are some exciting green buildings in West Yorkshire, such as Sandal Magna Primary School in Wakefield. Completed in 2010, the primary school's built of very thermally efficient timber and locally-sourced brick, and is heated by a ground-source heat pump that's powered by 100m2 photovoltaic panels.
The UK Green Building Council is urging Michael Gove not to scrap green building standards for new schools. A review of capital spending for the Department for Education has recommended dropping the requirement that new school buildings meet standards for energy management and use, pollution, transport, land use, materials and water. Scrapping the requirement for green building standards wouldn't just mean that schools used more energy and emitted more greenhouse gases during construction and use of the school –  it would send a signal to the building industry that green building methods and materials don't really matter.
There is also the library at Shelf made from loadbearing strawbales, that saves them money on heating bills year in, year out; the allotment building at Wakefield, and a beautiful
garden retreat in Wrenthorpe. These were all built by Strawworks.  As well as the meeting room at the Ecology Building Society at Silsden and the Community Kitchen at the Jubilee Centre, Halifax.
Another green building in West Yorkshire is the Denby Dale passivehouse. Passive house design aims to eliminate the need for space heating and cooling and is based on the "tea cosy" principle of effective insulation and draught proofing. The Green Building Store website has more info about how passive houses work. And here's a video.

Right on my doorstep, Pennine 2000 Housing Association has just completed 3 low carbon homes in Hebden Bridge.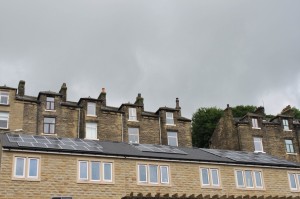 But most of us will go on living in old, energy-guzzling houses so improving the energy efficiency of existing buildings and switching to renewable energy are vital.