Calderdale Councillor James Baker is worried because his neighbours, the new owners of Stocks Hall in Mytholmroyd, have cut down a tree with a Tree Protection Order on it and may be about to fell more protected trees.
Yesterday a Calderdale Council Tree Officer sent a letter telling HBB Relocation Services to stop, but today Cllr Baker can still hear chainsaws buzzing and the Tree Officer has told him that work has already taken place that needed planning consent.
Who owns the recently auctioned property?
To complicate matters for Calderdale Council, it turns out that HBB Relocation Services were just handling the auction of Stocks Hall and don't own it now.
So it's possible that the new owner hasn't even received the letter from the Council Tree Officer.
Cllr Baker is appealing for information about who now owns Stocks Hall. You can email him at Councillor.JBaker@calderdale.gov.uk.
Councillor Baker said,
"Some trees they are cutting are not TPO protected, some are. So I'm watching like a hawk! We have had to call the fire brigade out after they set fire to an old caravan on the site that got out of control. My fear is they just fell all the trees then put in a planning development for houses. I might have to climb up one to stop them before it happens! They are just burning everything they cut too."
Billowing smoke
Smoke was billowing through the Stocks Hall trees into Nest Lane, when I went to find out what was going on.
The source was two bonfires in the overgrown Stocks Hall garden. But one of the men who were working on clearing the garden told me that they were mostly cutting down bushes and undergrowth. He also pointed out two smallish-looking felled trees and said they'd cut them down because they were diseased and semi-rotten.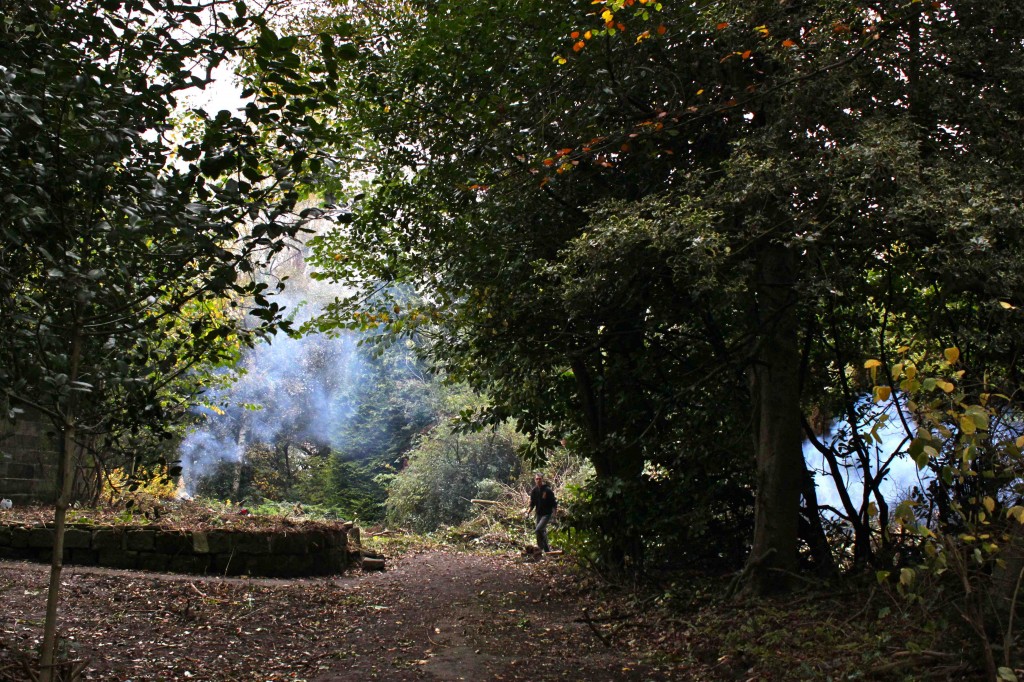 He said he didn't know who the owner of Stocks Hall is nor did he know that the Calderdale Council Tree Officer had left some information at the site yesterday about Tree Protection Orders and the fact that Stocks Hall is in a conservation area and permission is needed to chop down trees.
He said he would tell his boss.
The Council Tree Officer has told Cllr Baker that the Council would look favourably on a Tree Management Plan if the new owners submit one.
The trees within the grounds of Stocks Hall are the subject of a Tree Preservation Order (TPO) and within the Mytholmroyd Conservation Area.
It is an offence to willfully damage or destroy a protected tree without the consent of the Local Planning Authority, and if it is damaged or destroyed the landowner and person undertaking the works can face an unlimited fine if convicted in the magistrate's court. For lesser offences a fine of up to £2,500 can be imposed.
The Council is now formally investigating the unauthorised tree-felling.