Everyone is welcome to the NHS 66th birthday party at Mytholmroyd Gala on 5th July. The fun starts on the Burnley Road playing field at 1pm with the opening ceremony and speeches and crowing the new Gala Queen!
Jane Rendle, a Mytholmroyd resident and member of Calderdale 38 Degrees NHS campaign group, said,
"Since the NHS started 66 years ago, on 5th July 1948, it has been our best loved national institution, a part of who we are as a nation. We trust nurses, doctors and other health staff like no others. By celebrating this birthday Calderdale 38 Degrees NHS want to show how much we value the NHS as a public service and say a big thank you to the staff. At this time when there's a danger of stealthy privatisation we need to stand together to defend our NHS. Please join us in our celebrations."

Happy 66th Birthday, NHS!
At the Mytholmroyd Gala NHS 66th Birthday Party, the public will be invited to enjoy cakes and soft drinks, with balloons for the children and tombola.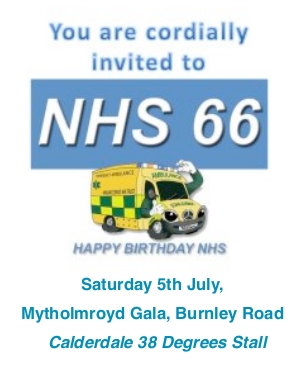 Calderdale 38 Degrees NHS would like to build a Calderdale record of the 66 years of the NHS from people's photos from each of the years since 1948.
If you have a photo from any of those years for the Upper Calder Valley NHS66 photo album, please bring it to the Mytholmroyd Gala. The group can take a digital photo of it, if you don't want to part with the original.
Save Calderdale and Huddersfield A&Es
Calderdale 38 Degrees NHS is a non-party political group that aims to keep the NHS public in the face of the attempts to privatise it. It meets monthly in Halifax and you can find out more about it at the Mytholmroyd Gala.
At Mytholmroyd Gala the group will provide information about the public's right to take part in Calderdale Clinical Commissioning Group's decision about closing or downgrading one or both of Calderdale and Huddersfield A&Es, and replacing acute and emergency hospital care with care in the community for patients with long term illnesses.
Here is the Gala schedule for 5th July:
Description
SATURDAY 5th JULY
12:00 Procession leaves Orchard Business Park
12:45 Hebden Bridge Junior Band
13:00 Opening ceremony and speeches
Crowning of new Gala Queen
Prize announcements
14:00 Afternoon Entertainment:
17:00 M-Factor talent competition
18:00 Evening Entertainment until 23:00
There will also be – stalls, caterers, beer tents, exhibition & giant screen TV to watch the Tour de France on 6th July and other live events.
Here's a shortish video of Professor of Public Health Allyson Pollock talking about the real threat of NHS privatisation from recent changes to health and social care laws. This is why we need to celebrate the NHS and make sure we keep it as a properly funded, publicly owned and run, universal and equitable health service that is free at the point of need.
The Biggest Birthday Party in the World Ever
The NHS's 66th birthday will be marked across the UK by a series of events and celebrations. These were started by Dr. Steve Smith, a Consultant Kidney Doctor at Birmingham Heartlands Hospital, using social media under the banner "#NHS66".
This will add up to "The Biggest Birthday Party in the World Ever" where hundreds of people will host their own small parties and link them on the day by posting photographs on social media using the #NHS66 tag. Anyone can do this, even if it is just a few mates in the pub.
#NHS66 is also hosting a song writing competition, a call for limericks which will be published in an on line album, and a live Twitter discussion using #thankyouNHS. You can come and sing your song or recite your limericks at the Mytholmroyd NHS66 birthday party!