Today Halifax MP Linda Riordan welcomed Andy Burnham, Shadow Secretary of State for Health, to a meeting of around 50 Save Calderdale and Huddersfield A&E campaigners.
This was an opportunity for campaigners to hear his views of the proposal to close Calderdale A&E, ask questions about how best to develop the campaign and find out about current Labour health policies.

No change without a rock-solid clinical case
Andy Burnham's first point was that as things stand, it's clear that there should be two A&Es in Calderdale and Huddersfield and no change should proceed unless there is a rock-solid clinical case. He said,
"If someone can come up and say changes would improve patient safety, I'd be duty- bound to listen to that.

But in the absence of a clinical case I have an obligation to oppose changes and as far as I'm aware there is no clinical case for these changes."
Evidence about the clinical case would need to show what would happen to people in life- threatening situations, if Calderdale A&E closed. And there is no evidence that there would be no risk to patient safety.
"It's not right in the NHS to have financially-driven closures to hospitals. You can't drive changes to the safety of services on financial issues."
NHS Constitution's blueprint on how to consult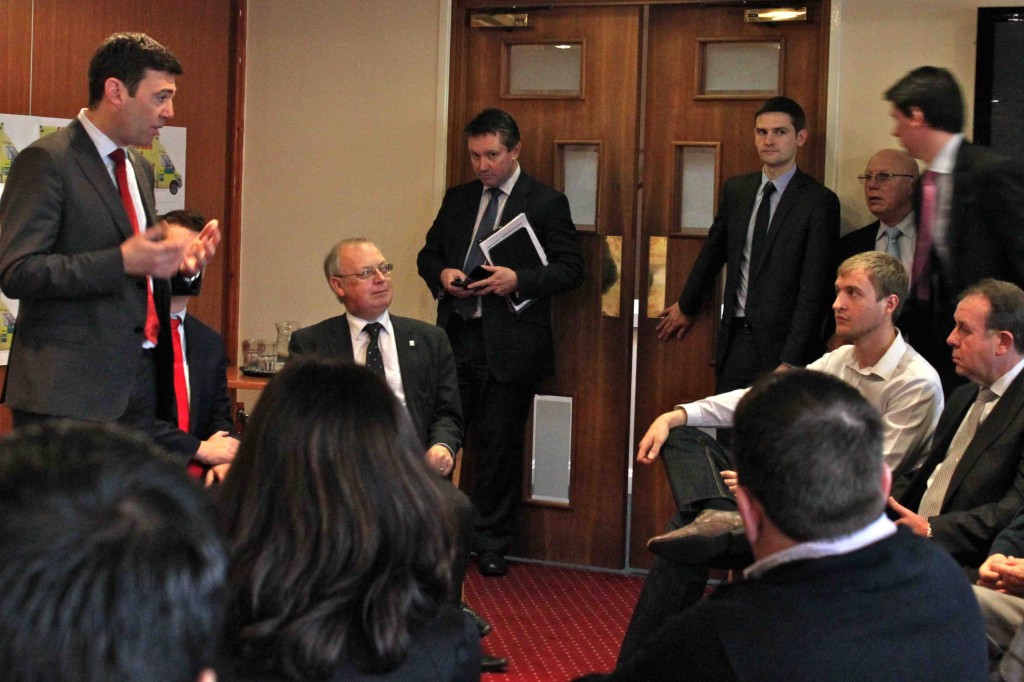 In response to a question from Cllr Martin Burton, Andy Burnham said,
"The consultations seem to be completely inadequate. The NHS has clearly-established procedures for how consultation should be done, but the opposite has happened here. The changes seem to be driven very centrally, very quickly."
He advised campaigners to read the NHS Constitution. This gives local people rights about consultation and provides a blueprint for how to consult. This starts with the clinical case.
He suggested that the campaign could invoke people's rights within the NHS Constitution to be properly consulted.
He told the meeting that he would take back concerns about lack of consultation and support Linda Riordan MP in raising the issue in Parliament.
Hospital workforce in two minds
Pauline Pilcher, Unison rep at both hospitals, said that the existing documents don't outline the clinical case. The workforce sees the proposals as a good thing in one respect, with a 7 days a week A&E consultant. But the other side of it was not knowing how care in the community proposals would impact on hospital staff. She said,
"If no-one's there to provide care in the community, patients would be readmitted to hospital soon after discharge."
Andy Burnham replied that the Trust and commissioners have to illustrate how the geography and distances will affect people's treatment. They haven't laid out the clinical case and they need to do that first.
Pauline Pilcher agreed that no clinical case has been made.
Cuts to GPs, community and social services have caused permanent A&E crisis
Andy Burnham said that the last year has been the worst year for A&E ever, and suggested campaigners take these points back to the Commissioners:
"Pressure has built and sustained over the whole of the last year because of pressures on community services. Such as cuts to mental health services, community health services like community nurses and cuts to GPs and social care. Huge cuts to council services have reduced support in the home and for the elderly. This has been happening over the last 18 months and it's led to a permanent crisis in A&E.

How can it make sense to close A&Es when they're running at capacity?"
Clause 119 – be very worried
In terms of the wider policy context, he warned that Clause 119, the hospital closure clause, could be law by the end of May. It is about to go to the House of Lords and although Labour is proposing an amendment, it's doubtful that this will pass.
Clause 119 allows hospitals to be closed top-down, on the basis of financial issues, regardless of the clinical case.
Andy Burnham warned,
"If I were you, I'd be very worried about Clause 119. The biggest threat is 119, if that becomes law."
He advised campaigners to lobby in the House of Lords to prevent it becoming law.
Bottom-up community campaigns have stopped closures and privatisations
Andy Burnham suggested contacting and learning from campaigns in other places, such as:
Save Lewisham Hospital, which put local commissioners on the spot, fought and won.
In Nuneaton, a huge community campaign including Labour and Unison fought off a bid by Care UK and Circle to privatise George Eliot Hospital.
Save Stafford Hospital
Replying to a question from Michael Parkinson, Unison organiser of the Band Together for the NHS campaign, Andy Burnham advised building the campaign from the bottom up.  And that if campaigners want to issue a legal challenge, they need to find solid grounds for this.
He said he would come back to a public event later this year and will support the campaign in any way he can.
He advised going back to the Commissioners and asking them to do the basics of consultation and clinical evidence.
Andy Burnham promised,
"If we can help in any way, we will do. If you stand together and fight together, you can win it."
Rethink of Labour health policy  – New Labour experimentation with markets and privatisation went too far
Cllr Dave Draycott raised two points about the proposals:
They claim that integrated health and social care in the community will reduce demand for hospital services including A&E, but he is extremely concerned about the effect of the Strategic Outline Case proposals on social care.
Cutting so many beds and services from Calderdale Royal Hospital looks as if it is aimed at opening the spare capacity up for privatisation
He asked what Labour views are regarding future privatisation.
This was where it got interesting, imo. Andy Burnham said he was proud overall of the record of the last government – waiting lists were the lowest ever and satisfaction levels were the highest ever.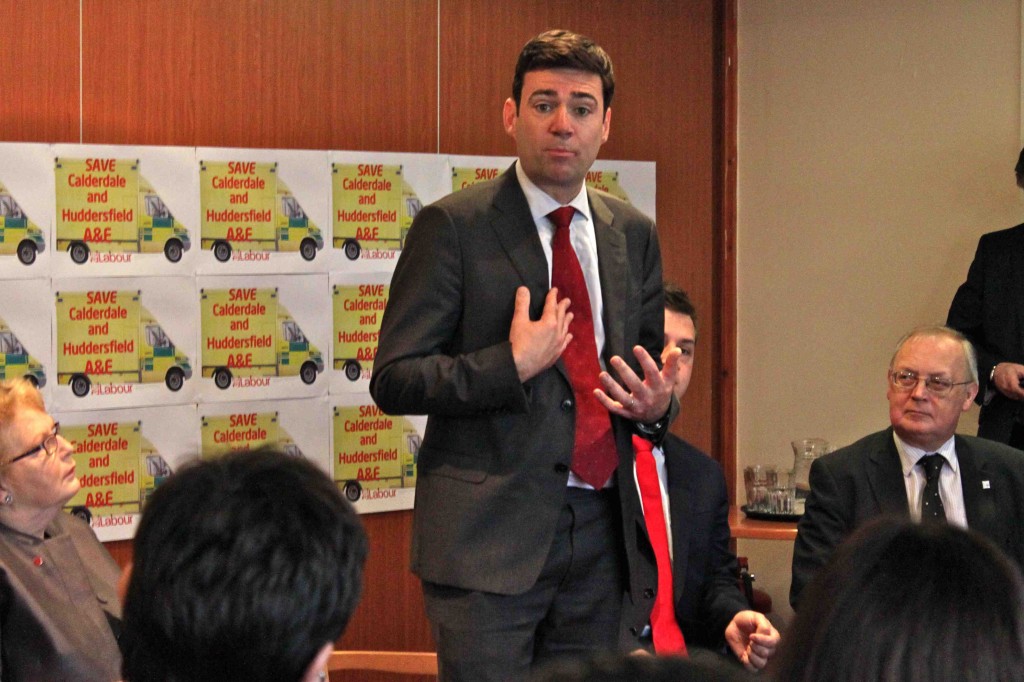 But, he said, on reflection,
"We let the market in too far with the NHS. Experimentation with markets and privatisation went too far and if we let it go on, it will devour the NHS if we don't stop.

We're making a very clear differentiation between previous policies and what's now needed.

The future of health and social care is integration and markets deliver fragmentation.

Repealing the Health and Social Care Act is the first thing we'll do – it's put the NHS on the fast track to fragmentation.

I believe in a public NHS and I believe that represents something the public believe in too.

For a long time, we were saying it doesn't matter who delivers the NHS. But it does matter. The core is a public NHS, that is there for people, not profits."
At another meeting the same day with Save Our NHS campaigners in Leeds, Andy Burnham faced more robust questioning than he did in Halifax, where the meeting was a bit of a Labour love-in. At the Leeds meeting, Andy Burnham said Labour would repeal Part 3 of the HSCA 2012. This is the part that deals with Regulation of health and adult social care services. There's a link to the HSCA 2012 law at the end of this article.
Full integration of health and social care is a long term journey
Answering Cllr Draycott's point about social care, Andy Burnham acknowledged a financial challenge in delivering social care and said the way to deal with it is full integration of health and social care.
He said,
"Leeds have gone down the integration path more quickly than other parts of the country, but commissioners here haven't shown it will work here.

I want the NHS to take on social care, to build out into social care, but this is a long term journey.

You can't close A&E and assume in 15 years time integrated health and social care will prove effective."
Updated 7 April 2014 with link to and info about Andy Burnham's meeting in Leeds with Keep Our NHS Public campaigners, and link to Health and Social Care Act 2012 law.