Upper Calder Valley resident Paul Brannigan has just started managing a second-hand household items shop that will put all its profits into a registered charity to help people to recover from addictions.
Project Colt Enterprise Second Hand Household Items Shop, a social enterprise based in Bridgefield Mills on Elland Bridge, has a variety of used furniture and other household items for sale on two floors.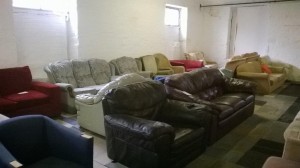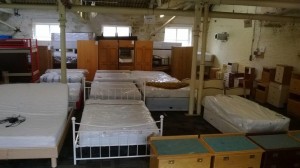 The shop is open Monday to Saturday 0830 to 1600 and for people who use those electronic direction finders, the postcode is  HX5 0SG.
Paul Brannigan, who manages the shop and recycling facility, said:
"With the variety of furniture we have for sale, you are sure to find that piece you want.We collect, we deliver – we have a man and van service too. We can also PAT test electrical equipment for other organisations."
Colt Enterprise Calderdale Ltd is a social enterprise that will  generate funds to support Project Colt, a charity that helps people with addiction problems to recover and live happy and productive lives.
Paul formerly ran Kerbside, the Calderdale recycling social enterprise that was forced to close after Calderdale Council gave the household recycling contract to Sita in 2008.
Now back with a bounce on the social enterprise scene, Paul said,
"All the profits from anything you buy from Colt Enterprise Reused Furniture Shop,  or any service you use, will go to the Project Colt good cause. We also work with the Probation Service to supervise Community Service placements, helping to rehabilitate offenders and enabling them to give something back into their community."
Reusing furniture and household items is also environmentally friendly. Reuse is second in the hierarchy of how to cut the material resources we use: Reduce, reuse and recycle.
You can find Project Colt in the virtual world on facebook and at their website. And in the real world at Bridgefield Mills, Elland Bridge HX5 0SG