Hundreds of people turned up at a public meeting in Halifax today to discuss the possible closure of Calderdale A&E, and it was agreed to fight on to keep it open.
Cllr Tim Swift, leader of Calderdale Council, stood up and announced that the Labour group will ask the next Council meeting to call on the hospitals Trust and the Clinical Commissioning Groups to withdraw their current proposals.
These proposals include:
closing Calderdale A&E,
reducing the hospital's services to a Minor Injuries Unit and 86 planned care beds,
sending all A&E patients and acute care facilities to Huddersfield,
cutting overall hospital beds by 100 across the two sites, and
setting up a (probably privatised) community health and social care scheme to make up for the lost hospital capacity.
Organised by Band Together For the NHS, a Unison-led campaign group, and chaired by Josh Fenton Glynn, Labour Parliamentary candidate for Calderdale Valley, the meeting was the first big opportunity for people in Calderdale and Huddersfield to share information about exactly what the proposals are about, and how they would affect people's lives if they were to go ahead.
Calderdale Clinical Commissioning Group stayed away
Calderdale Clinical Commissioning Group had declined the invitation to attend the meeting. Linda Riordan MP read from the CCCG letter which said that they,
"prefer not to be coming forth in public meetings. This is because we are currently working closely with our partners to develop a clear engagement process for the next steps of the Strategic Review."
Ms Riordan commented,
"As we all know, their partners are Calderdale and Huddersfield NHS Foundation Trust that have already come out and said they prefer Option 2: hot A&E at Huddersfield, cold A&E in Halifax. So that's who they're working with. So it's got to be us that take them on. There's no one else to do it. I'll keep raising it in Parliament, but it's got to be collective."
The four panel speakers – Linda Riordan MP, Gary Scott, Green Party candidate for Skircoat ward council elections, Naveen Judah of the NHA Party  and Unison's head of health Tony Pearson – all agreed that the proposals to transform Calderdale and Huddersfield NHS and social care are about cutting NHS services and privatising the NHS and social care services.
Gary Scott introduced two Halifax school students, who spoke about the importance for young people of making sure the NHS and public services survive into and throughout their adult lives, which are all ahead of them.
The panel speakers agreed that the proposals are the direct outcome of the Health and Social Care Act (HSCA), which came into effect a year ago with the aim of privatising the NHS. The Labour MP Linda Riordan said Labour is committed to repealing the HSCA if it is elected to government.
Unfortunately heavy traffic meant it took me twice as long as usual to travel from Hebden to Halifax so I arrived late and can't report on Linda Riordan's and Gary Scott's speeches.
Proposals are about about cuts and privatisation, not clinical judgements
Naveen Judah, a member of the National Health Action party which is largely made up of senior NHS doctors who do not like what the Coalition government is doing to the NHS,
demolished the suggestion that the proposed changes are based on clinical judgements and aim to improve patient care. Naveen said,
"This is not clinician-led. Clinicians and professionals are dead against this…Hospital chiefs up and down the country are lying to us. They are telling us that these changes are being done for clinician purposes, but it is handed down by the bosses, by the politicians up the ladder…It's all simply about money and what they are doing is accelerating the efficiency savings and these closures so that our NHS is dismantled and so it becomes ripe for privatising large swathes of it."
Tony Pearson, Unison's head of Health, said that Unison did not oppose hospital closures or hospital department closures if there was a clear clinical argument that this would improve people's lives and chances of survival – for example a small hospital where doctors didn't get enough practice to keep their hand in. But this is not the case with the proposals for reconfiguring Calderdale and Huddersfield hospitals, which serve a huge conurbation with a 50:50 split between both A&E departments.
He lambasted the Clinical Commissioning Group for having made the proposals without adequate information about the numbers of patients treated at both A& E departments, and without any clear plan for treating all the patients that there won't be the capacity to treat if one A&E department closes.
Privatised care in the community = poor care in the community
He said Unison didn't want to see the NHS carved up so that many of its services were provided by the private sector, for reasons that are shown in the current situation in Doncaster, where social care that used to be provided by the Council has been outsourced to Care UK. (This is the company that won the initial contract to run Calderdale's Park Ward and Todmorden walk-in centres, and then handed the contract back when it couldn't cope).
Tony Pearson said,
"We certainly wouldn't oppose the principle of better community services. That sounds great, doesn't it: integrated health and social care. That sounds wonderful. Keeping people out of hospital by providing better care in the community. Particularly people with long term chronic conditions or people with supported living needs, with mental disabilities.

Now that sounds great, but what is actually happening? The government's said that there will be a medium term cross over of funding away from hospital trusts and into community services. But it isn't anything like enough.

If you're going to provide community services you're going to need more money. Place in point: you may have seen in the media that a group of our members have been on strike in Doncaster, twice over the last couple of months. They aren't normally people who take strike action. They support people with severe mental health disabilities."
Tony Pearson explained that the private sector organisation, Care UK, that has come in to run the service, has proposed cutting the careworkers' salary (on average around £21K/year) by between £3k and £7k. If this happened, people would be unable to afford to keep working in those jobs. The result would be transient staff on very low pay doing a job where continuity of care is vital for the people they are looking after.
He said,
"That is the future unless we repeal this Health and Social Care Act and stop the NHS being carved up. This is all part of the same fight. I hope people can get behind us."
All the speakers from the panel and most of the members of the public who spoke called for a big campaign to keep our NHS public and save both A&Es, as well as for the repeal of the Health and Social Care Act.
A woman from Todmorden spoke of how vital Calderdale A&E is for people at that end of Calder Valley and presented a petition signed by over 2000 people in Todmorden, in the rain. She also praised each and every person at Calderdale Royal Infirmary who had cared for her when she was admitted with a life-threatening pulmonary embolism, and had returned her to health.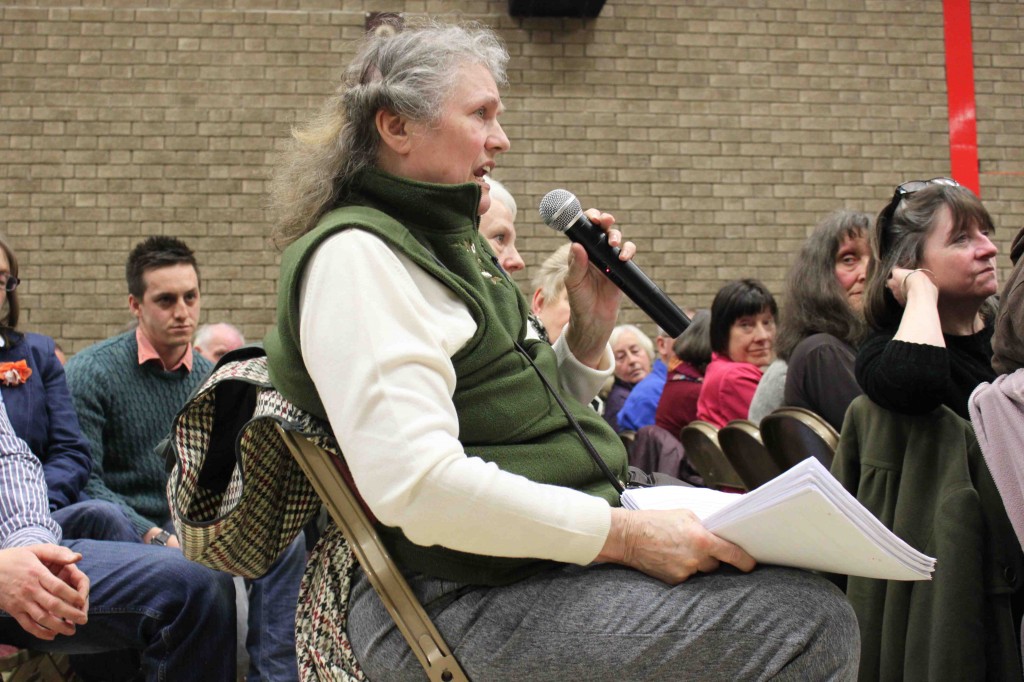 Many members of the public spoke of how their lives or the lives of their families had been saved by Calderdale A&E, and that the proposals might save money but they would cost lives.
A representative of Halifax mosque presented a petition signed by members of the mosque.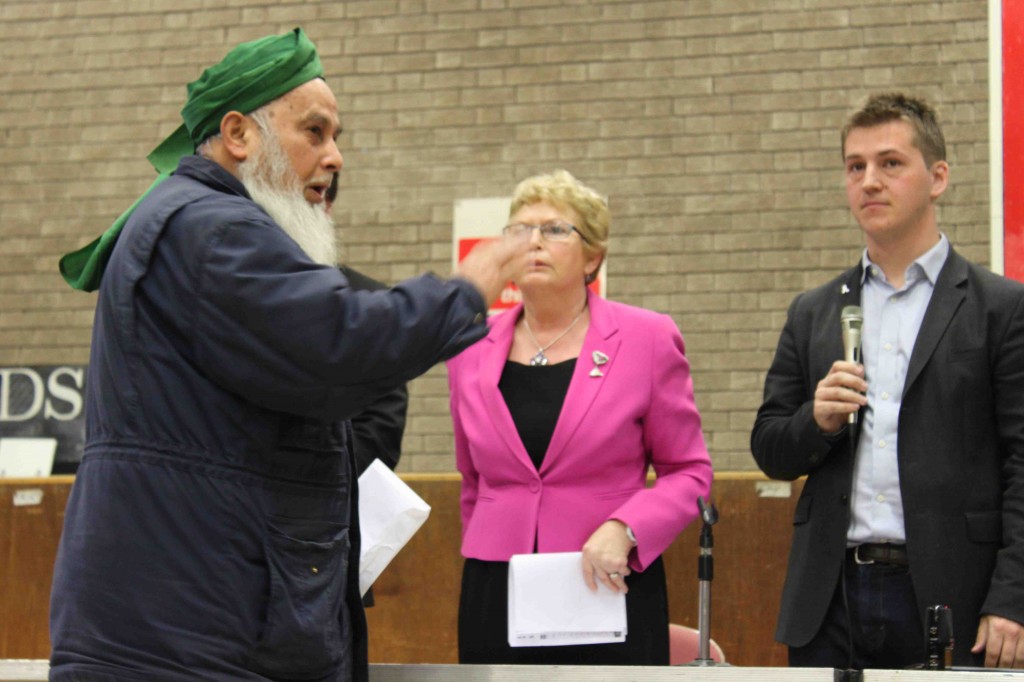 Cllr Tim Swift, Labour leader of Calderdale Council, responded to a question that Gary Scott had asked about what the the Council was doing to stop the proposed cuts and closure. Cllr Swift said,
"As panel speakers have already said, this is about the impact of national policies on local decisions and therefore we should not fall into the trap of simply blaming local managers and local consultants. This doesn't mean they're wholly faultless in this.

Secondly, this isn't just about saving Calderdale A&E, important though that is…These proposals are about the loss of 100 beds across the two sites, they're about the serious reduction of the Calderdale site. You have to wonder about the freeing of the space within the Calderdale PFI hospital to be used by private providers and the private tenders of the future.

In terms of the Council, we do believe that the current proposals are deeply flawed, we do believe that whilst there does needs to be a discussion about how local health and care services cope with the financial challenges they face, the current proposals damage that and that the best way of having a full and open debate that involves the people would be for the Trust and the CCG to withdraw those proposals and that's why we'll be tabling a motion for discussion at the next  Council that calls for precisely that."
Naveen Judah, who works as an accountant, said that George Osborne should realise that spending on the NHS would help the economy to recover. This is because spending on the NHS has a "fiscal multiplier" of 1.8, which means that for every £1 spent on the NHS, an extra £1.8 is added to the GDP, or national income.
Band Together for the NHS aims to organise a big march in Halifax in April. Both Naveen Judah and Gary Scott referred to offers of support for the Calderdale and Huddersfield campaign from the Save Lewisham Hospitals group and urged people to take whatever action they feel is appropriate, while linking together to coordinate their actions for maximum effect.