As fracking creeps closer to Calderdale – with Fracking company IGas Energy trying to drill a Shale/CBM exploration well at Barton Moss in Salford, Greater Manchester – Frack Free Greater Manchester has found that Salford and Trafford Councils are investing in fracking company IGas via Greater Manchester Pension Fund.
The Investments Valuation pdf on the West Yorkshire Pension Fund website shows that Calderdale Council, via West Yorkshire Pension Fund, is also investing in fracking companies.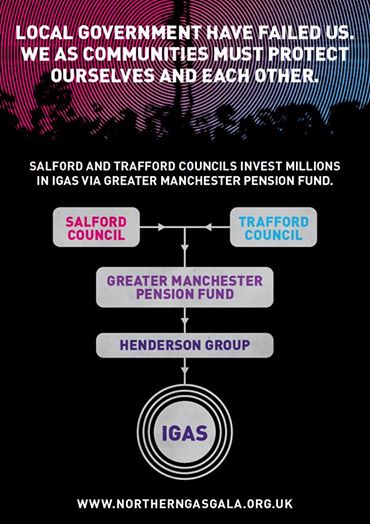 WYPF investment in fracking companies, and in companies that hold shares in fracking companies, includes Henderson Group (a major shareholder in IGas) and Centrica, which holds a minority share in Cuadrilla, which holds the fracking licence for the Bowland shale licence area.
Last summer, Calderdale Council Leader Cllr Tim Swift said:
"Neither I nor Calderdale Labour group support the further development of fracking as an energy source at the present time. I would not support any application for fracking within Calderdale."
Update On Dec 3rd 2014, Calderdale Council passed a motion  to "take all possible steps" to protect Calderdale's environment and people from problems arising from fracking. Cllr James Baker, one of the Councillors who put forward an anti-fracking motion, said that as a result of the vote, the Council declared itself a "frack-free zone". Asked what this means in practice, Cllr Baker explained:
"A bit like the CND campaign of nuclear free zones it's a symbolic statement from the Council that we don't want fracking in Calderdale."
Here is a list of the fracking companies that Calderdale Council invests in, through the WYPF. It may be incomplete – there may be more companies on the list that frack, these are the ones I've been able to identify, by cross referencing the Frack Free Greater Manchester research.
Info from WYPF Investment Valuation as at March 2012
AGL Energy (Coal Seam Gas Aus)  £2,859,366
Apache (US fracking)                      £4,116,733
Centrica                                         £26,406,523
(Centrica is buying a minority stake, thought to be 30%, in Cuadrilla's Bowland shale licence area, between Blackpool and Preston )
Devon Energy (US Fracking)            £2,691,876
Henderdson Group (Henderson Global Investors is the 5th largest shareholder in IGas, the company that aims to frack Salford.)
WYPF has investments in these bits of Henderson Group:
HENDERSON EUROPEAN FOCUS £1,116,815
HENDERSON FLEDGLING TST.      £1,184,400
HENDERSON LD.DEV.                     £1,717,057
HENDERSON NORTH AM EQ.        £8,189,599
HENDERSON SMALLER COS.        £8,229,987
HENDERSON UK &.IRISH                £2,002,684
HENDERSON UK SMALLER            £3,639,662
HENDERSON US OPPS.R AC.       £1,225,3632
Schlumberger (US and UK fracking) £4,381,161
Updated 29 December 2014 with report of Calderdale Council motion opposing fracking in Calderdale.