Phil Smith, from Calderdale Against the Bedroom Tax, reports on the 7th September 2013 presentation of individual tenants' evidence to the United Nations special rapporteur on housing, Raquel Rolnick, and the preceding meeting of the  Steering Group of the Anti-Bedroom Tax and Benefit Justice Federation in Manchester.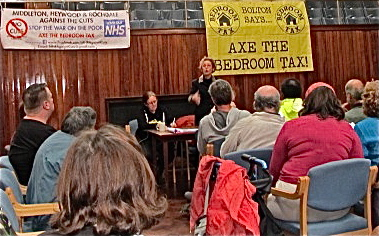 I attended this meeting, held at Friends' Meeting House in Manchester, on behalf of Calderdale Against the Bedroom Tax – and what a day it transpired to be!
Tenants' presentation of evidence to the United Nations special rapporteur on housing, Raquel Rolnick
Ms Rolnick made it clear that her role was to explore the right to adequate housing. She did not come to this country with a premeditated view on the bedroom tax. Her visit was formally invited by the government, she met with many government officials, but more importantly met with the people whose lives suffer.
Videos of 14 representations can be viewed at www.youtube.com (search for United Bedroom Tax Hearings). I urge all to see these heart-rending testimonies. As a social worker for 35 years, I cannot recall hearing a similar litany, over a two hour period, of such distress and misery. A vindictive and mindless government policy has brought this on people who have their own physical and mental health problems, yet who are caring for other family members – thereby saving the state thousands of pounds.
In respect of the evidence presented to Ms Rolnick, it is clear that it is the most vulnerable in society who are being squeezed by Coalition policies. Yet, vast amounts are being spent to stimulate the construction industry in a way which will provide nothing in the area of affordable social housing.
Ms Rolnik explained that "adequate housing" involves "follow on" issues such as affordability, security of tenure, the dangers of moving from "suitable" to "less suitable" housing, and from there on to the implications of right to education, health, and income generating activity.
Ms Rolnik's press statement after listening to Bedroom Tax evidence from tenants across the UK is here.
Ms Rolnik's summary recommendations in the press statement, pending her full report, are:
"First, and foremost, I would suggest that the so-called bedroom tax be suspended immediately and be fully re-evaluated in light of the evidence of its impacts on the right to adequate housing and general well-being of many vulnerable individuals.
Secondly, I would recommend that the Government puts in place a system of regulation for the private rent sector, including clear criteria about affordability, access to information and security of tenure.
Thirdly, I would encourage a renewal of the Government's commitment to significantly increasing the social housing stock and a more balanced public funding for the stimulation of supply of social and affordable housing which responds to the needs."
The government propaganda machine has already been rolled out to dispute her initial findings, recommendations, and indeed the legitimacy of her role. Ignore Tory lies, and read her well-judged and considered statement.  The evidence she heard deserves more than to be described as "anecdotal". On what evidence are Mr Iain Duncan Smith's welfare reforms based?
I can only advise that those who have not done so seek out the 11/9/2013 Guardian article by Amelia Gentleman.
Here is a short video of Ms Rolnick at the Manchester hearing.
Campaign pressure brings results
Before the presentation of tenants' evidence to Ms Rolnick, 40 delegates to the Federation Steering Group shared experiences from across the country of appeals against the bedroom tax, claiming Discretionary Housing Payments, court protests and advice on eviction.
Some delegates had come from successful protests. In Central Manchester, campaigners had targeted loan sharks that have been preying on tenants with bedroom tax debts.
The bedroom tax is very much linked with the forthcoming scrapping of Disability Living Allowance (DLA). The Court of Appeal has recently ruled that the bedroom tax does discriminate against the disabled – yet it is "legal".  On the other hand, Michael Gove stated recently that every child needs their own bedroom!
Anti-Bedroom Tax Contingent in TUC March on Tory Party Conference 29th September:
TUC March on Tory Party Conference – Manchester (there will be a static assembly point/rally for disabled people near the Bridgewater Hall, organised by Disabled People Against Cuts.) Join the Anti-Bedroom Tax Contingent.
Calderdale Trades Council is offering to contribute to the cost for unwaged people to go to the Manchester Demonstration, either for travel on the Calderdale UNISON coach or on the first train to Manchester on Sunday 29 September.
Calderdale UNISON Coach
Calderdale UNISON is organising a coach from Halifax to Manchester. Until 20 September, they will only be allocating coach seats to UNISON members. After that date they will allocate unfilled seats to non-UNISON members. Calderdale Trades Council has agreed to pay the fee for unwaged people travelling on the coach direct to Calderdale UNISON.
Jean McAllister is co-ordinating arrangements for Calderdale Against the Bedroom Tax members wanting to travel on the UNISON coach. E-mail: jeanmcallister1@gmail.com, tel: 07787 516906.
If you want a seat on the Calderdale UNISON coach, e-mail unison@calderdale.gov.uk stating your name, how many seats you want and whether you are waged or unwaged. Calderdale UNISON will be allocating coach seats to non-UNISON members after 20 September on a first come first served basis, so we recommend e-mailing them as soon as possible if you want a seat on the Calderdale UNISON coach.
Train Travel Arrangements
To get to the demonstration people need to catch the train to Manchester departing:
| | |
| --- | --- |
| Halifax | 9.37 |
| Sowerby Bridge | 9.44 |
| Mytholmroyd | 9.50 |
| Hebden Bridge | 9.53 |
| Todmorden | 10.00 |
| Walsden | 10.03 |
The demonstration assembles at Liverpool Road, Manchester M3 4FP from 11am and the nearest Tram Stop is Deansgate Castlefield. The free Manchester City Centre bus from Victoria station also stops nearby.
Calderdale Trades Council is willing to pay £10 towards the cost of going to the demonstration for unwaged people who are travelling on this train. If you wish to claim this £10, please e-mail tradescouncilcalderdale@yahoo.co.uk by Midday, Friday 27 September, stating which station you will be joining the train at. This will enable the Trades Council to make sure that we have enough money to meet all requests.
The Trades Council officers who will be making payments will be joining the train at Mytholmroyd and we will then meet all requests for payment on the train.
From October 4th: Bedroom Tax – The TRAINing Day
Leafletting and stalls outside rail stations across the UK. Check the facebook page for updates.
Saturday 26th October: National Day Of Action Against The Bedroom Tax 
Contact benefitjustice@gmail.com with details of your protest.
Keep up pressure on politicians and forge links with Unions
The greatest emphasis at the Federation Steering Group meeting was on the need to pressurise our councillors and M.P.s, and to forge links with the unions in our local areas, and through them, the workers who are instructed to implement government or council policy.
57% of Unison members, for instance, report benefit difficulties of their own, and there is evidence of increased hours and pay cuts for council staff in various parts of the country.
We are in for the long haul in our campaign (cf the Poll Tax), but there is evidence that pressure from campaigners is achieving results.
The leader of North Lanarkshire Council has said that there will be no evictions this year (despite that Council being pro-tax), and certain other councils have followed suit. The heads of the National Housing Federation have come out against the tax.
Councils have discretion over charging Council Tax for vulnerable people
Councils have the discretion as to whether to charge the council tax in respect of vulnerable people.
Vulnerability was a constant theme in the evidence presented by individuals to Raquel Rolnik, the United Nations special rapporteur on housing.
It is essential that vulnerable people are not bullied into unsustainable "agreements" at court; and of course, once bailiffs are involved  (which happens, for instance, in Milton Keynes despite a no-eviction policy), there can be no discussion of payment plans.
Fighting eviction
Eviction of people deemed to be vulnerable is not lawful.
If matters are pursued to the court setting, it is crucial for people to have access to legal help -"Mackenzie Friends". Legal aid is possible if repossession is being sought.
Autumn and winter will see the start of the eviction process for many. It was agreed that leaflets such as  an ABC of how to oppose repossession and a "Challenging The Myths" document produced by Bolton campaigners need to be shared nationally for general use.