If you'd like to learn how to make useful things out of green wood, you're in luck. There is a choice of short courses this summer in Hebden Bridge, run by Keith from Blackbark and his friend Julie.
Absolute beginners are welcome. So, what might you turn your hand to?

Gate hurdles and shave horses
On Keith's courses, you can make a traditional gate hurdle or a shave horse, learning basic green woodwork techniques including cleaving, shaving, turning, making joints and tool maintenance.
Gate hurdles, once used for penning in sheep and other livestock, are now mostly used as garden furniture. A shave horse is a foot-operated vice essential for many green wood projects. You will gain experience using them and have one to take home at the end of the course.
Three legged stool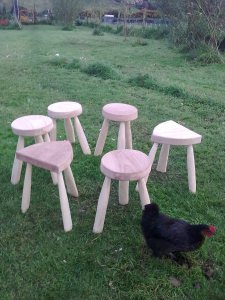 On Julie's courses, you will learn the basic techniques of green woodworking and make a three legged stool with solid timber top to take home with you.
Details of course dates, costs, venues, how to book are on the Blackbark website