Not that you'd realise it from outward appearances, but Richard Branson's private health care company Virgin Care has contracts with Calderdale Clinical Commissioning Group to run a  dermatology clinic in Halifax, as well as three General Practice centres that go under the name of Meadow Dale Group Practice – one in Elland, one in Ovenden and one in Sowerby Bridge.


Unaccountably, the Virgin Care-owned Meadow Dale Group Practice, which dates from early 2012, does not declare itself as a Virgin Care company, either on its website or at the health centre (at least in Sowerby Bridge – I haven't visited the others). Nothing on the website states that in fact the Meadow Dale Group Practice is owned by Virgin Care.  Instead, the website says "The Meadow Dale Group Practice is run by Assura Leeds on behalf of NHS Calderdale." [Update 25 August 2014 – the Meadow Dale Group Practice website now says that it is run by Virgin Care Leeds LLP]

In 2010 Virgin Healthcare Holdings bought a 75% stake in the Assura group, taking over Assura Medical's so-called GPCos. GPCos were General Practice/Assura partnerships that sold their services to the NHS. When Virgin Care took over Assura's GPCos, profits were split 50:50 between the company and the GP practice. But in 2012, according to NHS For Sale, Virgin Care took over 100% ownership of Assura Medical and announced that the GPs in the GPCos would have to give up their stakes in the partnership. 100% of the profits from Virgin Care's GP practices now go to Virgin Care.
Why is VirginCare so coy about declaring its ownership of Meadow Dale Group Practice?
Based in Allan House Health Centre on Station Road, there is nothing to indicate that Sowerby Bridge Meadow Dale Group Practice is a privately owned company.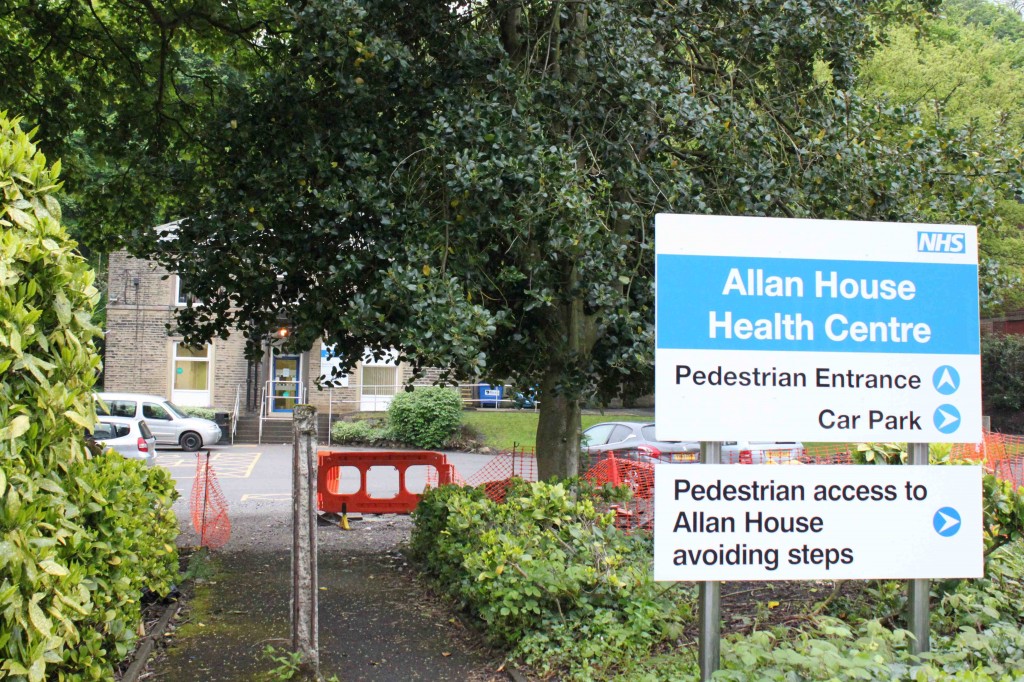 No VirginCare branding on the signs.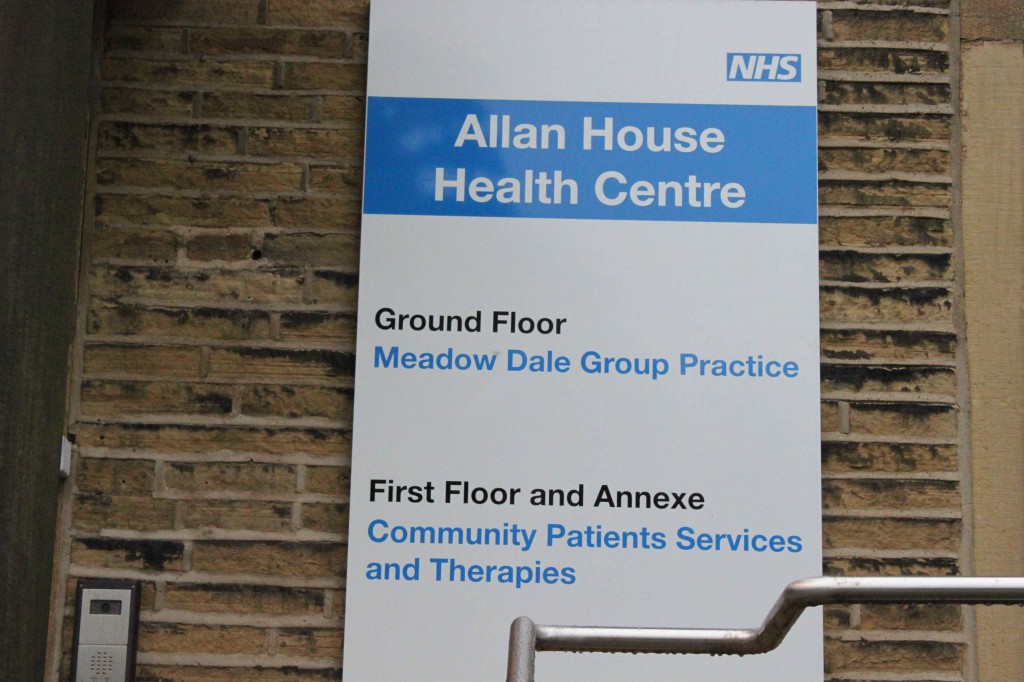 I waited for a long time outside Allan House to ask patients if they knew Meadow Dale Group Practice was owned and run by Virgin Care, but the whole time I was there only one patient appeared, clutching a prescription. She hopped into her car and was whisked off by the driver before I could reach her. (In contrast, patients were streaming in and out the Station Road NHS health centre 50 yards down the road.)
Passersby were unaware that VirginCare owned the MeadowDale Group Practice. A Sowerby Bridge resident in his forties said,
"No, I didn't know that Meadow Dale was owned by Virgin Care. And I'm surprised because there's no Virgin Care branding on the signs. What's that about?"
Thirty-something Abigail, on her way to the swimming pool after work, said,
"No, I didn't know it's privately owned. Does it matter? Yes, because it's profit making. I don't like to hear that health care services are privatised and profit making."
Flying below the radar
This kind of flying below the radar seems to be par for the course for Virgin Care. In 2012 it took over £500m worth of Surrey NHS healthcare services, but you wouldn't know it from the Guildford and Waverley Clinical Commissioning Group website. It  includes a link to Virgin Care, but otherwise makes no mention of the fact that Surrey NHS community health care services are now owned and run by Virgin Care – or that the former NHS staff who work there have been forced to become Virgin Care employees.
In an angry Telegraph article about Virgin Care's £500m contract to provide NHS services in Surrey, greased by Secretary of State for Health Jeremy Hunt, Max Pemberton laments,
"for residents of Surrey, and soon for the rest of us, the NHS will just be a nominal logo, an institution reduced from being the chief provider of heath services in this country with one of the biggest workforces in the world, to an anachronistic insurance scheme, divorced from the actual delivery of any care. It will become a bureaucratic governing body dishing out public money to private companies."
VirginCare: buying an in with Clinical Commissioning Groups and the Secretary of State for Health
When Virgin Healthcare Holdings bought  the Assura GPCos from Assura Medical, this division of Assura had posted pre-tax losses of £4.4m on a turn over of £100,00 in the six months to September 30, 2010. It was expected to go on making losses until 2012-13.
This might seem like a poor prospect for Branson's Virgin group, but it looks as if what Branson was really buying was not a few GPCos, but an in with Clinical Commissioning Groups (CCGs). The Bureau of Investigative Journalism reported in 2011 that one in seven board members of the first wave of Clinical Commissioning Groups had a link to a private health care company. More than 60% of those with private links were associated with Assura Medical (now VirginCare). Most were members of GPCos.
This set alarm bells ringing with Dr Clare Gerada, chairwoman of the Royal College of GPs. She was concerned about conflicts of interest that would arise from any doctor sitting on the board of a CCG who had an interest in a private company that would be tendering for contracts under the new "Any Qualified Provider" system.
The risks are clear from the case of Surrey NHS.  In 2011, the Bureau of Investigative Journalism reported that, at the Sutton Consortium  in Surrey, 19 out of 25 board members were linked to Assura Medical. (Consortia were the forerunners of CCGs). The Sutton Consortium  said it would be "developing our governance arrangements over the coming months to ensure we continue to be transparent and accountable". But in 2012, events rather gave the lie to that claim when the Secretary of State himself, Jeremy Hunt MP, personally intervened to speed up one of the biggest deals to date between the NHS and a private healthcare company, none other than Assura Medical, at that time majority-owned by Virgin Care.
Days after the Health and Social Care Bill received royal assent,  Hunt wrote to the head of Surrey's NHS Primary Care Trust for assurance that the deal with Assura Medical would go through quickly. Shortly afterwards,  Assura Medical and Surrey NHS trust signed a deal (variously described as worth £500m or £650m) that handed over Surrey's NHS community healthcare services to Virgin Care for the next five years.
Changes to NHS staff terms and conditions
The Virgin Care takeover of NHS Surrey community health services forced NHS staff to become Virgin Care employees.  Virgin Care insisted that there were no changes to staff terms and conditions, but  the Telegraph quotes Dave Prentis, general secretary of Unison, as saying,
"it is inevitable that there will be cuts in order to ensure that shareholders get their dividends and it will inevitably be patients that will suffer."
NHS For Sale reports,
"The most recent financial data for Virgin Care are the accounts filed with the UK Companies House for the year ending 31 March 2012; this was prior to acquisition of 100% of Virgin Care by the Virgin Group. Virgin Care had revenue of £1.4 million in 2012 and a net loss of £9.9 million. The company paid no tax in this period."

Blogging on The Slog, John Ward wrote,
"A Freedom of Information request has revealed that Virgin Care is not obliged to comply with the Freedom of Information Act and NHS Whistle-blower Protection legislation will not apply to NHS staff transferred over to Virgin Care. And finally, Virgin Care Surrey, unlike the NHS boards, will not be required to hold their meetings in public.

Now we can trade angels on a pinhead here if you like, but if you can't get answers, reveal malpractice or use a public meeting to reveal nasty stuff, I'd call that a change to the conditions under which Virgin Care staff will work. I'd also call it a near-total absence of public accountability…especially from a Group infamous for its ability to dump rail passengers in the middle of nowhere of a bank holiday."
Virgin Care is rich, politically well connected  and litigious. In September 2011, when they were still trading as Assura, they complained to the Cooperation and Competition Panel for NHS Services about the fact that the North Yorkshire and York Primary Care Trust (the organisation that commissioned NHS services before Clinical Commissioning Groups were set up) had awarded the contract for a new orthopaedics and musculoskeletal service to York Hospitals NHS Foundation Trust, rather than to Assura. They lost that complaint, but they won't stop there.