April 3rd turned out to be a day for writing on the wall.
Writing on the wall – Institute of Endless Possibilities
In huge daffodil-yellow letters, Institute of Endless Possibiities is beaming across the Henry Moore Institute front wall.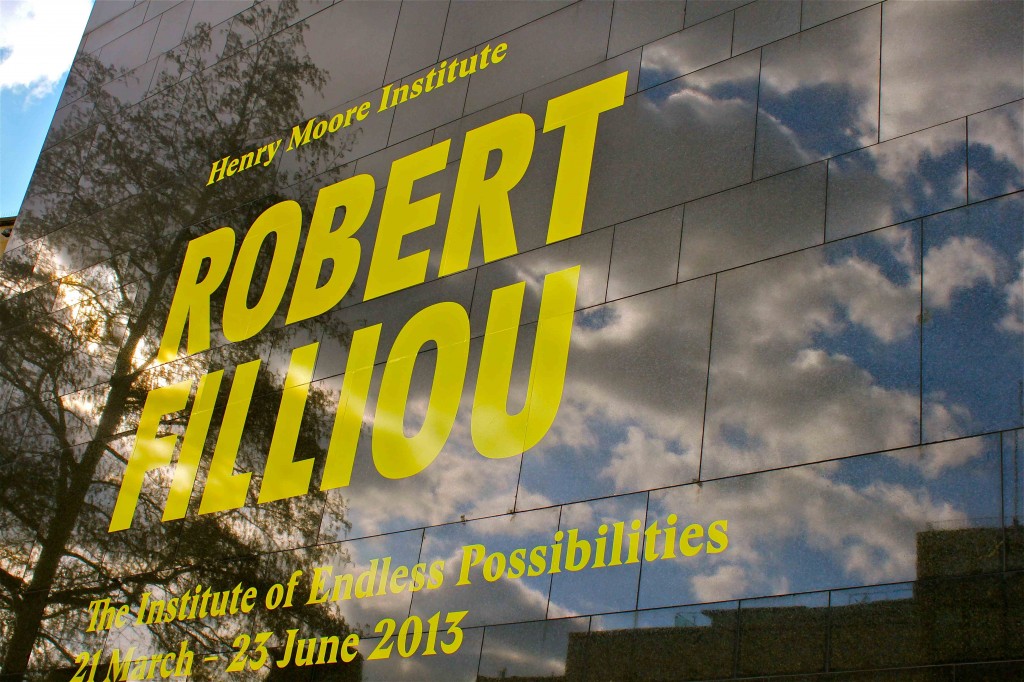 Yes! This feels like a good omen as I walk through Leeds under a blue sky to Simply start up – a training day with Mark Simmonds from the Cooperative Enterprise Hub.
Writing on the wall – Simply start up
I took part in Simply Startup so that Incredible Edible Mytholm would have some ideas about how to go about setting up Growing Futures, our proposed community-owned sustainable food business.
Public response to the proposal is proving positive, so we need to get cracking.
Among other discoveries at Simply start up, I found that cooperative working can be fun….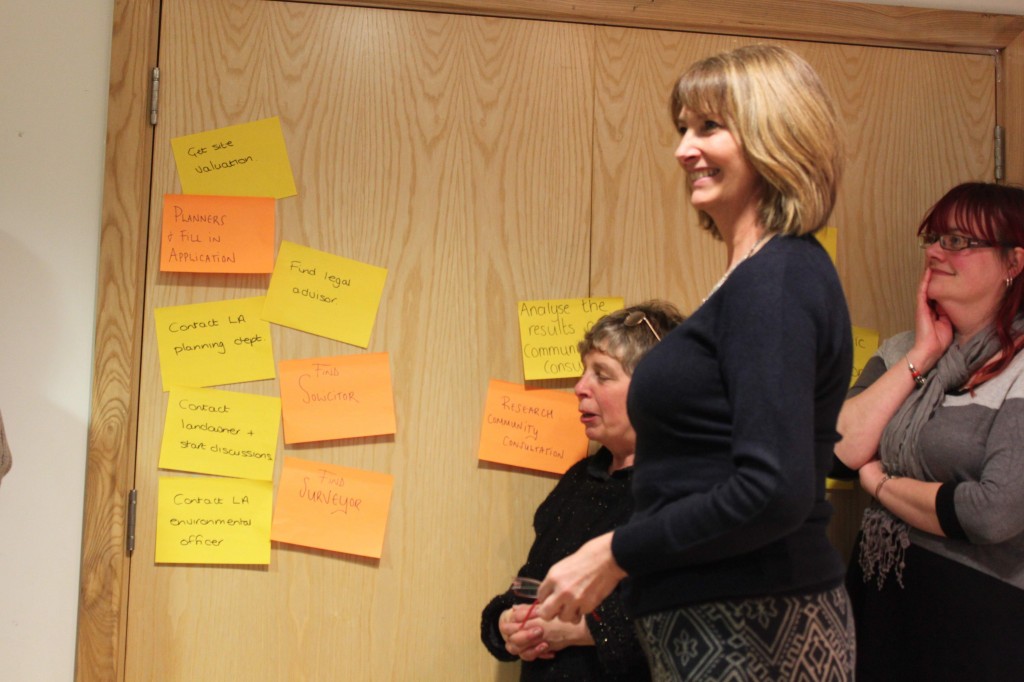 …that permaculture is a design process as well as a way of growing food and building. And that its first principle is to observe – to take time to see what's already happening, take that as your baseline and then figure out how to work with what you've found.
… and we could make a Gantt chart – without knowing  the term, until after we'd stuck up our post it notes to create a schedule for all the key tasks in starting up our simulated community business.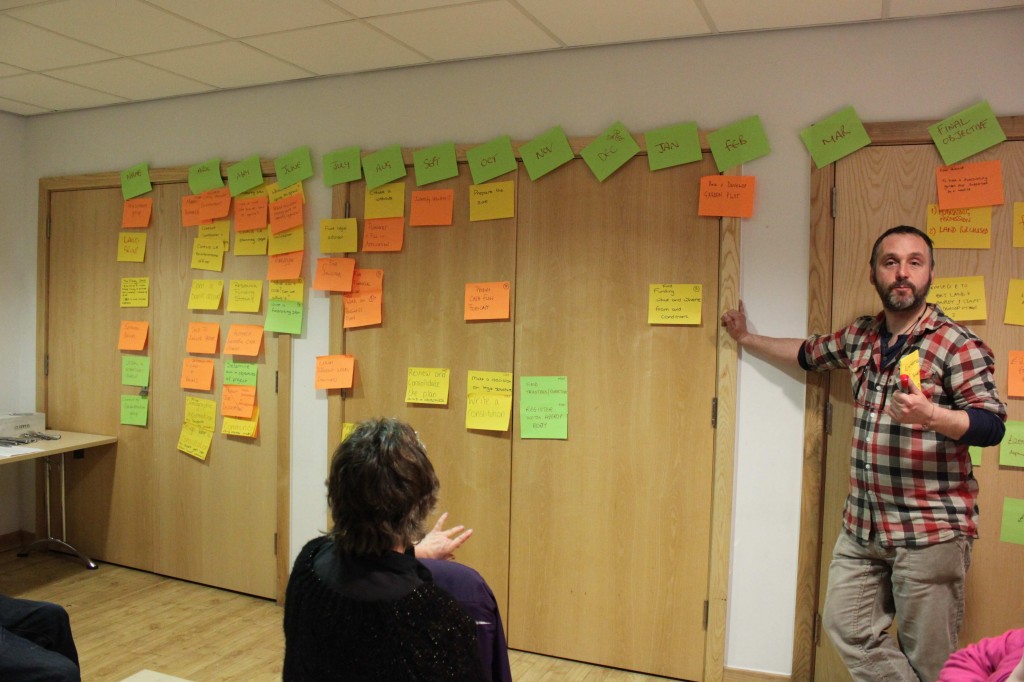 In the final Q & A session. I asked Mark for ideas about how Growing Futures could combine its proposed "5 in 1" community business activities. The aim of this "5 in 1" model is to combine potentially profitable activities like the eco hotel and visitor attraction with potentially less profitable activities like the permaculture growing and experimentation/research, so that the more profitable can subsidise the less profitable. This "5 in 1" could be a potentially complicated structure, although Adrian Ashton said it could be like a mini version of the Mondragon coop federation in Spain.
Mark suggested one way of making this work could be for Growing Futures to set up a community land trust that:
owns the land (with an asset lock that prevents it being sold out of community ownership)
runs the permaculture growing/research and experimentation business, and
gets rents from the other business activities, which would be autonomous (within some agreed guidelines).
This will definitely be something to think about, when we get to the stage of working out the best legal structure for Growing Futures.
There's a lot to do before we get to that stage. Like…the sweetie jar, (aka wish list). Then commitments, feasibility, Gantt chart/ schedule, business plan….
Writing on the wall – collective dance poem
On my way back to the station, I went into the Institute of Endless Possibilities. Unusually, the Henry Moore Gallery were letting people take photos of a couple of the sculptures.
This one is a Collective Dance Poem – I think it's for two people to spin the bicycle wheels and each say the word/do the action for their wheel, depending on which bit of writing of the wall the spin stops at.
The first performance of this collective dance poem was in 1962. Here's an old photo of it in action (there was no action in the Henry Moore Gallery).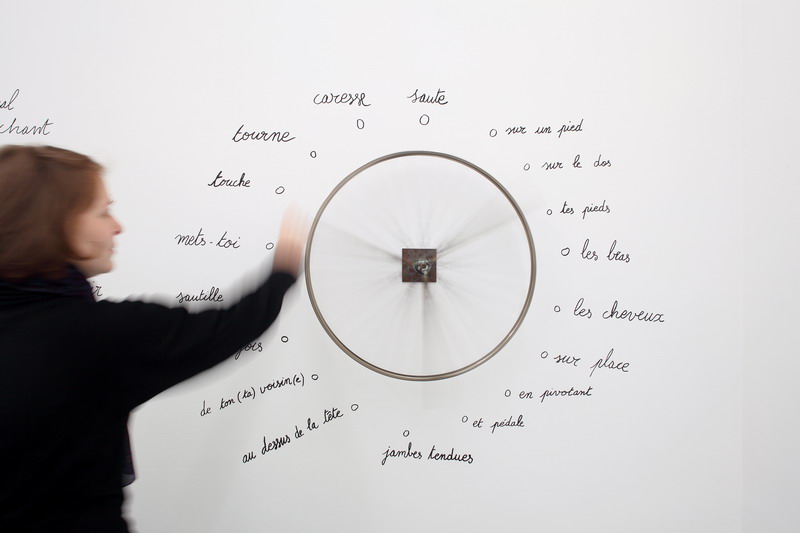 What I would like to see on the Growing Futures site in 5 years time (part of a "visioning exercise" we carried out in the simulation game) is an Upper Calder Valley Institute of Endless Possibilities….
Being Incredible Edible, and permaculture, our collective dance poem would have three wheels, not two… business, society and education wheels…or, earth, people and fair share wheels…
This is just me whittering – not an official Incredible Edible Mytholm post!