Growing Futures – A cooperative food growing and retail business that's also an education centre, visitor attraction and eco-hotel.
This is Incredible Edible Mytholm's vision. Their imagination is free-range, and their feet are on the ground.
Growing Futures will be much more than a great day out in Hebden Bridge. It will also be:
an innovative, sustainable food growing business that provides living wage jobs
an education and training resource for all ages – from three to 103 – that attracts sustainability students from far and wide
a retail market for local food producers
an innovative eco hotel, which also has glamping pods and yurts
a venue for eco-themed arts and music

Designers Chris Sherwin's and Ewan Tavendale's exciting sketches show what Growing Futures could look like on the Mytholm Works site, and IEM would love to have people's comments and ideas. Anyone who's interested in helping Incredible Edible Mytholm (IEM) to make this great business happen is welcome to email them, or use the contact form. IEM Secretary Jenny Shepherd said,
"We really want to hear people's ideas so we can work them into our proposals. And we can use all kinds of practical help too."
Here are Ewan Tavendale's designs for what the site might be like: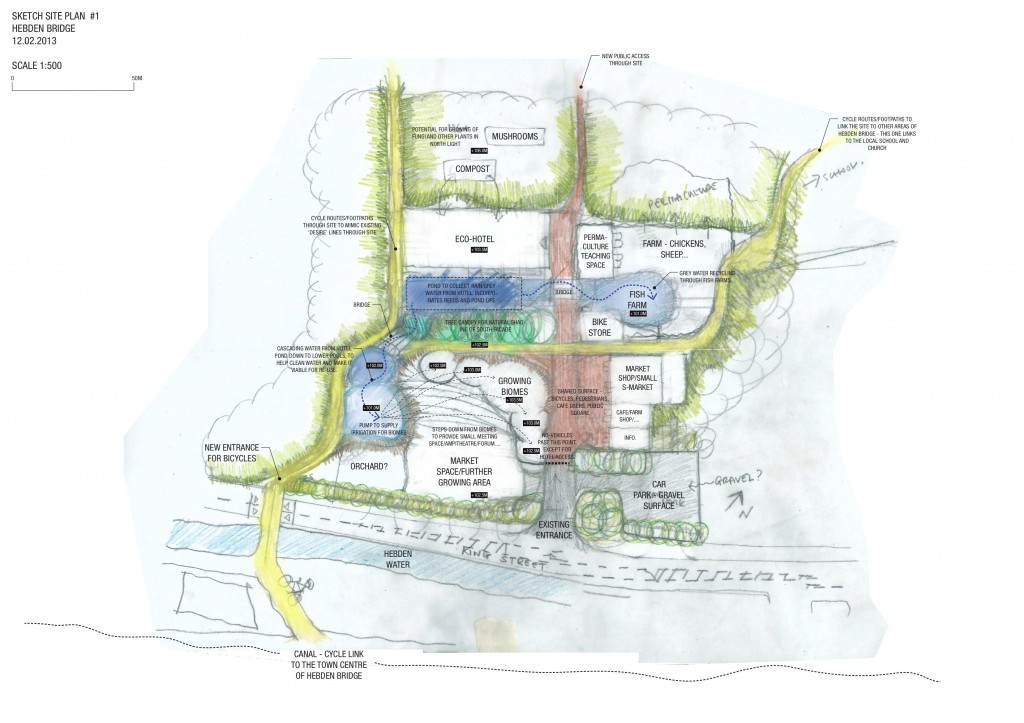 The remaining sketches on this page are by Chris Sherwin
Despite Calderdale Council's recent refusal of IEM's nomination of the Mytholm Works site as a community asset, Management Committee member Dr Nick Green said,
"I don't think this makes much difference, we'll only have a shot at buying the site if the supermarket and hotel planning permission is definitively refused, and the owners decide to sell. In which case it'll be up for grabs, community asset or no."
Last year, IEM asked Calderdale Council to nominate the Mytholm Works site as a community asset, in the hope that this would give them the Community Right to Buy the land if/when it comes on the market. Community Right to Buy requires the owners of a community asset to put a sale offer on hold for six months, to allow time for the community organisation with the right to buy to prepare a business plan and raise the money to buy the property.
Now, instead of waiting until the site comes on the market, IEM will go ahead and seek funding to prepare a business plan for Growing Futures.
Incredible Edible Mytholm will be inviting the public to a Field Day (on the playing field next to the Mytholm Works site) in March, to discuss  plans, move them forward and start some growing. More details soon.
Growing Futures will bring far more benefit to Hebden Bridge than the proposed supermarket
Incredible Edible Mytholm opposes the Setbray/Belmont Home planning application for a supermarket and hotel on the Mytholm Works site. IEM Chair John Rhodes said,
"We think Growing Futures will bring far more benefit to Hebden Bridge and the surrounding area. It will create skilled, living wage jobs, affordable eco-hotel (and glamping) accommodation for Hebden Bridge visitors, and increased trade for town centre businesses and their suppliers."
Incredible Edible Mytholm has just carried out a business impact assessment survey in Hebden Bridge, to ask town centre businesses how the proposed supermarket and hotel would affect them and their local suppliers. The results of the survey are now out and the association will take them to the Calderdale Council Planning Committee, before it meets to considered the deferred supermarket and hotel planning application.
Calderdale Planning Committee deferred a decision on the planning application because the developers had not presented a retail impact assessment survey. It will make its decision when it has this information, probably at either the March or April Planning Committee meeting.