The community wind turbine in Blackshaw Head has received its first Feed In Tariff payment. £1611 covered the period November and December 2012. This was for the generation of 5444 kWh of electricity, said Paul Wilson, treasurer of Pennine Community Power (PCP) – a Community Benefit Society with 65 members.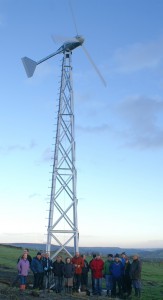 The PCP turbine produced a further 2000 kWh  in January 2013, which will be worth £600. So far the wind turbine is producing according to expectations, so PCP will be able to deliver funding to the community as planned.
Finn Jensen of PCP said, "PCP will first have to develop a policy for how to share the community benefit out to beneficiaries. However, we also have to build up a reserve for 'unforeseen circumstances' (expenses we had not anticipated). We will not be paying the investors anything this year."
A breakdown of how much has been produced each day is available, along with a live feed of how much the turbine is producing right now.
Pennine Community Power is willing to talk to other communities about doing renewable energy projects. If you'd like to find out more, please email Finn Jensen. There is growing public interest in renewable energy. Every year the UK government does a survey of people's attitude to energy and climate change policies. The latest survey was published on 5th February and showed 82% support for renewable energy and only 4% opposed.
Updated 24 October 2013
Over the past few months, Pennine Community Power has had to negotiate with Ofgem in order to regain Feed In Tariff payments that Ofgem stopped as a result of obscure "de minimis" regulations.