All are invited to join a Ban the Burn walk around the Walshaw Dean area of Walshaw Moor Estate on Sunday 23rd September. The walk will be an opportunity for people who want to see the site and haven't been before.
Here's Natural England's map of this unit of the Site of Special Scientific Interest:
Natural England's Unit information for Heather Hill records that at the time of the last assessment in March 2010, the main habitat was upland bogs; the condition was unfavourable – no change; the reason for the condition was air pollution, drainage, moor burning, other; and that
"Restoration works are required to ameliorate the loss and damage to habitat as a result of unconsented operations. Enforcement action is being undertaken to address this issue."
This is a Natural England indicative map of land within the burning rotation allowed in the Consent. Natural England says it's indicative, pending detailed habitat mapping, which is to be completed by 31 December 2013 at the latest.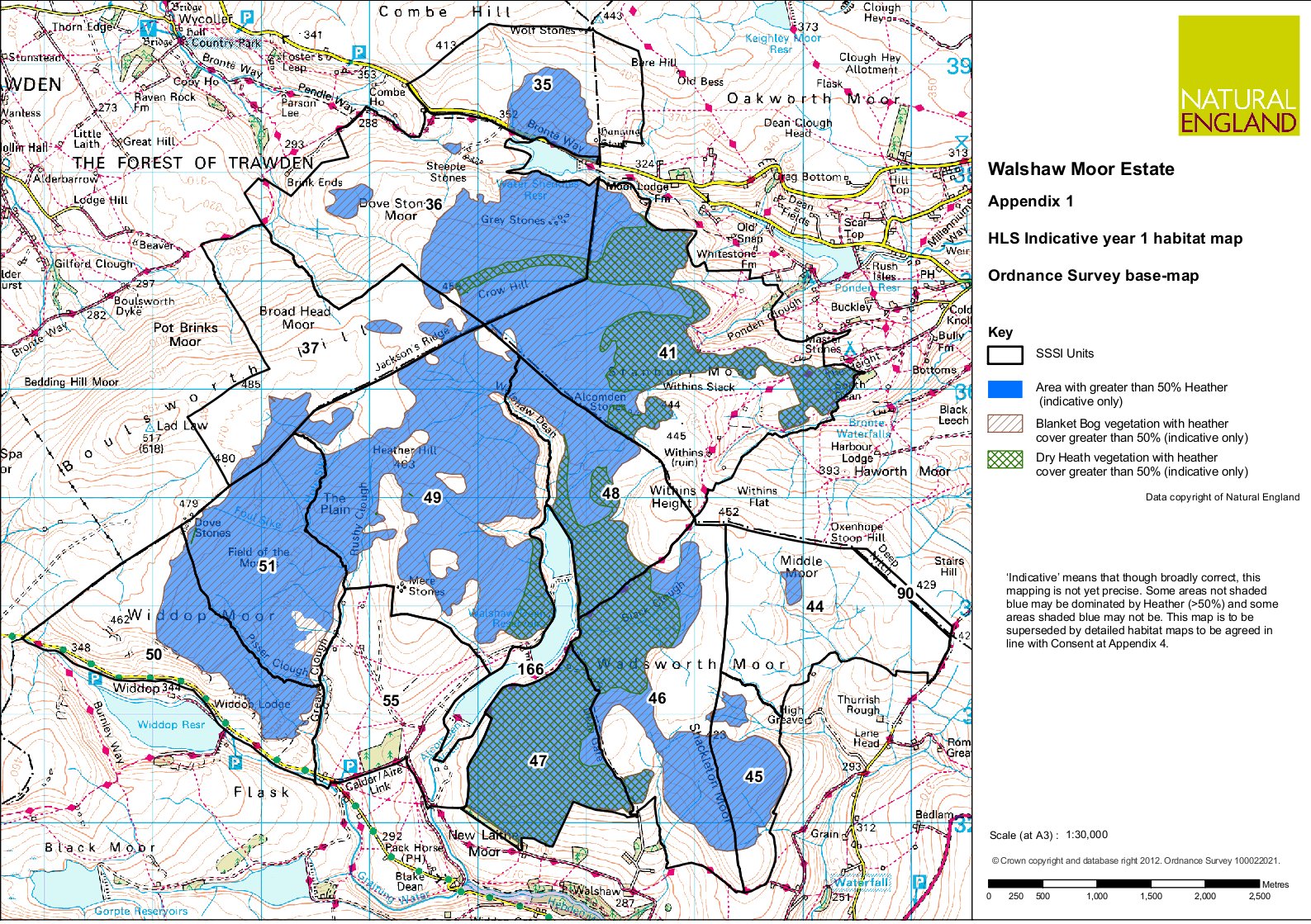 The small print to the right of the map says:
"'Indicative' means that though broadly correct, this mapping is not yet precise. Some areas shaded blue may be dominated by heather (<50%) and some areas shaded blue may not be. This map is to be superseded by detailed habitat maps…"
This is the same map but including an aerial view of the area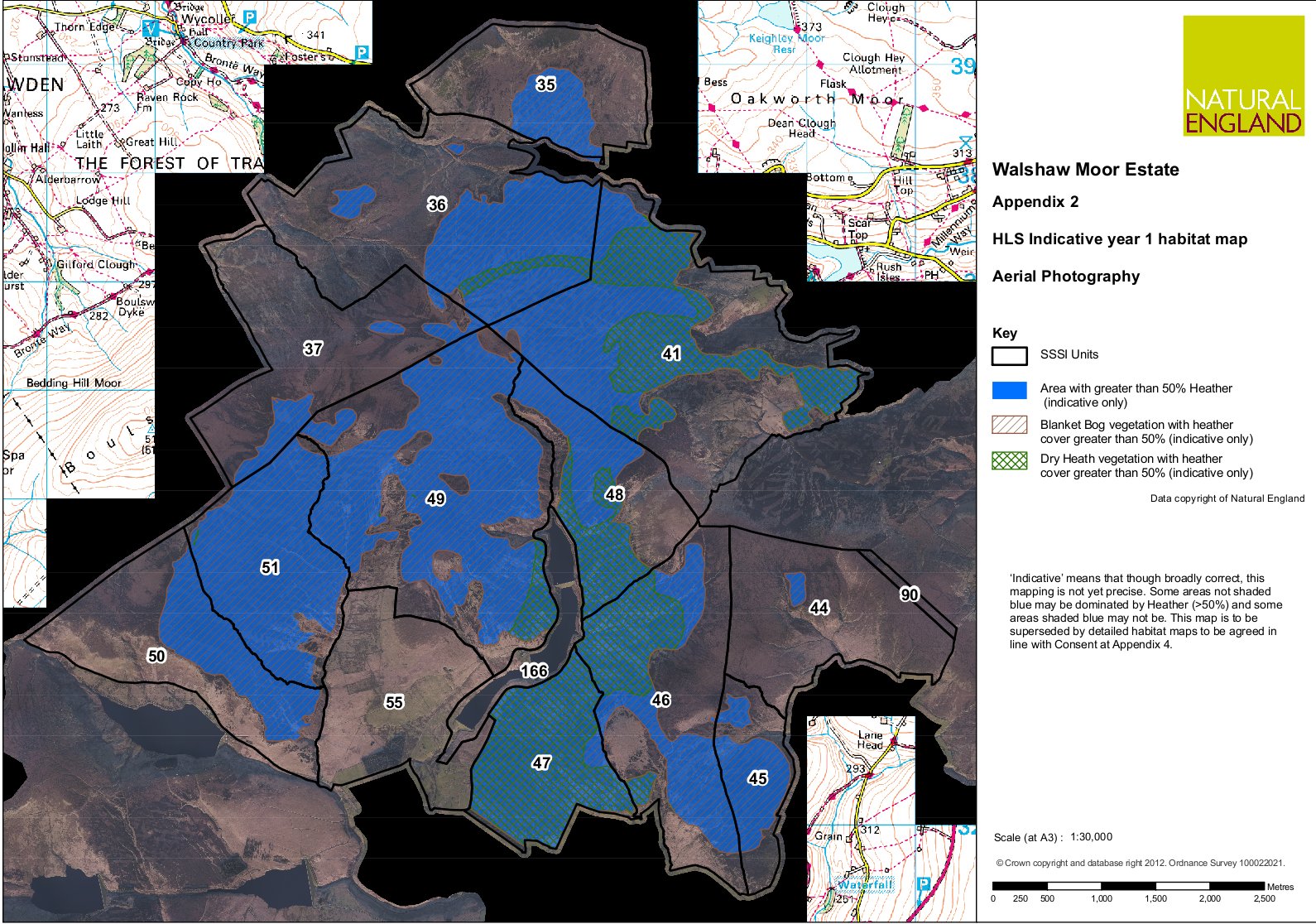 The walk will be a good chance to catch up on what has been happening in the Ban The Burn Campaign, and for people who haven't already been up to the area, it will be a chance to see the state of the blanket bog.
Under Natural England's new Consent for Walshaw Moor Estate to manage land in a Site of Special Scientific Interest, no burning is permitted on areas which have less than 50% heather vegetation, and no maintenance of moorland drainage is permitted apart from next to surfaced roads/tracks, walls and within a 50 metre radius around grouse butts.
So it could be interesting to identify any areas with less than 50% heather coverage, and drainage ditches which are more than 50 metres way from grouse butts.
The Higher Level Stewardship Moorland Management Plan for Walshaw Moor Estate says that the maximum burn rotation on degraded blanket bog "equates to a maximum of 6.7% a year on average" within each mapped area, and on active blanket bog a maximum of 5% a year may be burned within each mapped area. Except that within 50 metres of grouse butts, burning may take place outside these stipulations if/when Heather reaches 10cm high.
If you think burning and draining should be banned on blanket bogs, please sign this petition.
Schedule
Meet at Hebden Station at 0930.
The 906 bus leaves Hebden railway station at 0942.
We could drive up so if you need a seat in a vehicle, or have a vehicle and spare seats please contact Ian on 07538636981.
Bring a packed lunch and sensible clothes.
Please spread the word, invite your friends and neighbours. See you there.
Clarifications and corrections
Updated 19 Sept to clarify that Yorkshire Peat Partnership will not be present on the walk. YPP has advised that:
"It is not our remit to advise on burning or grazing plans… All our work is carried out in conjunction with all stakeholders and we would need the permission and support of the landowner before we could advise on a particular site. We also carry out a very detailed survey of sites before drawing up restoration plans and could not advise on specifics on the basis of one site visit.
However, we do have a set of technical specifications that are publicly available on our website and they provide a lot of detail on restoration techniques."
Updated 20th September to clarify that this is just going to be a bit of a repeat walk for people who want to see the site and have not been before.