The UN Sustainable Energy For All (SEFA) initiative looks like a massive exercise in greenwash. Chad Holliday, Chair of the Bank of America and Co-Chair of SEFA, describes it as "the greatest public-private partnership of all" – approaching $50 billion in commitments. A representative of the UN General-Secretariat says that "implicit in SEFA is that all options are open" – including all fossil fuel options.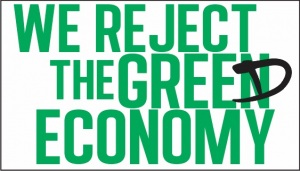 Norway, a key funder of SEFA, is promoting its "Oil for Development" scheme, which proposes to exploit Africa's great gas resources. And  Bloomberg New Energy Finance has described nuclear power as "absolutely fantastic"

Is this really sustainable, and for all?
Swedfund's investee company, Addax Bioenergy, has invested 267m Euros in big sugar cane plantations, an ethanol plant and bagasse-fired power plant in Makeni, Sierra Leone. Bagasse is the fibrous waste produced by the sugar industry. Ethanol is a sugar-derived fuel that can be mixed with petrol as a transport fuel.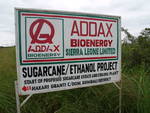 Addax Bioenergy is a Swiss company. Funding for its Sierra Leone project has been put together with core loans from FMO, a Dutch "entrepreneurial development bank", the Emerging Africa Infrastructure Fund, DEG (the German investment and development company, which finances private sector investments in developing countries), and the African Development Bank.The core loans have been supplemented with loans from various other finance companies.
Supplying the growing European demand for biofuels
Project Finance Magazine, which gave the Makeni Addax Bionergy project the award for African Renewables Deal of the Year 2011, says the project's aim is to supply the growing European demand for biofuels, mainly for blending with petrol. It also points out that the EU may change its policies on biofuels, but locating the project in Sierra Leone "protects against European political risks." It notes that this is Sierra Leone's first project financing out side the mining sector, and could "open the country up" to more foreign investment.
Via the bagasse-fired power plant, which uses the bits of sugar cane left over from the production of ethanol, the project will feed a small amount of electricity from cogeneration into Sierra Leone's grid – while exporting large quantities of ethanol to Europe.
Growing hunger and food insecurity for Sierra Leone communities
Although Project Finance magazine says that the ethanol project sticks to environmental and social responsibility standards that are hard to fault, research by Bread For All questions the environmental and social impacts of the Makeni ethanol project. And an investigation by the Sierra Leone Network on the Right to Food (SiLNoRF) has found many problems with Addax Bioenergy's Land Lease Agreements with traditional landowners, which transfer use of traditional farm land to Addax Bioenergy for 50 years, for the company to grow sugarcane for its ethanol plant.
"Claims that Addax secured the free prior and informed consent of communities for the takeover of their lands are very doubtful… "
The alternative farmland that Addax Bioenergy has provided for Sierra Leone farmers, in exchange for the traditional farmland it acquired through the Land Lease Agreement, is not as fertile as the traditional land.  Local communities
"now face growing food insecurity and hunger."
You can find out more about the Sustainable Energy For All initiative here.