Barclays' investments in fracking – Don't bank with Barclays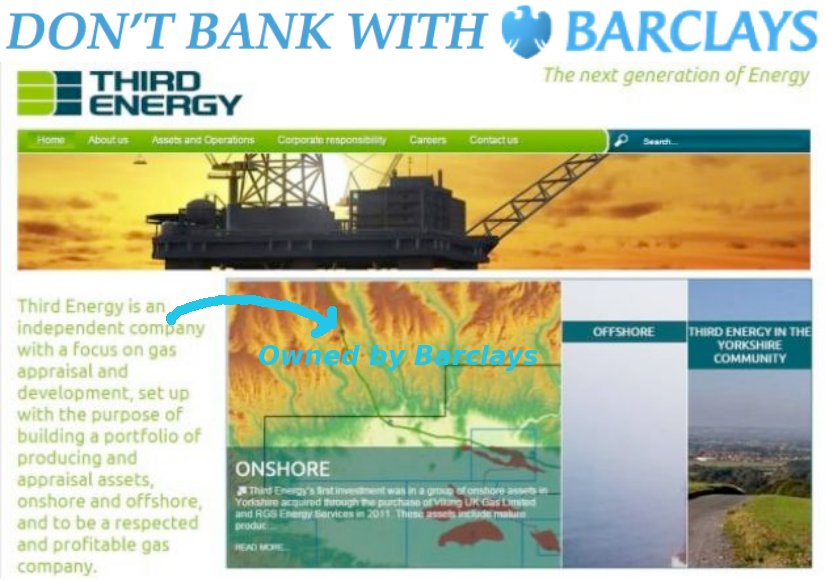 Barclays owns fracking company Third Energy, the company fracking in Ryedale despite
thousands of local objections.
Third Energy has a complex company structure.
Third Energy Holdings Ltd is registered in the Cayman Islands.
But company accounts for Third Energy UK Gas Ltd, filed in October 2015 and made up to December 2014, state that
"in the opinion of the directors, the ultimate parent company of Third Energy Holdings Limited is Barclays PLC."
Barclays' position on fracking statement says that following the sale of Barclays Natural Resources Investments (a subdivision of Barclays PLC, and not a separate company)  to its former management, the day to day interaction with Third Energy is now undertaken by Global Natural Resources Investments (GNRI).
Before this happened,  the website for Barclays Natural Resources Investments (BNRI) held details of their investment in Third Energy.
But on 31st October 2015, according to the BNRI site,
"the Barclays Natural Resource Investments ("BNRI") team has acquired the BNRI business from Barclays and is now operating as an independent private equity business known as Global Natural Resource Investments ("GNRI").
The GNRI website  has minimal information on their portfolio of investments and on who they ultimately operate for.
But the Barclays position statement on fracking says that Barclays have worked with GNRI management to ensure that Third Energy plans are compatible with Barclays' Purpose & Values.
More info from Friends of the Earth, here.
Fracking for Dummies intro, here.
Kirkby Misperton Protection Camp info, here.