Members of Upper Calderdale Wildlife Group, who monitor Walshaw Moor Estate's  "management" of protected blanket bog for its intensive grouse shooting business, reported on 16 February that they had a few hours up Walshaw, and saw that heather burning was going on.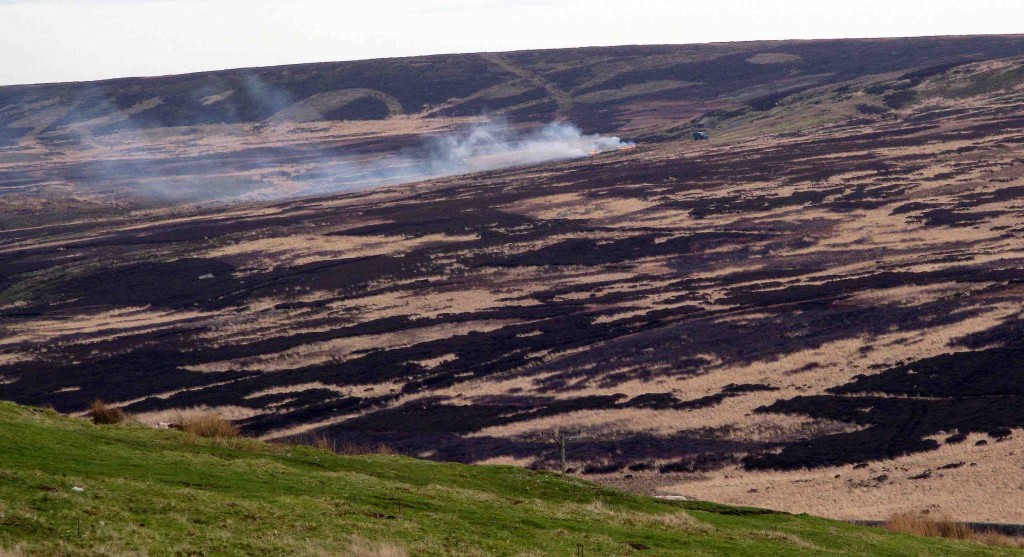 The Wildlife Group is a partner in the SOURCE project that promotes natural flood management (NFM) to help slow runoff from the upland catchment.
The Walshaw Moor Estate owner Richard Bannister is under obligation to Restore the moorland, for which he is paid £106,289.50/year for the ten years from 2012-2022.
This Restoration of moorland option is part of the £2.5m  Walshaw Moor Estate Environmental Stewardship Agreement (ESA).

The Restoration of moorland option:
"aims to restore moorland where not all habitat is in good condition…In addition, it may, in the right situation, provide an area of flood storage and some benefits to flood risk management."
The WME ESA says that this will be judged to be  successful if all Site of Special Scientific Interest land is in favourable or recovering condition.
The Restoration of moorland option applies to five parcels of land, each identified by the Rural Land Register field number, where there are Upland Heath and Blanket bog habitats.
Walshaw Moor Estate burning breaks conditions of its Restoration of moorland obligation
Among other conditions, the Restoration of moorland option prohibits burning that damages moss, some other plants and exposes or breaks the peat surface:
"There must be no signs of burning into the moss, lichen or liverwort layer, or exposure or breaking of the peat surface due to burning."
However, a visit to Walshaw Moor Estate with Green Party leader Natalie Bennett shortly after the Boxing Day floods found that fresh burning had exposed and broken the peat surface.
Another element of the Walshaw Moor Estate Environmental Stewardship Agreement is the Uplands Entry Level Stewardship (ELS) Scheme. This pays Walshaw Moor Estate £88,004/year for 10 years to manage land according to specified environmental standards, in return for a set payment per hectare. The Uplands ELS scheme includes a range of options that farmers/landowners can sign up to. I don't know what Uplands ELS options Walshaw Moor Estate is carrying out,  but possible options include:
maintaining and improving biodiversity
protecting natural resources such as soil and water
providing and protecting carbon storage in blanket bogs and improving overall water retention
Even permitted cool burning increases flash flooding risk in valleys
Research by the Leeds University EMBER project (Effects of Moorland Burning on the Ecohydrology of River Basins) shows that even so-called 'cool burning' that is permitted on protected blanket bogs like Walshaw Moor, has the effect of increasing run off from the moorland during the heaviest 20% of rainfall, so contributing to flash flooding in the valleys.
A member of Upper Calderdale Wildlife Group who witnessed this week's burning by Walshaw Moor Estate said:
"Bannister obviously takes his actions very seriously!!! There has been plenty of Burning Off recently, if this isn't 2 Fingers up to all us down in the Valley I don't know what is!!"