One week on from devastating Boxing Day floods that swamped Calder Valley, the real story is that people galvanized together to save themselves and have been magnificently supported by a wide range of groups from all backgrounds, some of whom have travelled long distances to help.
Throughout Calder Valley, flood relief hubs sprang up immediately in the string of towns and villages, to match volunteer support with requests for help.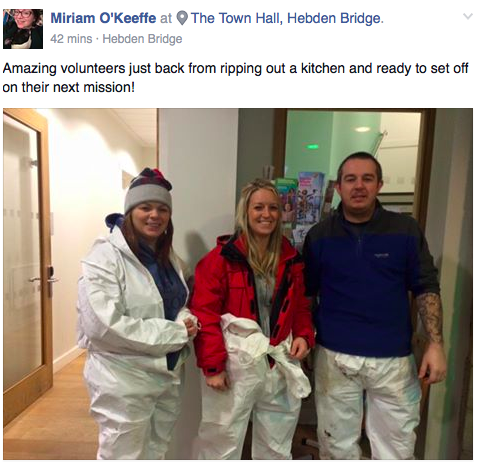 In Mytholmroyd, the owners of Best Practice Training opened their doors the day after the floods, initially to serve food and drinks and offer their facilities to flood victims. They subsequently became a vibrant hub of volunteers and advisors and the official flood relief centre for the town, while teams including Guru Nanak's Free Kitchen have been serving hot food in Mytholmroyd.
Hebden Bridge Town Hall – one of the first community-owned Town Halls in the country – took on the initial emergency response for the town and surrounding villages, with help from hundreds of volunteers.
Volunteer-led flood relief hubs have also been busy at Todmorden Town Hall, Christ Church Sowerby Bridge (now stood down as a hub) and in Elland – where much help is still needed.
Local tradespeople with specialist skills have volunteered their time and worked together with tremendous support from other volunteers within and outside the town.
Volunteers at Hebden Bridge Town Hall have matched over 500 hundred requests for help with those best placed to give it – including structural engineers, electricians, people with vans, lawyers, people with damp proofing expertise and people taking in washing. All this has been given on a voluntary basis, including a web developer setting up the database that's made the matching possible.
Luke Stericker turned up to help as a man with a van and has ended up leading the logistics operation, coordinating over 50 van drivers who are removing contaminated flood waste from people's houses and businesses. Luke said,
"Some of the van drivers have been doing this now for 4 or 5 days in a row. They are all giving their time and resources for free to benefit the wider community."
David Browning, Director of Hebden Bridge Community Association, the charity that owns and manages the Town Hall, said:
"Hebden Bridge is now pretty much through our immediate emergency, thanks to hundreds of local volunteers who've worked hand in hand with groups from across the country.

These include Slough-based Khalsa Aid, who've been serving hot food for free to hundreds of people affected by the floods in Hebden Bridge, the Human Relief Foundation from Bradford – who helped residents, cleaned houses and even helped clear a flooded cricket ground, Ahmadiyya Muslim Youth Association UK who came up from London and worked phenomenally hard, Muslim Hands, and other communities from all over the UK who've turned up en-masse to help out whenever, however, to do whatever."
Tamsin Curror, a Trustee of Hebden Bridge Community Association, said,
"We'd like to thank the volunteers from the bottom of our heart. None of this would have been possible without them. The Town Hall is a community-led building and we were well placed to take on the initial emergency response, harnessing the energy and passion of our community. We've been working closely with Calderdale Council and it is now the first point of contact for post-flooding issues with council staff now based in our building to coordinate its operation."
Many other local businesses and organisations have contributed massively to  flood relief efforts. Hebden Bridge Trades Club, a socialist members club and music venue that has been going over 35 years, was providing between 100 & 200 free meals per day plus giving out good.
Mytholmroyd resident Mick Griffin Usher was moved to post on facebook,
"These floods are and have been absolutely devastating on all fronts, people have lost absolutely everything. However out of this devastation, people of all religions, people of all ethnicities have really really come together as one and restored communities and my faith in humanity. The Muslim community have helped the Christian community, the Indian community have helped the atheist community – no matter what everyone's beliefs are, you have all come together as one.

Hopefully one day we can live in a peaceful world and we can love thy neighbour, so whether you are white black yellow or green I want to say a humongous thank you to all the communities for what you have done… Here's hoping 2016 is the year we can live side by side and in peace and harmony."